Sweet treats like these set the perfect leprechaun trap for guests. Whether you're baking treats for a St. Patrick's Day classroom party, work event or at-home celebration, these treats are dessert gold. Nibble on our ideas for delicious St. Patrick's Day party treats like wee chocolate leprechaun hats, cupcakes, dipped crispy rice treats and green milk and cookies!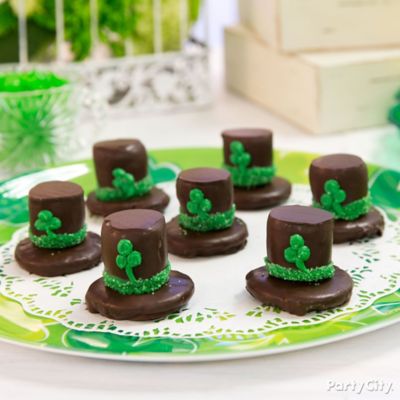 Idea 1: Tip your hat to these marshmallow treats!
What a lucky find: Wee leprechaun hats made of chocolate and marshmallows! This whimsical fare is easy to whip up and perfect for little leprechauns to help make. A paper doily on a clover-printed platter makes a shamrockin' display. Watch out — these cute treats might disappear as quick as a leprechaun!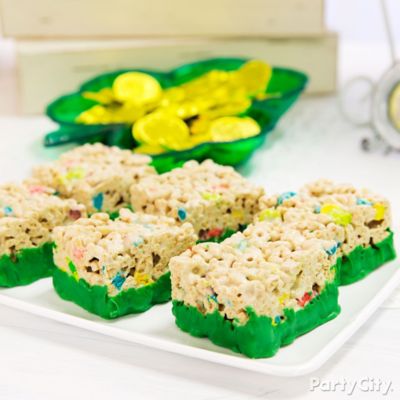 Idea 2: Some treats have all the luck!
Make your own luck with these charmed sweets! Whip up crispy rice treats with marshmallow charms cereal, then dip them in green melted candy for a bit o' green. Serve them up on a platter with St. Patrick's Day tableware as a trap for hungry little leprechauns.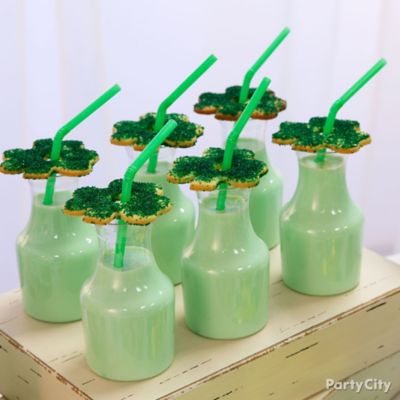 Idea 3: Add a wee bit o' green to milk & cookies
Forget green beer – green milk and cookies is a yummy treat all ages can enjoy. Make it even more special with a shamrock cookie that fits on the straw. Before you pop your cut-out clover cookies into the oven, cut out a small inner circle with a round cutter. Add spirited green sprinkles and then set them on mini pitchers of green-tinted milk and slip in a green straw for a super-cute St. Paddy's treat – now isn't that lucky?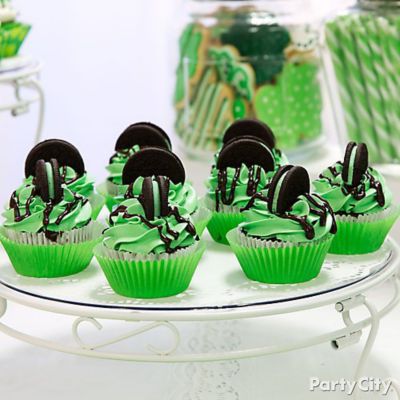 Idea 4: Lucky you – minty St. Pat's cupcakes!
They'll be over the rainbow for this minty green dessert! Just add a little peppermint extract to your chocolate cupcake mix, then bake and decorate with green icing and a chocolate cookie with mint filling. Display your treats in green baking cups with a drizzle of melted chocolate for a truly decadent St. Paddy's dessert.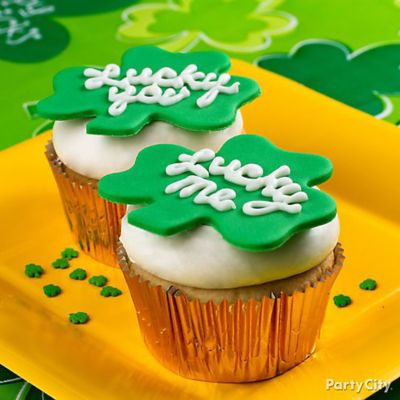 Idea 5: Give your cupcakes a kiss of clover
Forget kissing a Blarney Stone for a gifted tongue – let your cupcakes do the talking! Tell your shamrock sweetie how much they mean to you with cupcakes decorated with a green fondant clover. Start with a batch of your fave cupcakes and frosting. Tint white fondant with green icing color, then roll fondant flat and cut out shamrock shapes with a cookie cutter. Place fondant clovers on your cupcakes, pipe on some sweet sayings with a decorating bag… and you're golden!
Idea 6: Whip up kiss-worthy St. Paddy's cookies!
Show off your St. Pat's pride with "Kiss Me, I'm Irish" cookies! Give your treats the look o' the Irish with shamrock cookie cutters, icing and sugar sprinkles. Try making different patterns on your sweet clover cookies, covering them in glittery sprinkles or writing St. Patrick's Day words and phrases in green icing. Serve them on shamrock-printed plates and napkins for St. Pat's treats that'll make everyone pucker up!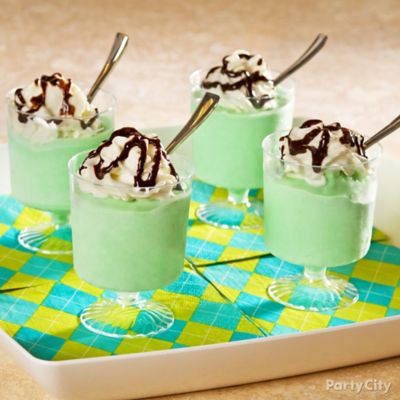 Idea 7: Serve shamrock sundaes to your little leprechauns!
Youngsters will treasure this yummy sundae made with vanilla ice cream, a touch of peppermint extract and a bit of green coloring. Serve the icy treat in leprechaun-sized mini glasses so everyone can admire the emerald color while they dig in with little silver spoons. (For a grown-up version, it's easy to spike these with a touch of Baileys!) For a fun twist on the green color scheme, serve your shakes on a tray lined with argyle-patterned napkins.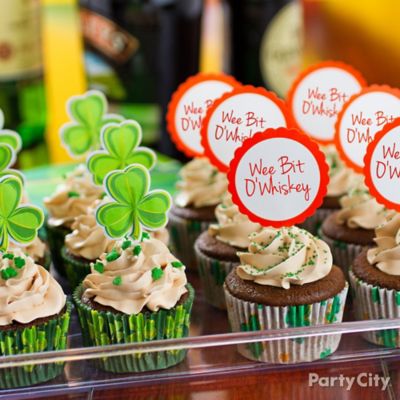 Idea 8: Spirited St. Paddy's cupcakes!
These cupcakes have a St. Paddy's surprise baked inside: booze! All it takes is a wee bit o' Baileys, stout and Irish whiskey to make two batches of cupcakes for your mates. Use clover-printed baking cups and shamrock picks for Beer & Baileys Cupcakes with St. Paddy's cheer. To make these clever "cupcake signs" for your Wee Bit o' Whiskey Cupcakes, write fun sayings on stickers and attach them to cake pop sticks.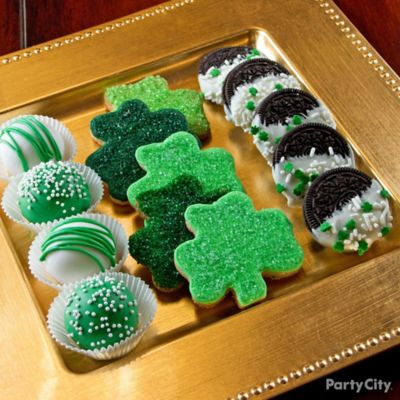 Idea 9: A sweet sampling for lucky adults!
The right presentation takes St. Patrick's Day desserts like cookies and cake pops from kid's fare to classy! For a fresh take on cake pops forget the sticks and display them like truffles in mini baking cups. Pair the cake pops with shamrock cookies in light and dark green, and cream-filled cookies decked out with themed sprinkles. 'Tis a tasty plate o' treats!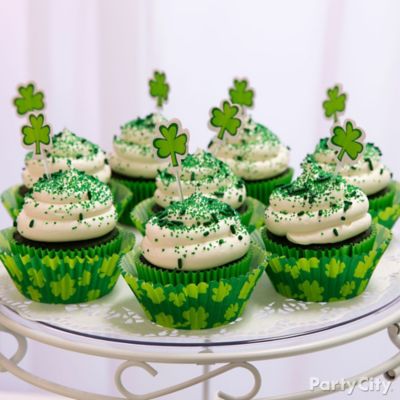 Idea 10: Give cupcakes St. Pat's flair
Serve up sweets in their blarney best with a St. Patrick's Day decorating kit. Go green by baking your cupcakes in emerald baking cups before popping them into shamrock-printed cups with matching picks. A mix of green jimmies and sugar sprinkles will POP on a dollop of white icing – 'tis an easy way to show your St. Paddy's pride!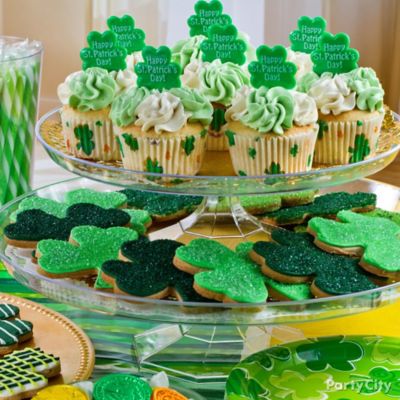 Idea 11: Create a tower of Irish treats! Yum!
Stack two cake stands to make your cupcakes and cookies the "pot o' gold" of the desserts table. Create shamrock cookies with clover cookie cutters and green sprinkles. Deck out cupcakes in clover-printed baking cups, shamrock party picks and just a wee bit o' green icing color for this shamrock frosting effect.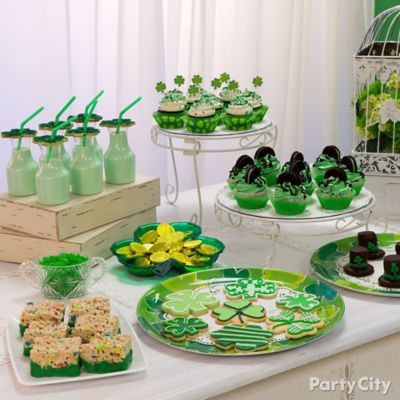 Idea 12: A table o' treats is a rainbow away!
Now that you've decided what treats to make for your St. Patrick's Day celebrations, display them together as an eye-catching (and leprechaun-catching) treat table. Explore our collection of St. Patrick's Day serveware for inspiration!