Add a treasure-filled leprechaun search to your St. Patrick's Day class party! With these ideas, you'll get the class to (sham)rock out! Nothing makes a St. Patrick's Day classroom more magical than decking it out in green, shamrocks and a smattering of the wee folk. Your lucky little rainbow hunters will have a blast finding the pots of candy gold and rainbow fruit. Keep reading for clever ideas from candy to clover decorations! Once you're feeling inspired, shop all St. Patrick's Day party supplies.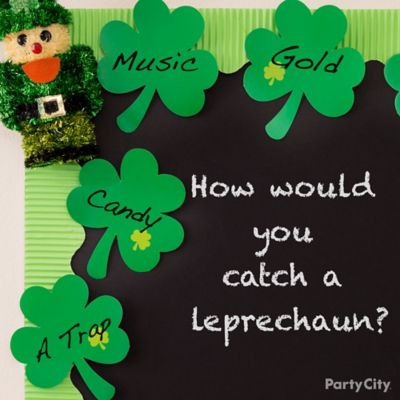 Idea 1: Come up with shamrock schemes to catch a leprechaun!
The kiddos will love brainstorming clever ways to trap a leprechaun! Deck out the chalkboard in green and attach wee shamrock cutouts with their ideas – no scheme is too crazy! They may not catch any leprechauns with their creative ideas, but their laughter will be worth more than a pot o' gold.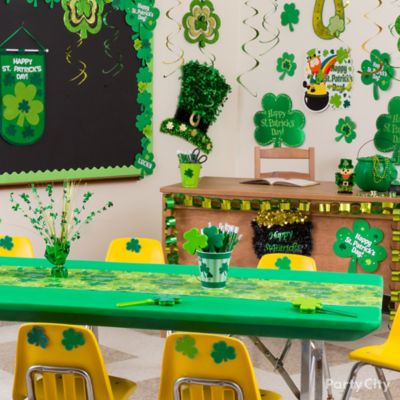 Idea 2: It's their lucky day!
Be on the lookout for a leprechaun! A shamrock-studded classroom is the perfect place to stage a leprechaun search. The more the merrier, so feel free to go for the gold (and green!) with lots of St. Patrick's Day decorations. Pots o' gold and green, shamrocks and tons of clover-printed decorations make the perfect setting for a day of searching high and low for leprechauns.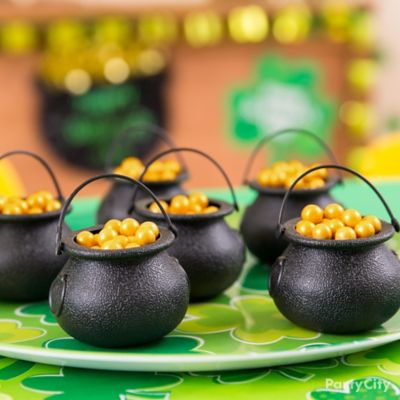 Idea 3: Leprechauns can't resist this sweet treasure!
They'll be over the rainbow for these mini pots o' candy gold! Fill mini plastic cauldrons with gold Sixlets® or gold jelly beans and arrange them on a shamrock tray. They'll love taking a break from the search for a yummy gold candy treat, or you can hand them out after the hunt for a job well done!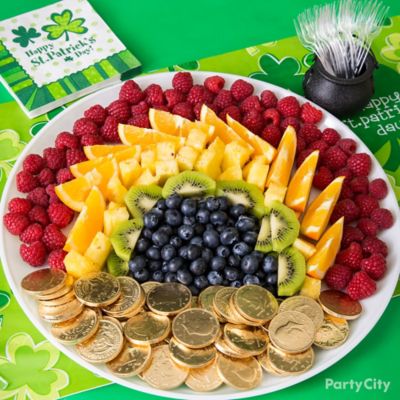 Idea 4: Treat them to a rainbow of flavors!
Lucky them! This rainbow-licious platter is the perfect pick-me-up for hungry treasure hunters. Arrange colorful fruit like raspberries, oranges, pineapple, kiwis and blueberries in rainbow stripes - 'tis a tasty treat! For a yummy treasure at the end of the rainbow, place a pile of gold coins at the bottom. A mini pot (without the gold) makes the perfect holder for forks. You'll need napkins and plates for serving, so don't forget the St. Patrick's Day tableware.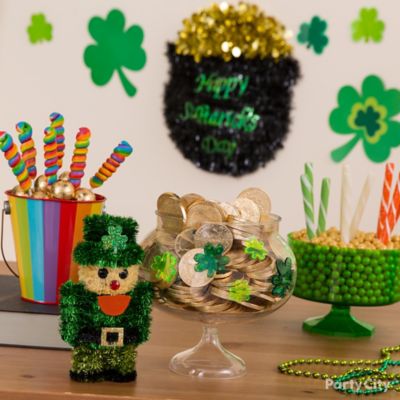 Idea 5: Lure leprechauns with a colorful treats table
These yummy treats will make the leprechauns come out of hiding! Leprechauns and kids alike will love munching on gold coins, rainbow lollipops and candy sticks in green, white and orange. They'll be even more tempting in cute containers like rainbow-stripe pails, green bowls and clear pedestal bowls covered in shamrock clings. Look – a little leprechaun already appeared!
Idea 6: Lucky green and gold wall decor!
Glam up your wall space with a collection of clovers, horseshoes, rainbows and swirl decorations! Arrange the cutouts around a leprechaun sign to wish your wee little students a happy St. Patrick's Day, and it will look as though you've been transported to the Emerald Isle itself.