Spot-on brunch ideas with dots and chevrons! Minis, mimosas and quiche, oh my. Browse through these light and easy brunch ideas that hit the spot for all types of springtime get-togethers, from Easter to Mother's Day. We have ideas below for mini fruit cups, cute cutlery bunches, must-try pomegranate mimosas and more!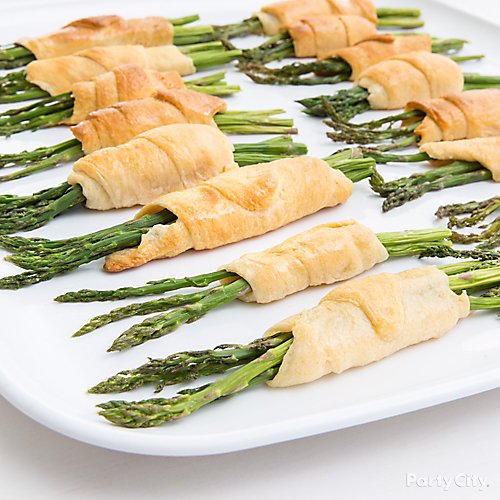 Idea 1: Feast on fresh bunches of greens
Combine pastry dough and garden-fresh asparagus for an appetizer your guests will adore! Simply season with salt and pepper or add creative extras like prosciutto, cheese, crispy bacon or green onion. All that's left is to arrange the brunch bunches on a white platter. Whether you use premade or homemade dough, these are sure to be an instant hit!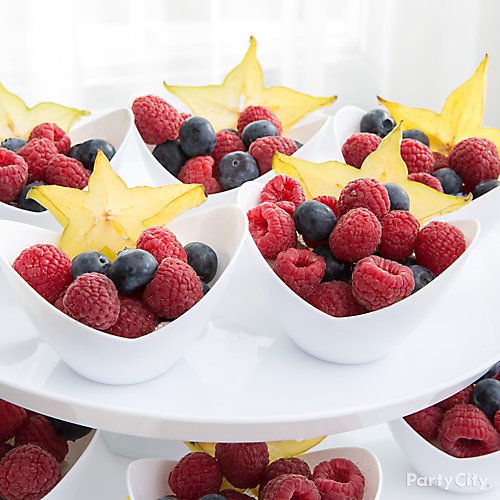 Idea 2: Stack cake stands to display fruitful minis
Take a fresh spin on cake stands! Instead of using them to hold cake, stack two different sizes and use the stand to display mini bowls of fruit. These mini tasting bowls blend in with the white cake stands, so the colors of the berries and star fruit will really make your guests crave something sweet!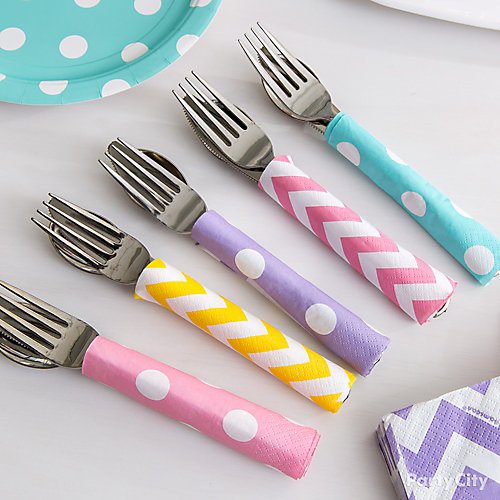 Idea 3: Style cutlery with your fave napkins
Cutlery rolls are a great addition to any brunch, especially when mixing budget-friendly napkins! We suggest you use the lunch-sized napkins and fold one side of the napkin in about an inch. Next place the cutlery bunch so the blunt ends rest in the fold. This creates a base so the cutlery doesn't slide out of the bottom. Roll tightly and they're done. How bright!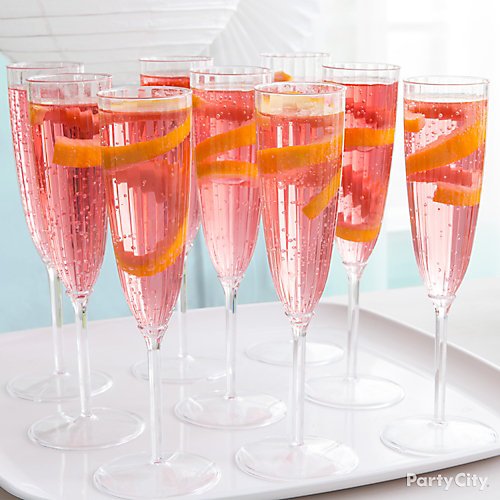 Idea 4: Serve pomegranate bubbly
This pretty, bubbly drink is the perfect refreshing sipper to go with light apps. To make Pomegranate Orange Mimosas, fill champagne flutes ¾ full with pink sparkling Moscato. Add curly strips of orange peel and sprinkle in pomegranate seeds for garnish. Cheers!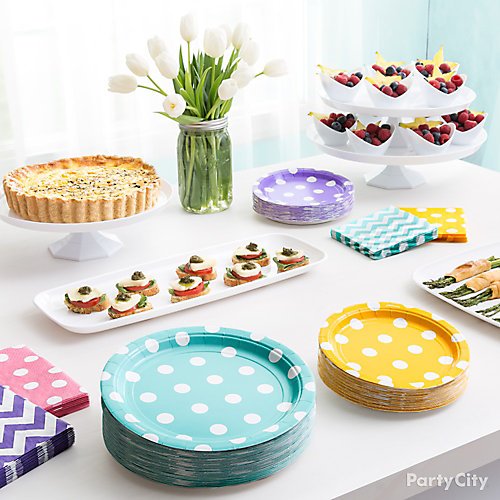 Idea 5: We're loving a bright mix of dots and chevrons
Dots and chevrons on a field of white is our latest party style obsession. Serve yummy bites at brunch, such as caprese and quiche. Caprese bites, made by layering sourdough bread, pesto, tomato, mozzarella and basil, look inviting on white platters. But the real focal point of brunch is the quiche! Bake a large quiche to display on a cake stand. Take a photo quick before the savories get eaten!