If nautical nonsense be something you wish, then your son and his friends will love a SpongeBob birthday party! Get creative decorating the room with a custom banner that will invite everyone to party under the sea!
Idea 1: Let him soak up the limelight as his favorite smiling sponge!
Deck out your birthday star as his favorite yellow sponge on his special day. He'll feel like it's the best day ever in a silly SpongeBob Costume! You can even mix and match SpongeBob-themed kids' separates to create a custom party look.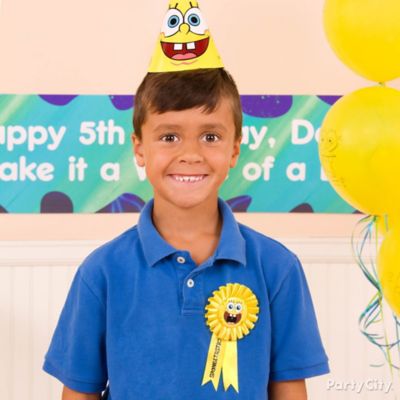 Idea 2: Make any outfit a splashy SpongeBob party outfit!
Does your little sea creature want to dress in kid clothing? If he's already picked an outfit of his own for his big day, you can still make your birthday star feel special with SpongeBob accessories like this birthday ribbon and party hat.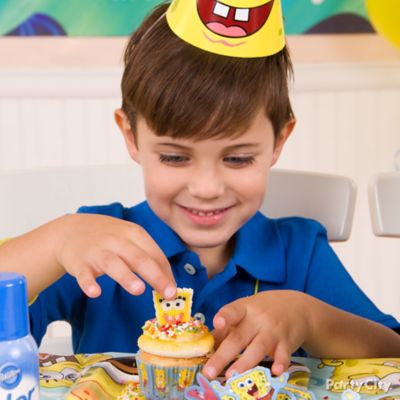 Idea 3: Set out SpongeBob icing decorations for a tasty activity!
The kids will love using their imaginations to decorate cupcakes with SpongeBob Cupcake Decorations. Start with cupcakes topped with plain white icing. Let the kids take it from there and make Sponge-errific creations!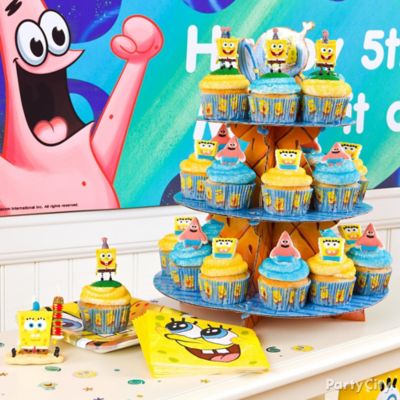 Idea 4: Make splashy SpongeBob cupcakes!
Bake a couple batches of cupcakes and top them with icing and SpongeBob cupcake decorations. Display them on a SpongeBob Cupcake Tower, and you won't be able to keep the little sea creatures away!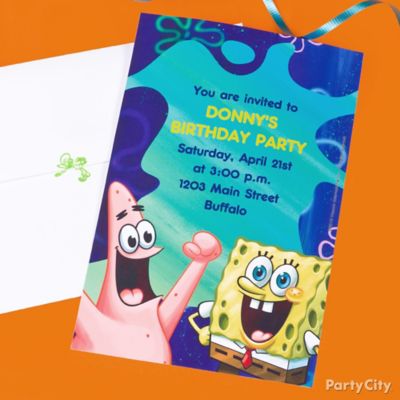 Idea 5: Create customized SpongeBob invitations!
Invite your guests to "Swim on over to our pineapple for Donny's 6th birthday party!" We'll print your customized message on your Custom SpongeBob Invitations and they'll be ready to ship within five days. Finish them off with a Squidward stamp on the back of the envelope!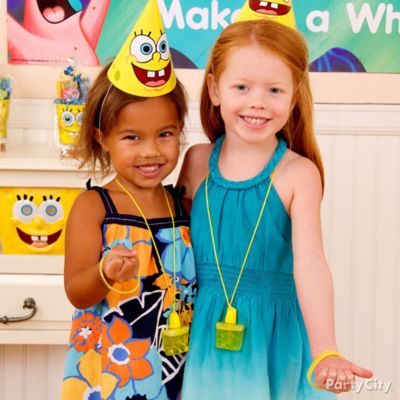 Idea 6: Suit up everyone for a Bikini Bottom bash!
The whole gang will have a swimmingly good time with our awesome SpongeBob accessories. Have the birthday boy hand out wearable SpongeBob favors to fellow fans of the show as a welcoming favor – and an instant way to get the party going!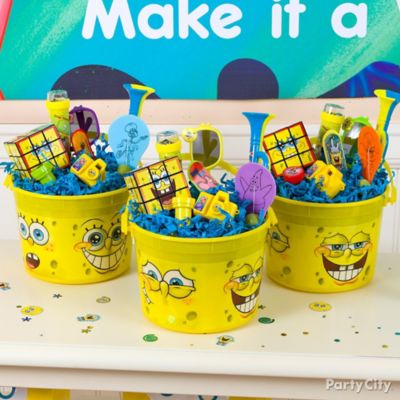 Idea 7: Deck out party favor buckets with sunken treasure!
When your guests are ready to sail away, don't forget to say "thanks for coming" with a SpongeBob Favor Container. Fill with paper shred and tuck in themed SpongeBob favors like puzzle cubes, horns and paddle games that will have the kids hunting for buried treasure long after the adventure's over!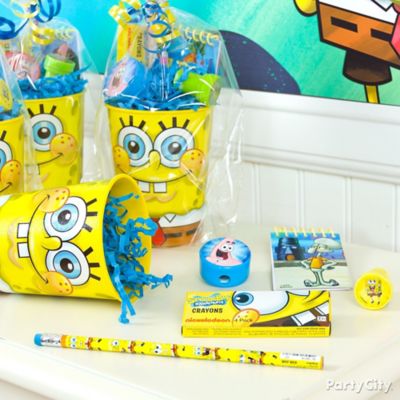 Idea 8: Load them up with favors for the swim home!
Follow SpongeBob's lead and give the kids favors they'll do a happy dance for! Fill up reusable SpongeBob Party Cups with paper shred, notepads, pencils and stamps, then slip into clear wrap and tie with a matching ribbon.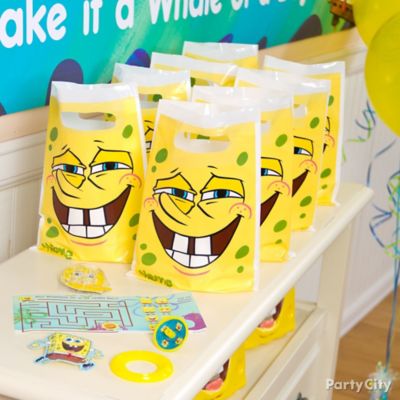 Idea 9: Finish your favor bags faster than a speeding boatmobile!
Don't be a Krabby Patty when it's time to put together favors – use a SpongeBob Favor Value Pack because it already contains enough goodies for eight guests and includes the treat bags to put them in. Favors done? Aye, aye captain!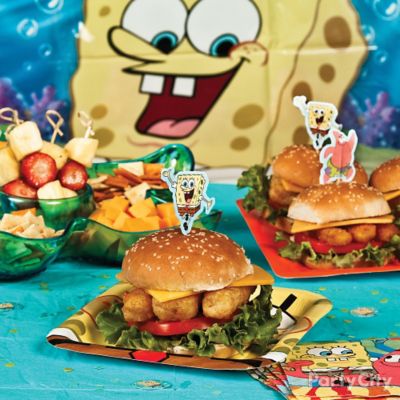 Idea 10: They'll flip for "Krabby Patties" and SquareSnax!
SpongeBob's favorite meal is a Krabby Patty and you can serve them too – even if you're not an experienced fry cook. Start with some hamburger buns and your own version of a Krabby Patty. Then add fillings like lettuce, cheese, ketchup and tomato slices speared with SpongeBob fun picks. Fill out your SpongeBob snack plate with other square foods – like cheese squares, crackers and healthy fruit kebabs – with pineapple chunks and strawberries threaded on bamboo picks and served in a starfish chip and dip tray. Complete your SquareSnax table with some cheerful SpongeBob plates!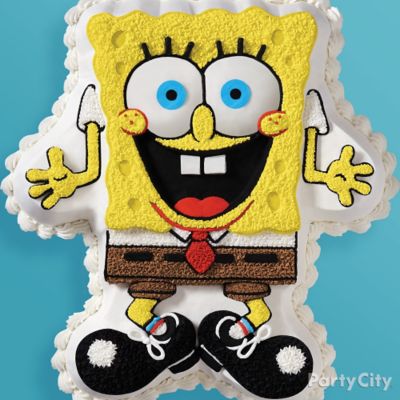 Idea 11: Invite SpongeBob… in the form of a cake!
Use some piping magic to create a cake Sandy and Patrick would eat up! It's a breeze with a SpongeBob Cake Pan and a few cake decorating essentials.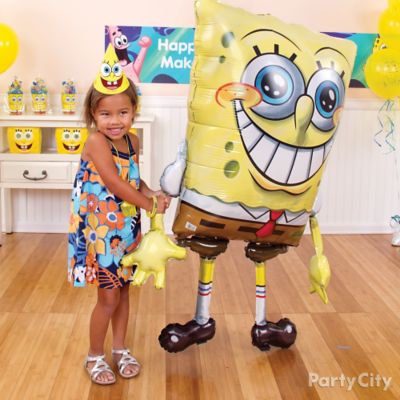 Idea 12: Snap the best party pix with a giant, gliding SpongeBob!
What's the fun way to get splashy party photos? A larger-than-life Giant Gliding SpongeBob Balloon! It's a perfect photo prop that gets all the kids smiling, goofing around and posing.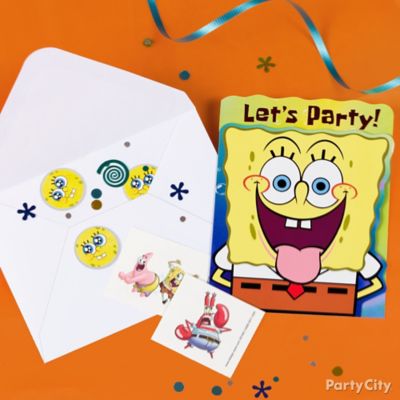 Idea 13: Include a secret party pass for your guests
Help your guests dive into fun mode with some SpongeBob confetti and tattoostucked inside their invites. Tell everyone to wear the SpongeBob tattoo to the party – it's their secret pass to get in!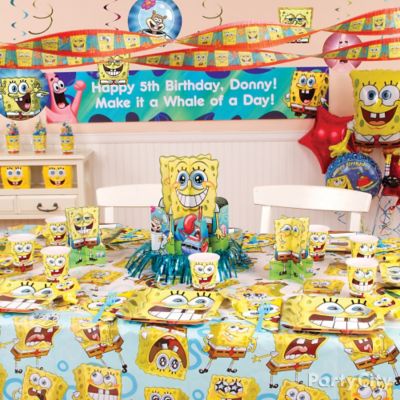 Idea 14: Transform your living room into Bikini Bottom
Welcome your guests with SpongeBob's giant smile. Everyone will feel like they live in a pineapple under the sea in a room full of SpongeBob decorations! Decorate with seaworthy hanging swirls, balloon bouquets and streamers so your guests can swim into the Krusty Krab for lunch!
Idea 15: Transform your room into Bikini Bottom
Welcome your guests with SpongeBob's giant smile. Everyone will feel like they live in a pineapple under the sea in a room full of SpongeBob decorations! Decorate with seaworthy hanging swirls, balloon bouquets and streamers so your guests can swim into the Krusty Krab for lunch!
Idea 16: Bring SpongeBob's bubbly world to life!
Decorate a wall with a SpongeBob Scene Setter and watch everyone show off their best dives in front of a whimsical undersea backdrop starring SpongeBob, Squidward and Patrick. Capture the moment by taking a group photo that you can include with your thank you notes!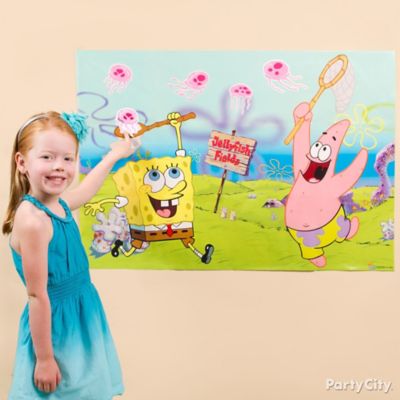 Idea 17: Help SpongeBob catch a jellyfish in his net!
Give the classic birthday game a sponge-tastic spin by playing pin-the-jellyfish with the SpongeBob Party Game. Give players the jellyfish from the included sticker sheets, and see who can come closest to placing the jellyfish in SpongeBob's net!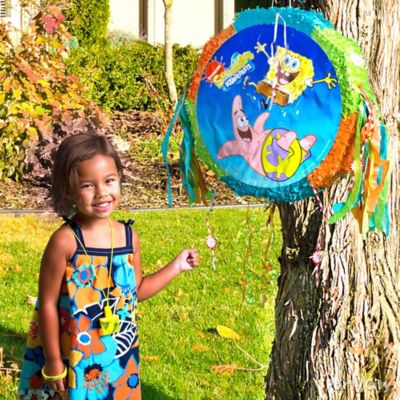 Idea 18: Fill your pinata with favors to make it SpongeBob!
This SpongeBob pinata will match swimmingly with your party theme! Include nifty nautical favors inside like SpongeBob keychains and springs – and don't forget some candy, too! Let the big kids take a crack at it with a bat; smaller guests can pull the strings until the magic one lets all the treasures spill out!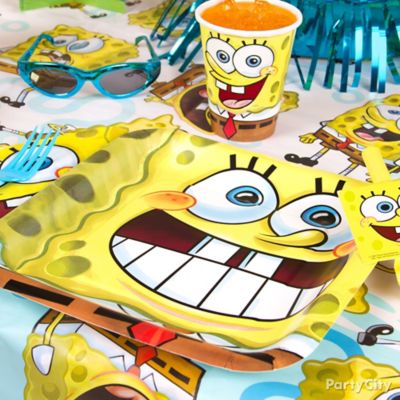 Idea 19: Set a sponge-tacular table
Plunge into Bikini Bottom and really make waves with a table set for adventure! Start with SpongeBob tableware and add splendidly square SpongeBob favors like blowouts and sunglasses to keep your little sea creatures entertained while they wait for the cake.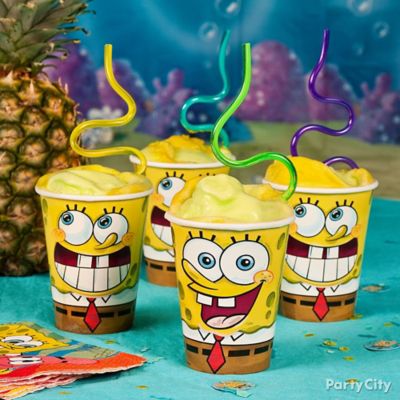 Idea 20: Whip up some Pineapple-Under-the-Sea Floats
For a yummy twist on party punch that's perfect for the SpongeBob theme, whip up these easy Pineapple-Under-the-Sea Floats. Fill SpongeBob Cups with lemon-lime soda topped with a big scoop of pineapple sherbet. Add a Krazy Straw and let them sip away. Be sure to have plenty of SpongeBob napkins on board!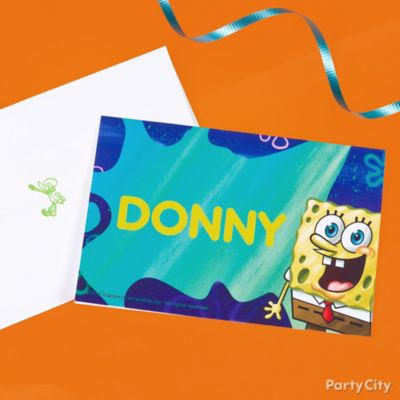 Idea 21: Personalize your thank you with a note from SpongeBob!
Send a personalized thank you with SpongeBob Custom Thank You Notes. Have a fun message printed inside like, "Thanks for sailing into my birthday bash! I hope you had a blast!" We'll inscribe your custom message and ship to your home within five days. Don't forget to give it a Squidward stamp of approval on the back of the envelope!