Create a candy-tastic frosted cake!
A candy-covered cake is oceans of fun to make! All you need is a few cake decorating essentials to make a swimmingly-sweet confection your little sea creatures. View the SpongeBob fondant cake how-to below for easy-peasy decorating details.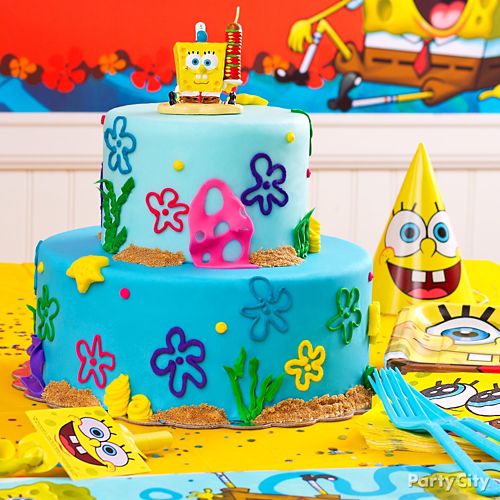 How-To
Ingredients:
2 two-layer cakes, 6 in. and 10 in. in diameter
Buttercream icing mix
3 boxes pre-rolled white fondant
Ready-made neon rolled fondant set
White decorator icing
Icing color in sky blue, violet, golden yellow, rose kelly green
Supplies:
Fondant roller
Fondant smoother
Pizza cutter or paring knife
Toothpicks
Tip #3 and #104 (in 25 pc. set)
Tip coupler (in 25 pc. set)
12 in. round cardboard platter
SpongeBob birthday candle
1) Prepare cake
Dive on in! To prepare your cake to be covered with fondant, ice it with a layer of buttercream icing.
2) Prepare light blue fondant
You'll be tinting white fondant two shades of blue. Begin with the contents of two boxes of white fondant, reserving a small amount of the white for starfish you'll make later. Knead until soft. Use a toothpick to dot sky blue icing color onto the fondant. Knead until the color is evenly distributed and the ball is light blue.
3) Prepare bright blue fondant
Divide the light blue fondant into two portions and add more sky blue icing color to the larger portion until it's evenly mixed and bright blue in color.
4) Cover bottom tier
Roll out the darker fondant and cover the larger cake. Smooth the fondant with a fondant smoother and trim off excess with a pizza cutter or paring knife.
5) Cover top tier
Use the same technique to smooth the light blue fondant over the smaller cake. Center the smaller cake on top of the larger cake.
6) Create coral
To create the 3-D coral, roll out some ready-made pink and purple fondant from the fondant kit and use a knife to cut out rectangular shapes. Use the large end of a decorating tip as a "cookie cutter" to cut small holes. Dab water on the backs of each decoration and apply them to the tops and sides of the cake.
7) Create starfish
The kids will love discovering starfish clinging to the edges of the cake! To make them, pinch off a small ball of white fondant, use a toothpick to add golden yellow icing color, and knead well until the color is evenly distributed. Roll out the fondant a bit thicker than usual. To make a star shape, use a star cookie cutter or hand-cut a star. Dot the surface of each starfish with a round icing tip to create indents that look sponge-y! To apply your little star "sponges" to the cake, dab a little water on the backs (or adhere with royal icing if necessary).
8) Create seaweed
To create some seaweed, use kelly green icing and tip #104 (leaf tip; comes in 25-piece set).
9) Add flowers
To add colorful flowers the kids will recognize from the show, use a round #3 tip to pipe decorator icing tinted with icing colors in green, pink, yellow, purple and blue.
10) Finish with sugar sand
We used brown sugar for sand... it looks real! Create little sandbars here and there on both cake levels. The kids will love it!
11) Top with candles
Top off your cake with an official SpongeBob birthday candle and let the sea-lebration begin!