Throw a "something blue" bash for the bride-to-be! Borrow some inspiration for a blue-tiful party. Before she has her happily ever after, celebrate with a fairytale bridal shower in the timeless hues of blue, pink and white. We've got your magical guide for a "something blue" bridal shower with fun ideas that include honeycomb decorations, desserts and a cotton candy cocktail. Once upon a time was never so easy!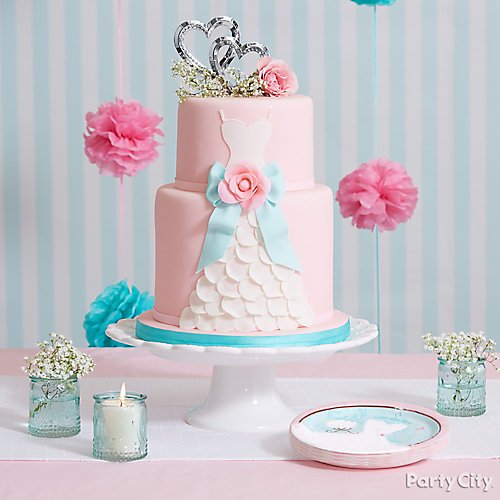 Idea 1: Impress shower guests with a bridal dress cake
Celebrate your bride-to-be with a show-stopping cake she'll love in a palette of pink, blue and white. Gorgeous fondant details like a white dress trailing down the front of the cake with a blue bow and rose make it almost too pretty to eat. Top it off with a romantic cake topper, like these intertwined hearts, for a truly impressive dessert.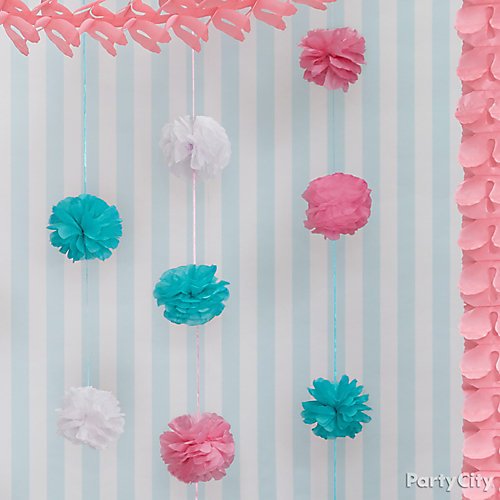 Idea 2: Create a shower of colorful clouds!
Put pom-poms to work as beautiful party scenery! All you need are fluffy garlands in the colors of your bridal shower theme. Attach the fluffy pom-poms to the included ribbon, alternating between pink, white and blue. Dangle the garlands from the ceiling behind the lunch table or in front of a wall for a simple photo-op backdrop.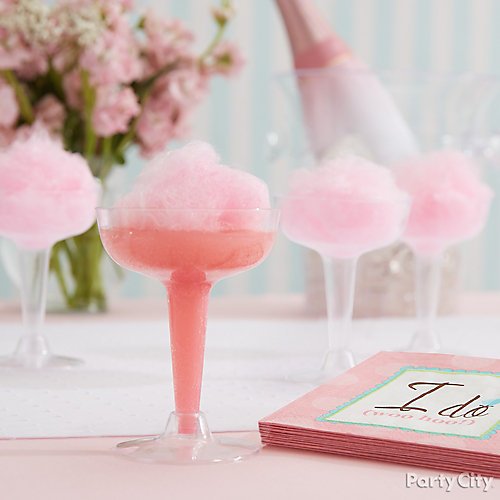 Idea 3: Cotton candy and champagne—together at last!
The bride tribe will be love-struck by this dreamy concoction of bubbly and cotton candy. For this champagne cocktail, simply arrange adorb tufts of cotton candy in clear champagne glasses before pouring a sparkling pink rosé over the top. Cheers!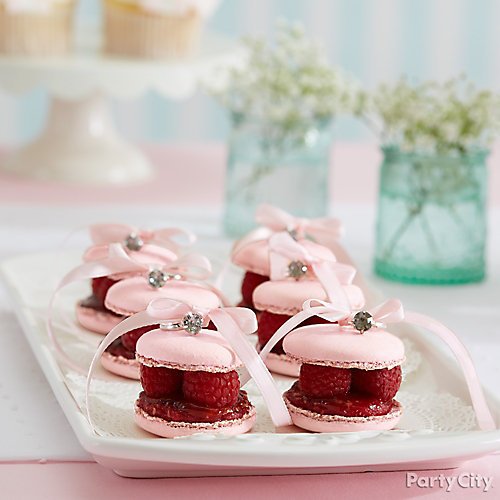 Idea 4: Pretty-in-pink macarons that sparkle!
Add a little "ooh la la" to the dessert table with pretty pink macarons featuring a special touch: engagement ring favors tied with a bow! Filled with whimsy and yummy raspberry flavor, these decadent desserts will have everyone falling in love.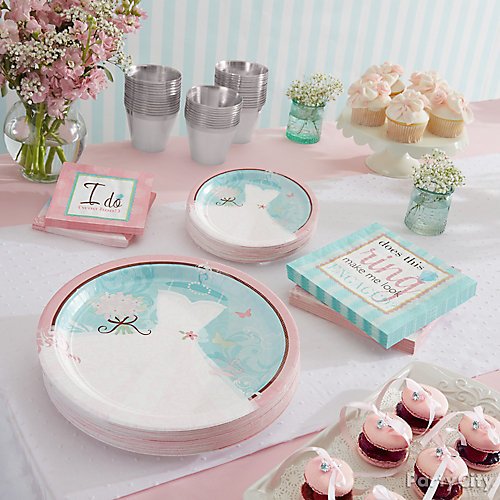 Idea 5: Say "I do" to tablescapes in pink and blue!
Create pretty place-settings with tableware that's perfectly designed for the "Something Blue" theme. The cute phrases and darling wedding imagery on these coordinating plates and napkins will make guests smile in between helping themselves to appetizers and dessert.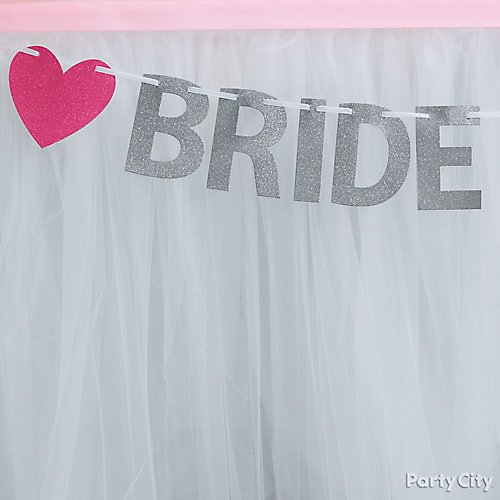 Idea 6: Create a tu-tu cute table skirt!
Whip up this quick-and-easy table skirt with a roll of tulle, pink ribbon and a bridal shower banner. As you unroll the tulle along the table, create pleats as you attach the tulle to the table edge with double-sided tape or staples. A long stripe of satin ribbon along the top hides the messy edge and adds a beautiful touch of pink. Bring it all together with a "Bride-to-Be" banner in dazzling sparkles—gorgeous!