Snowcapped decor that won't melt away! Kid-friendly winter decorating ideas for jolly, happy souls! You don't need magic to create a magical party. To bring this snowy room idea to life, explore our ideas for decor, tableware, centerpieces and holiday treats!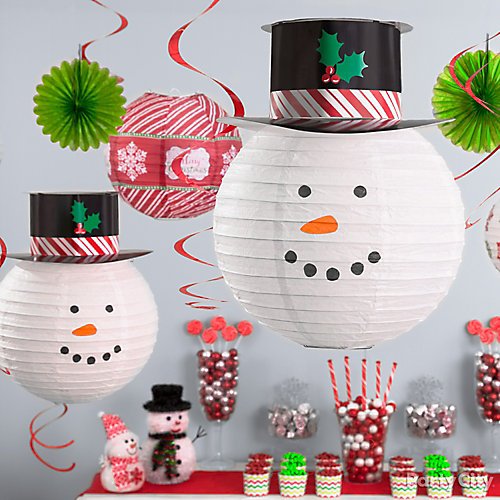 Idea 1: Deck the halls with jolly snowmen!
The weather outside may be frightful, but inside stormy skies are replaced with bright paper lanterns! Mix and match paper fans, paper lanterns patterned like holiday ornaments and happy snowmen to keep your party merry and bright.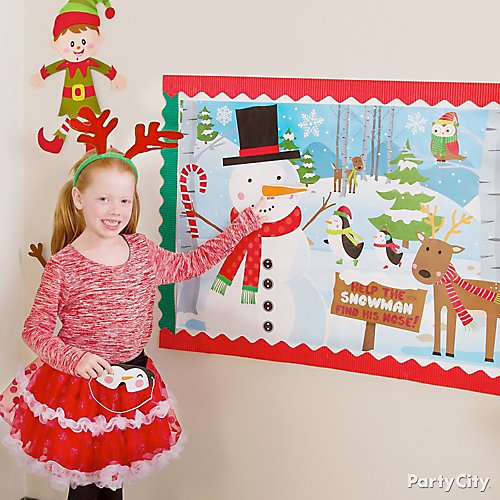 Idea 2: Pin the carrot on the snowman!
If it's cold outside, kids will need some indoor fun! Have the little elves play a winter-themed version of pin-the-tail. They can put on the penguin blindfold and take turns giving the snowman his carrot nose. They're sure to giggle all the way!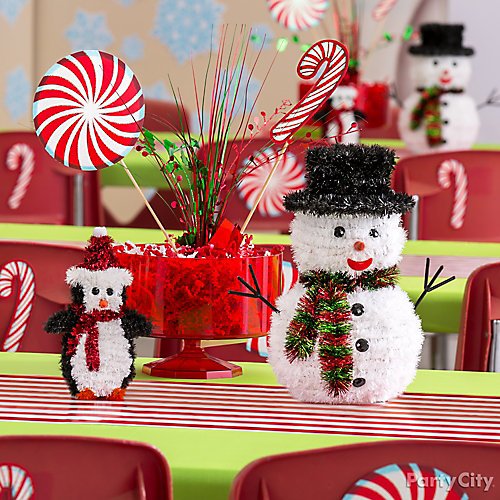 Idea 3: Create a centerpiece with new friends and sweet treats!
If you're celebrating winter in your classroom, craft a simple centerpiece by filling up a trifle container with sweets and a foil spray centerpiece, then attaching a few paper peppermint candy decorations to dowels. Use the rest of the pack's decorations around the room or on students' chairs! To finish your centerpiece, place a cute tinsel character on either side. You can even roll out wrapping paper stripes for a table runner! Your room is sure to get kids in the holiday spirit.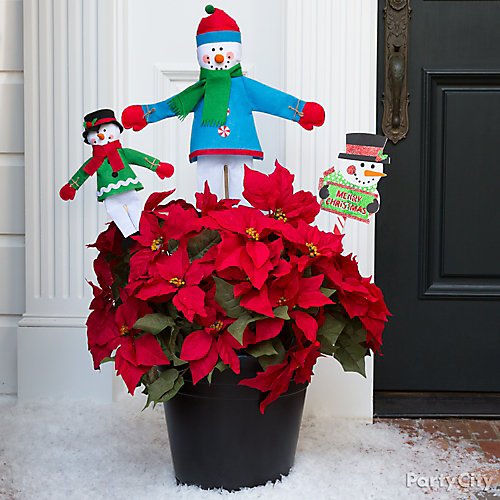 Idea 4: Greet your guests with blizzard buddies!
While one of these kid-friendly snowmen would look adorable on their own, they look three times as cute when grouped together and placed in a pot with vibrant poinsettias! This trio looks like they're jumping up to welcome you inside!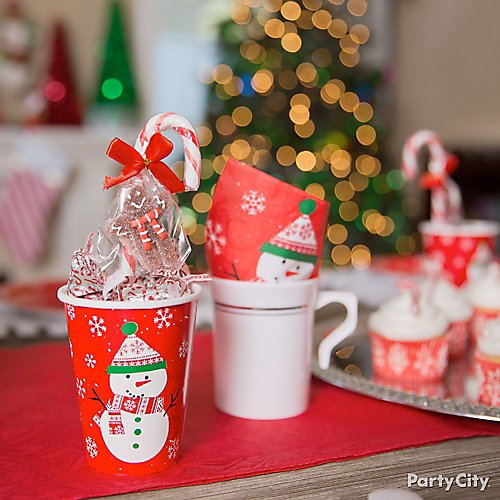 Idea 5: Cheers to holiday candy cups!
Be a secret Santa and create unique and sweet little gifts for your guests. Choose your favorite seasonal cup, like this snowman design, and fill it to the brim with chocolates, candy canes and gingerbread men.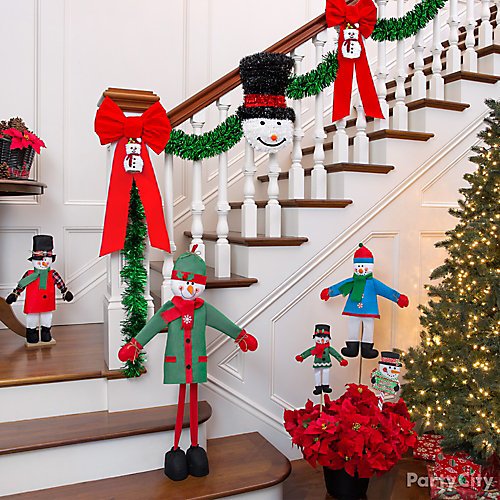 Idea 6: Welcome visitors with frozen friends!
If your party's all about frosty friends, make sure to arrange some at the entrance to welcome your guests! Snowman decorations that stand by themselves are perfectly suited for raised surfaces like stairs or side tables to decorate at different levels.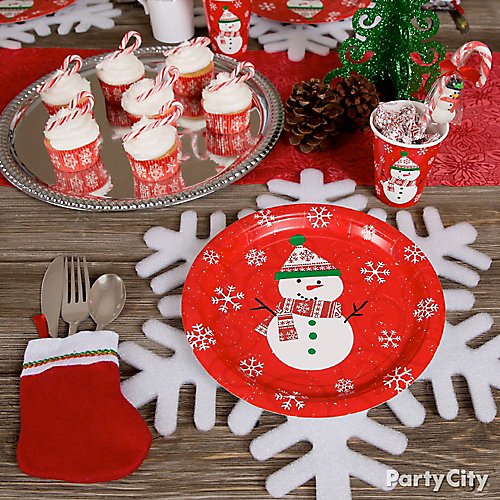 Idea 7: A place setting unique as a snowflake!
Tuck cutlery into adorable mini stockings instead of the usual napkins, and set out snowflake decorations as place mats beneath smiling snowman plates. Sweeten the table with a tray of candy cane cupcakes, a sprinkling of pine cones and glittered tree centerpieces that sparkle in the firelight.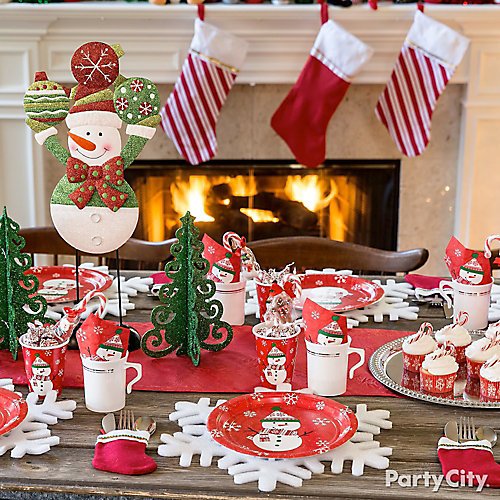 Idea 8: 'Tis the season for a cute tablescape
Hang your stockings by the chimney and create a warm, welcoming table for your dinner guests! Tuck snowman napkins into mugs ready for cocoa or cider, and place a few trees and snowmen around the table as centerpieces. Reinforce the red, white and green theme with lots of candy cane stripes and green accents.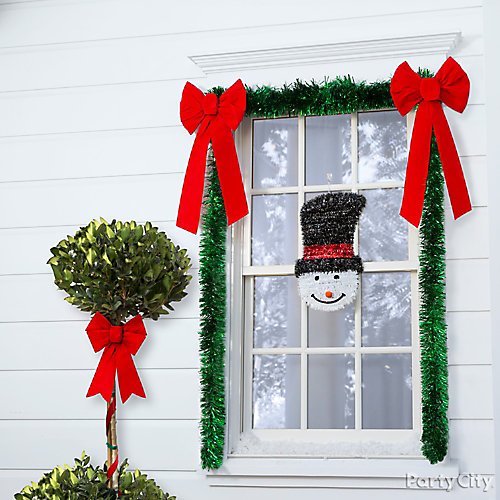 Idea 9: Garland isn't just for trimming the tree!
Center a snowman head in your window so he can smile out at passerby. To add some extra festivity, trim the window with garland by attaching one end at the sill, pulling it up and attaching it at each corner of the window, then draping the other side down and cutting the garland so it's even on both sides before securing the final piece. Add large red bows as a final touch.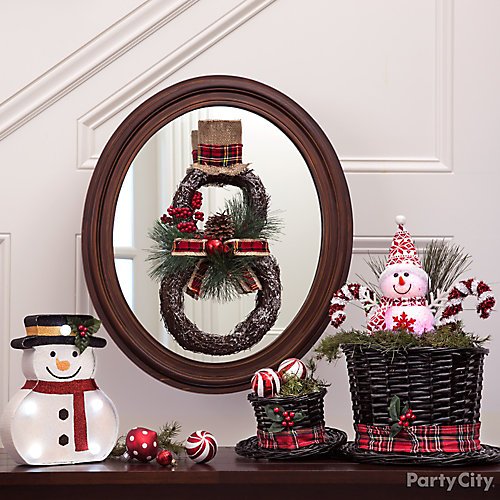 Idea 10: Rustic decorations bring a sense of warmth
To remind friends of an old fashioned holiday, group together a variety of rustic decorations featuring nods to the outdoors. A twig snowman and wicker snowman hat baskets give this table a homespun touch, with ornaments and smiling snowmen for a bit of color.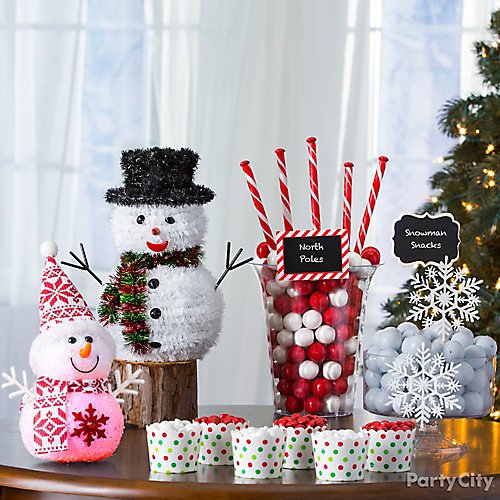 Idea 11: Warm their hearts with a mini candy buffet!
The nip in the air may make your guests want a nibble, so set up a mini candy buffet with a variety of white and red candies. Show off shiny wrapped caramels in clear containers, and portion your favorite red and white candy in grab-and-go paper cups: the elves would love chocolate drops, Sixlets or jelly beans! Tinsel characters draw eyes to your display, and mini chalkboard signs add extra fun when you give your candies a special holiday name, like candy sticks as North Poles!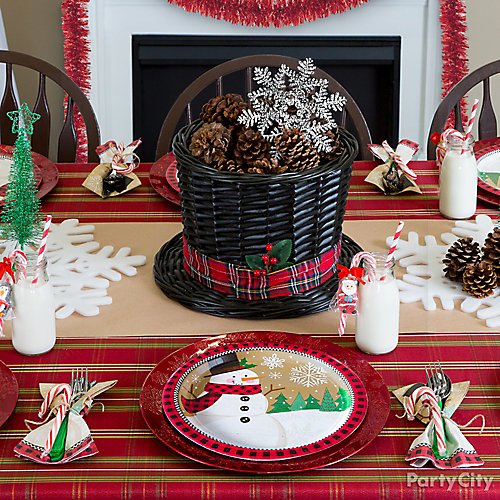 Idea 12: Good tidings, great table settings!
Set the table with accents as festive as the rest of your party! Give each place setting a candy cane wrapped with the cutlery, a cute mini bottle of milk to go with dessert, and fun snowman plates that match your theme colors. The snowman on this plate has a plaid scarf to match the plaid on our snowman hat baskets!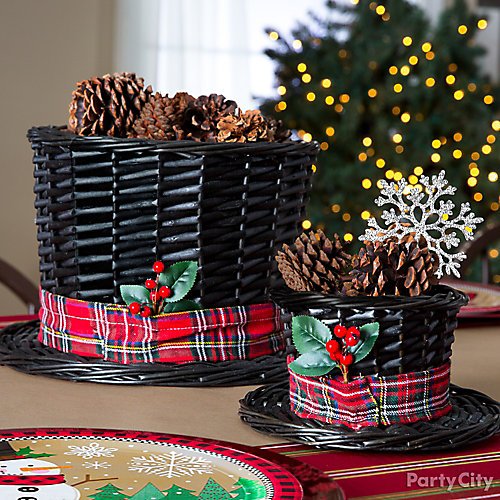 Idea 13: Hats off to these cute baskets!
These jolly snowman hats have a space at the top for displaying small decorations. You can fill them up with almost anything to make a cute centerpiece: pinecones, ornaments and candy canes, or even extra pieces of ribbon or garland from other projects can look pretty topping off these hats.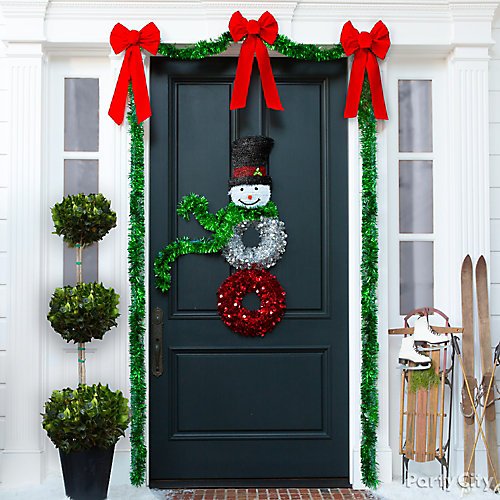 Idea 14: Tinsel decorations greet guests with glimmer!
Invite friends to your snow day with a happy snowman at the door to greet them. We placed two tinsel wreaths beneath the snowman's head to create the rest of his body, and chose red and white to complement the festive red bows and green garland we attached around the doorframe!