Severed Hands Punch Recipe
Specimen jar or beverage dispenser? Why not both! Mix up a pulpy punch to creep out party victims while quenching their thirsts. Add frozen berries for added "fleshiness" and attach a hand-print decal on the front to up the creep factor.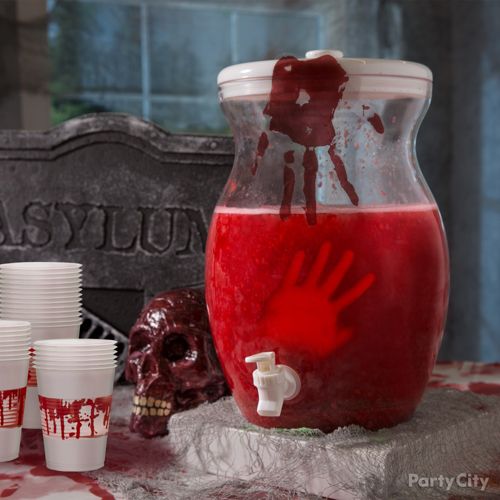 How-To
Ingredients:
Vodka, 4 cups
Orange juice, 4 cups
Pomegranate juice, 6 cups
Seltzer water or lemon-lime soda, 1 liter
Frozen raspberries, 16 oz
Fresh pineapple
Supplies:
Beverage dispenser
Bloody hand window cling
Hand mold
1) Combine ingredients
Combine the vodka, orange juice, pomegranate juice and seltzer in the beverage dispenser and gently stir. (The day before your party, freeze water in a hand mold.)
2) Add raspberries
Puree the raspberries in a blender or food processor, then add to the punch. Add your frozen severed hand!