Indulge in butter-drenched ideas for a warm-weather bash! Serve up the catch of the day with great ideas for a seafood boil, perfect for summertime. This Southern tradition has become a trendy go-to for when the weather heats up. The food is decadent and the cleanup's a breeze! We have ideas for decorations and mouth-watering recipes for corn, lobster, peach sweet tea and more! Whether you're throwing a small backyard party or a large-scale crab feed, a low-country boil is the perfect way to catch up with friends while keeping your party low-key and casual.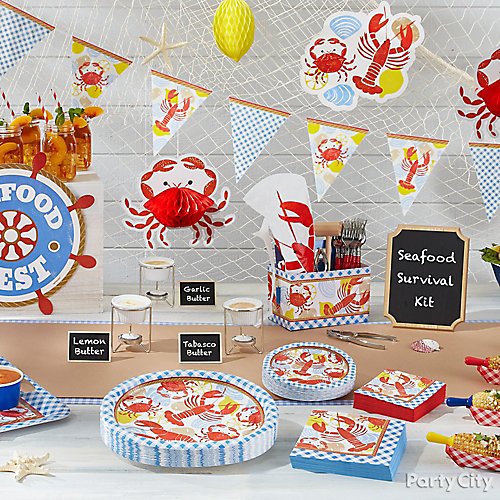 Idea 1: Everything for a splashy seafood celebration!
Throw a fun Seafood Boil that's all about the food! Set up a station where everyone can get what they need to start their feast, and decorate it like the seaside! All you need are cute paper plates and napkins with sea creatures on top, cutouts, honeycombs, and a fun pennant banner. Top it off with a net decoration, so they know just how fresh the seafood will taste!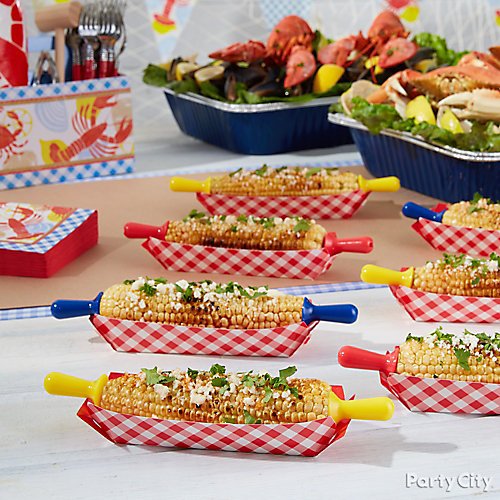 Idea 2: Serve a yummy side in a grab-and-go tray!
These will tide them over while the seafood boils! Roast corn in the oven, then peel off the husks. Rub each cob in butter, then sprinkle with chili powder, a Mexican "queso fresco" fresh cheese like Cotija, cilantro, and lime juice. Pop in fun corn holders to keep your guests' fingers clean and serve 'em up.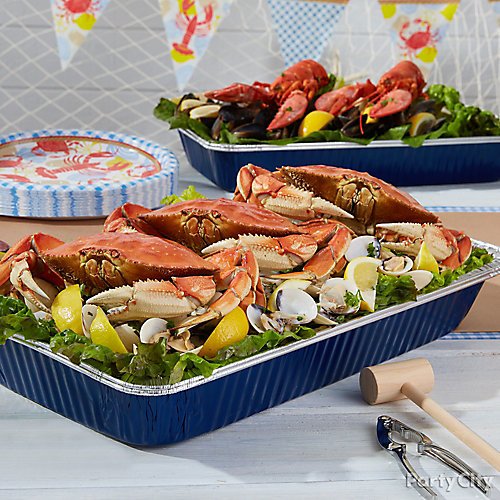 Idea 3: A feast of fresh crab
Chaffing dishes are great for a big crab feed event or a family get-together. Choose one in your party colors, and you'll also have a feast for the eyes! Time to indulge in delicious fresh meat: add a squeeze of lemon and pour warm garlic butter on top!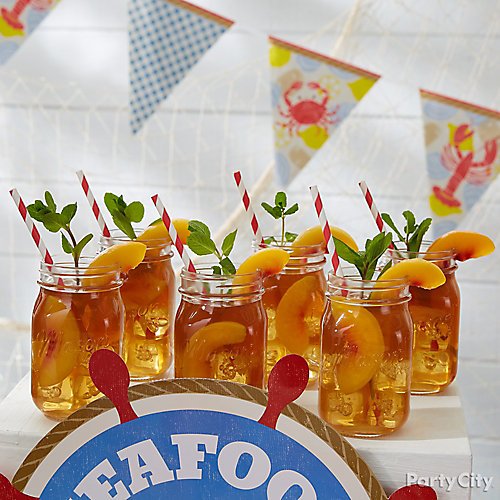 Idea 4: Brew up some down-home sweet tea!
After all that savory seafood, everyone will need something sweet! Serve up peach sweet tea by boiling 1 cup of water, 1 cup of sugar, and two peaches until the sugar dissolves, stirring regularly. Brew 3-4 black tea bags. Strain out the peaches from your simple syrup, then mix into the black tea and chill. Garnish with striped straws and a sprig of mint, then serve ice cold to beat the heat.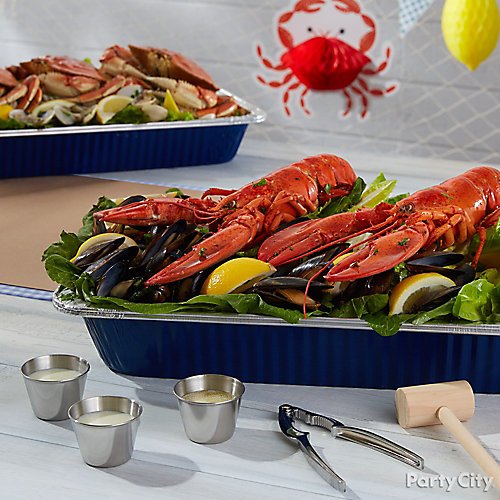 Idea 5: Spice up your life with garlic, wine or Tabasco butters!
Make lobster even more satisfying by serving different sauces in small cups for each guest. A warm, spicy garlic butter sauce with lemon juice and chopped cilantro works as a dipping sauce or a glaze. Another option is to add white wine to your buttery garlic sauce, or spice it up with a splash of Tabasco! …Mmmm.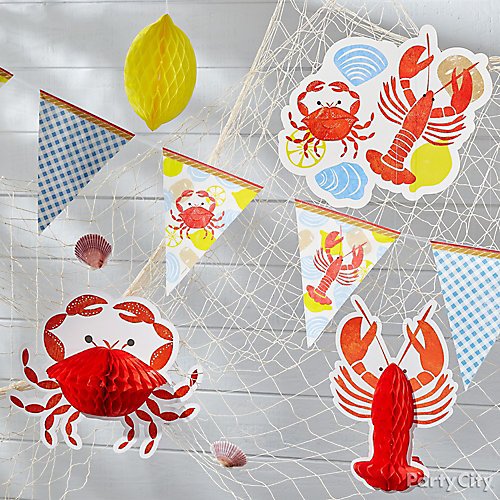 Idea 6: Set sail with coastal decor!
Don't get caught without adorable seaside decor for your seafood boil! Hang a decorative fishing net to bring your guests' minds to the ocean, then hang a sweet blue gingham pennant banner with red crab and lobster accents. Add some seashells and seafood honeycomb decorations, and your guests will feel ready for the feast!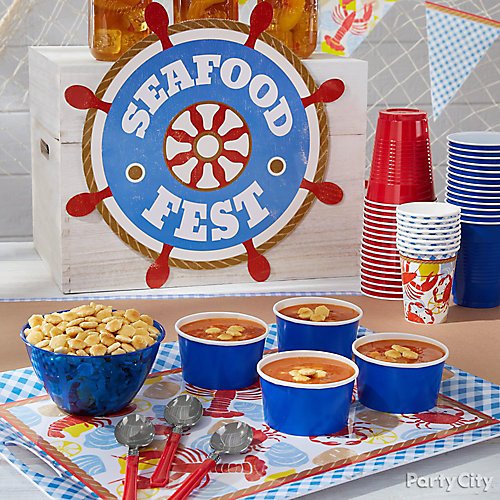 Idea 7: Add fixin's to spice up your red clam chowder!
Get creative with your Red Clam Chowder and add tasty fixin's like sautéed onion, garlic, green pepper, carrots, and bacon. To really make a wow-impression, bring out your chowder on a colorful tray in easy single servings. Make sure to leave out a big bowl of oyster crackers so everyone can help themselves!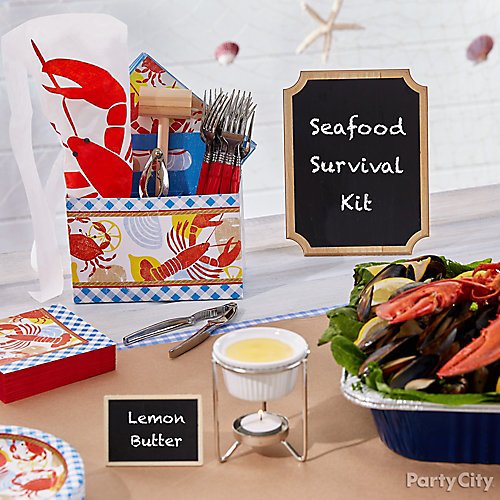 Idea 8: Set them up for seafood success!
Whether you're hosting a large-scale crab feed or a home party, set your guests up for success by equipping each table with a seafood survival kit! Fill colorful utensil caddies with crab crackers, mallets, forks and napkins. They'll be all ready to dive in!