Can you remember the scariest houses from back when you were trick-or-treating? The yards with amazing special effects, moving animatronics and the most disturbing decorations? Maybe you remember the thrill of going through on a dare and bravely approaching the door for candy. There's something so fun about being scared during the Halloween season! Keep reading for ideas on scary Halloween yard decorations that will give trick-or-treaters goose bumps, chills, the creeps, and the willies.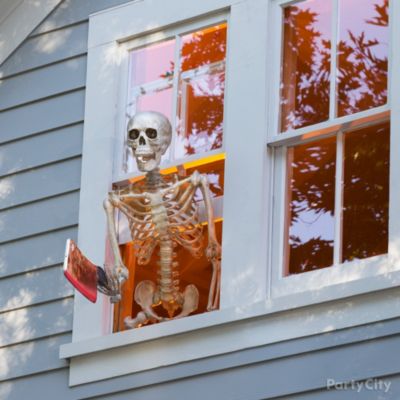 Idea 1: Pose skeletons in yard-facing windows
Arrange a skeleton in the window peering out at approaching Halloween visitors. Place a fake cleaver or other creepy prop in one of his hands using clear fishing line to up the scare factor.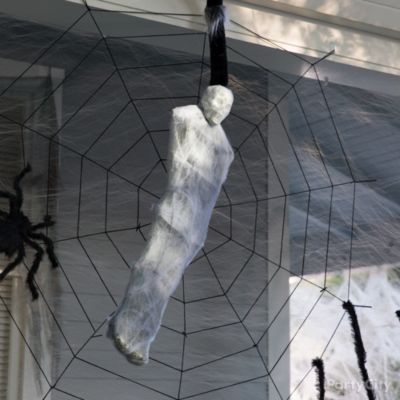 Idea 2: Giant web and spider victim
Looks like this house guest is staying for dinner. Visitors will wonder if they're next on the menu when they see this life-size skeleton cocooned in stretch spider web. Arrange this horrific scene in the front of the house to give chills to everyone who walks by.
Idea 3: Chilling skeleton band scene
Draw a cackling crowd and rattle their bones with some terrifying tunes! To create this deathly stage presence, start by hanging skeletons off a garden hook. Position some standing and another seated at the piano. To give them instruments like an accordion or violin, use heavy weight fishing line or rope tied to the garden hook. To finish off the venue, add in some spooky decorations and effects like a fog machine or creepy music floating through the Halloween night.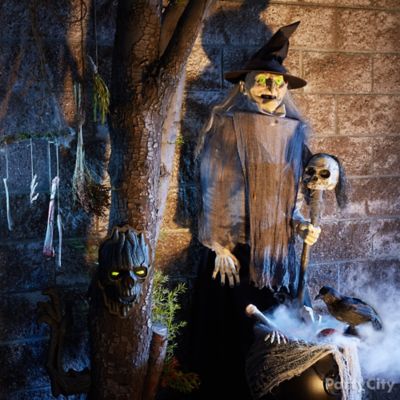 Idea 4: Create a darkly magical witch scene
Welcome to the witch's den! To create this wicked haunted house look, start by placing the animatronic witch in a spot where she has plenty of room to lunge! Next, easily set up a bubbling concoction that will emit eerie smoke. Start the recipe by placing dry ice into soup cans, then filling those with almost-boiling water. Put those cans in the cauldron and garnish the brew with a mixture of your favorite foliage, bones, and critters. Next, create a spirit tree to give the witch a freaky friend. For a final touch, create a wind chime out of bones for some awful ambiance! For a detailed look at our setup, check out our Halloween Witch Scene How-To.
Idea 5: Let Slim Man scare trick-or-treaters!
Picture this Halloween animatronic, which we've dubbed "Slim Man," looming over everyone at eight feet tall, its unnaturally long arms swaying and its creepy whispering sounds in full effect. Now picture it back-lit with a strobe light in your front yard, tucked just behind some trees or bushes. First response from trick 'r treaters? If it isn't running in the opposite direction, it's because they're too freaked out to move.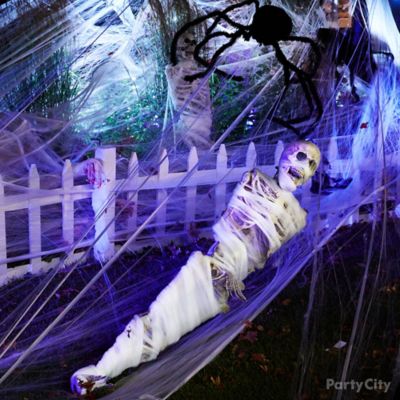 Idea 6: Wrap a skeleton decoration in webs
Wrap a skeleton in webs to signal that this spider's prey has no escape. Secure him by attaching to a metal garden hook (from home supplies store) and stretch a clear table cover out so he is comfortable for his eternal rest. Run long stretches of spider web across his lair and all over your yard to let visitors know they should be very careful. Top off the haunted house illusion by hanging a giant black spider above victim number one. Then run for your life! For more creepy crawlies, check out our Halloween Spider Decorating Guide!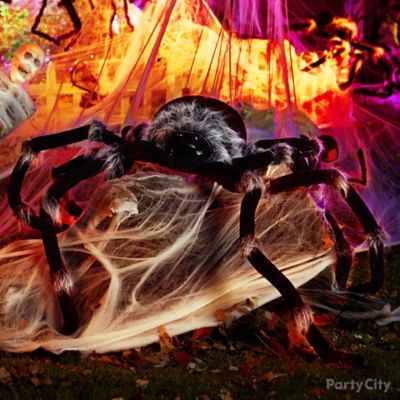 Idea 7: Giant hairy spider prop
This spider and his gigantic web will add fright to your nights and haunt your dreams. You've entered the spider's sanctuary, and not everyone has made it out alive. Behind you'll find his "cocooned" victims in a dark and desolate place. Add a strobe light, spotlight, or both to use this hairy beast in a realistic haunted house illusion. Prey you aren't his next victim!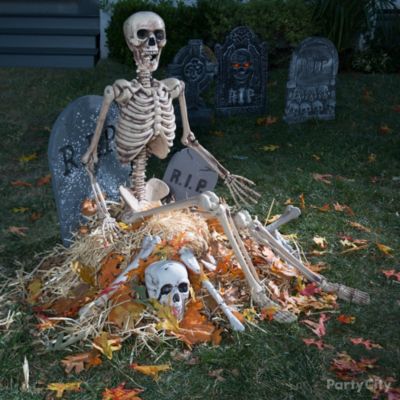 Idea 8: Make skeletons rise from the grave
Create a frightful cemetery scene with a gruesome twosome trying to rise from the grave. Even in death this pile of bones can't catch a break – his skeletal sidekick won't let him up! Scatter a bag of bones among a pile of hay and leaves with a poseable skeleton casually sitting on top. With a couple of tombstones, these bone buddies are ready to haunt the yard.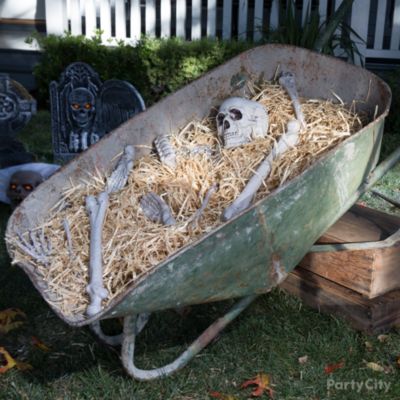 Idea 9: Mix everyday objects with Halloween scares
Consider using what you already have in your garage, shed or backyard to create uniquely creepy Halloween yard decorations. For this jumble of joints, we filled a rusty wheelbarrow with hay and scattered props from a bag of skeleton bones. The result is a casually creepy Halloween decoration.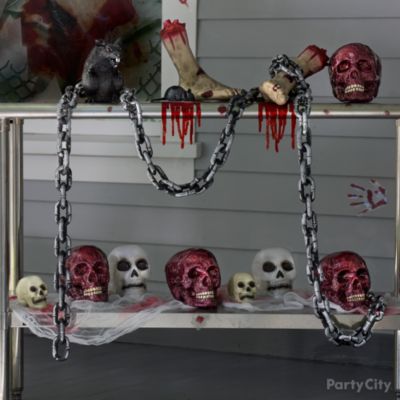 Idea 10: Gruesome Morgue Setup
Show off your collection of body parts! Grab the attention of incoming patients with a table of body parts fresh from the asylum morgue. Arrange lobbed-off limbs and an array of skulls on tattered bloody gauze. Chains and a leering rat perched on the table heighten the horrific effect. Just don't get too close – the skulls may get a little bitey!
Idea 11: Grave Grabber Zombie Animatronic
If you're considering a cemetery theme for your front yard, this animatronic is a can't-miss. This animated decoration looks like a bloody arm popping out of the ground. Trick-or-treaters will be terrified when the animated striking arm reaches for them! All you need to add are some simple tombstone props behind him to fill out your graveyard, and your scene is ready to scare.
Animate your cemetery scenes:
Idea 12: Hanging asylum patient
The doctor will cleave you now! Let a deranged doctor greet new patients to your asylum of horrors! Hang him from the roof with a cleaver in one hand and his unlucky victim in the other. It'll be hard to tell who belongs in the psycho ward more – him or his patient!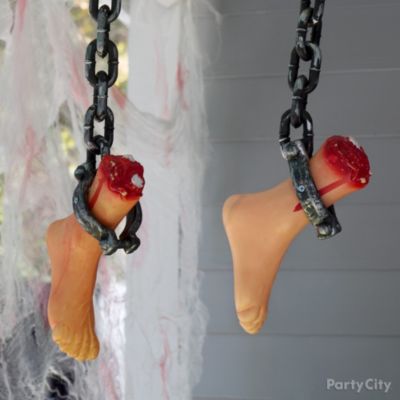 Idea 13: Hang bloody body parts
Something disturbing is afoot! Visitors will start second-guessing their decision to visit your house of horrors when they see this. Dangle bloody feet props attached to chains from the roof to up the gruesomeness of your porch scene.
Idea 14: Gory rats and skeleton scene
Tired of cheese, these rats want blood!Make onlookers squeal with fright with a horde of blood-thirsty vermin having a feast. Arrange a horde of rats to munch on the bloody bones of a skeletal corpse for a truly terrifying scene. With fingers, eyeballs and other body parts scattered around the remains, add some horrific details like mice escaping through the skeleton's mouth and ribs for even more creepiness – eww!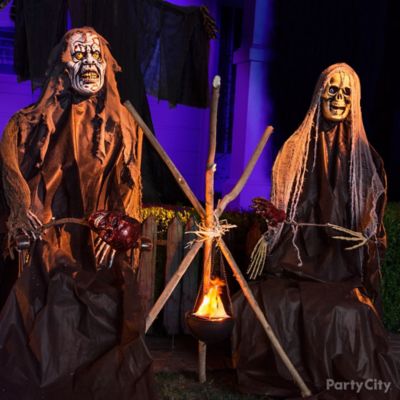 Idea 15: Combine props for a creative Halloween scene
Show up to a blood-bath barbecue! Create scary scenes with a story by combining Halloween props and accessories. This zombie and reaper are usually hanging Halloween props, but they love sitting around and munching on fleshy BBQ bones! Create a fire pit with a couple long branches tied together above an electric flame that looks hotter than Hades. Arrange your putrid pair with bloody-looking hand and skull kabobs, then listen for the squeals of terror and delight from passers-by!
Idea 16: Spooky Spider Webs
Nothing is spookier than spider webs and with stretch spider webbing it's easy. The more the better when it comes to your haunted front door or lawn graveyard. If traditional white bores you, add a touch of color with new colors. It's a cost effective way to add detail to your decorations without breaking the bank. Add a few spiders or a dozen to your webs and you'll look like a Halloween pro.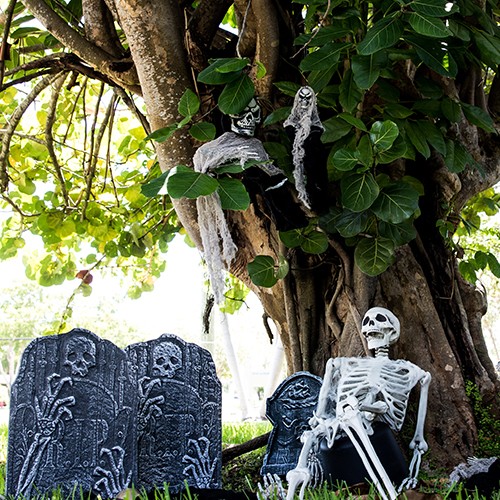 Idea 17: Haunted Graveyard
No need to dig up the yard to create your own Halloween graveyard. Start with tombstones either with individual tombstones or kits that provide you a selection of everything you need. Every haunted cemetery needs bones and you can buy them by the bag or as whole cadavers. A little spider web or black mess and you are ready to be the spookiest house on the block.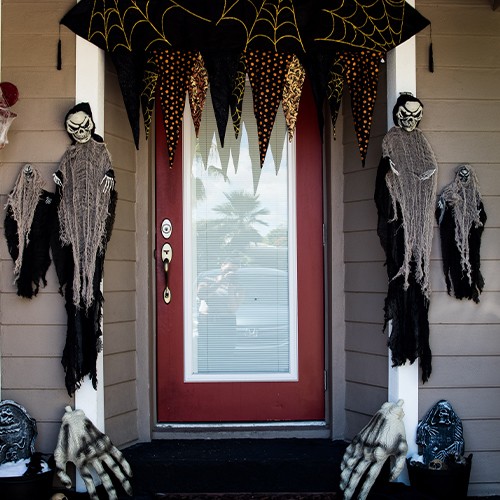 Idea 18: Frightening Front Door
Open the door to the scariest front door in the neighborhood with an assortment of Halloween decorations. Pick a theme that fits well with your space. Spiders, skeletons or a combination of both. Mantle skirts can be used to hang above the door or from bannisters and provide a great backdrop for your theme. Add plenty of bones, webs and spiders. A few black caldrons make nice focal points for assembling skeletons and witches. Don't forget lights as the final finishing touch. There's nothing creepier than a black light on a front porch or haunted string lights up a stair bannister.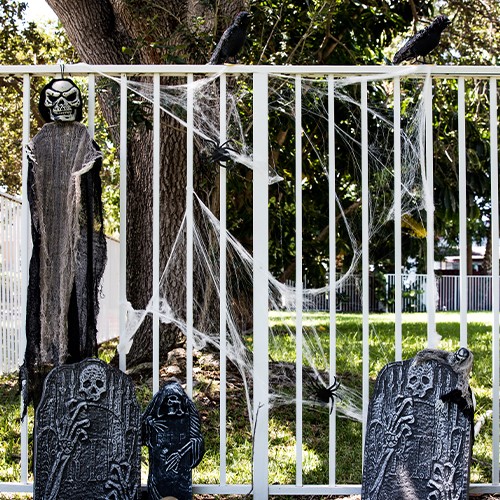 Idea 19: Fences and Gate Halloween Decorations
Gates and fences make the perfect backdrop to create a creepy Halloween scene. Black birds perched on a rail will certainly turn heads as they wonder if what they are seeing is real. Spider webbing can be stretched along fences and kids will love scattering rubber spiders into the web. Add tombstones and skeleton bones for a Pinterest-worthy photo.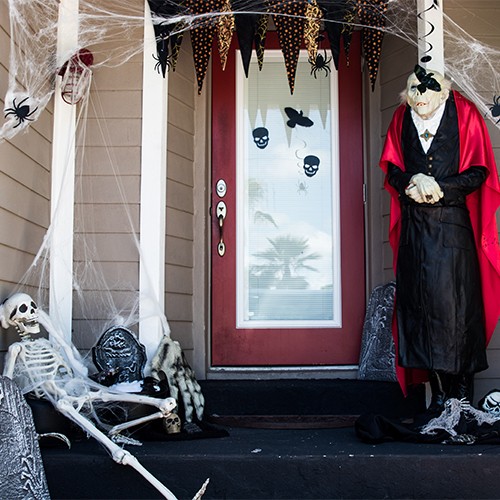 Idea 20: Mix and Match Outdoor Decorations
Graveyard. Haunted House. Witches Party. Ghastly Ghosts. There are so many themes to select for your spooky front yard décor. Why not combine them all into one. Simply mix and match elements of all four to create a creepy walkway that terminates at your haunted front porch. Neighbors and trick or treaters will be shaking into their costumes as they secretly admire your Halloween spirit.