Let 'er RIP with a ghoulish boo-ffet of monster nibbles. Feast your eyes on this sinister spread! No tricks, no treats – just something good to eat! Make their stomachs growl with a dreadfully fun Halloween feast. Give it a haunted mansion transformation with ghastly tombstones, skeleton tableware and spooky candelabra. Fly through our ideas for spider-web hummus, yummy mummy pizza bread and spooky spirits. Creepy enough for you?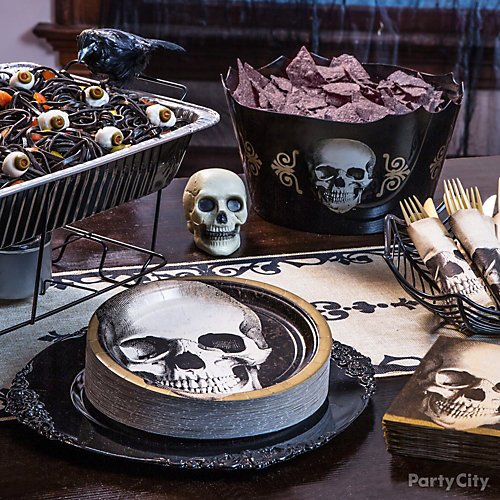 Idea 1: Bone chilling plates for a spine-tingling buffet!
Set the table – and the mood – with a spooky skull plate pattern. A bold skull pattern rimmed with gold lets you play with gold accents for the cutlery and the table decor. This crow wants a bit of eyeball squid-ink pasta!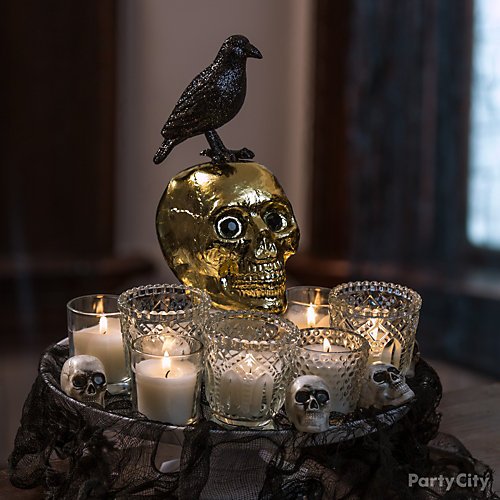 Idea 2: A gold skull + votives = wicked cool centerpiece
To create this haunted vignette, begin with a cake stand draped with black gauze. Place the gold skull in the middle and encircle it with white candle votives. Tuck in small skulls to give it an eerie effect.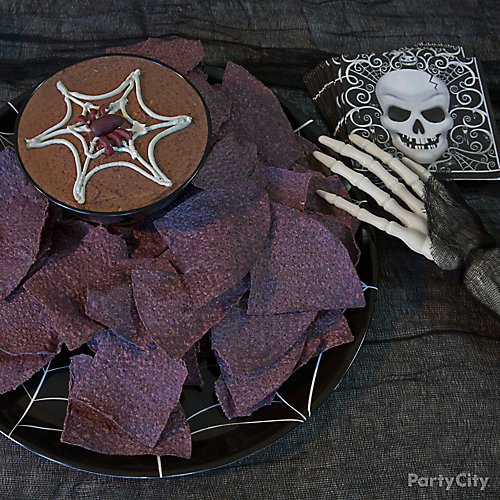 Idea 3: Trap your tastebuds in this spider-web hummus!
Don't be scared – this olive spider won't bite! To make this freaky-deaky dip, blend 2 cans of black beans, 3 tsp tahini and garlic, and 1 tsp cumin in a bowl. Pipe on a spider web with tahini or sour cream, then use a knife to cut eight legs from an olive to add to your olive spider in the center. Serve the dip on a matching platter with blue corn chips.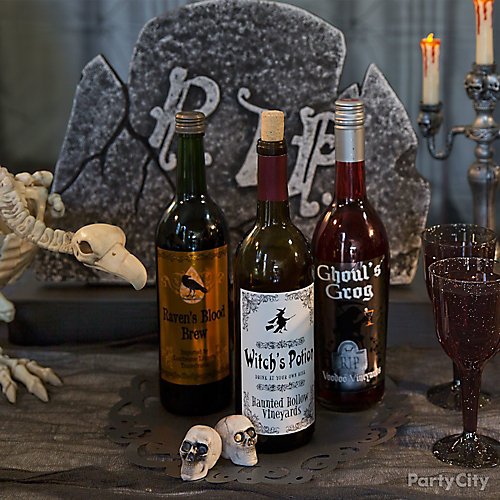 Idea 4: Brew up mischief with a wicked wine bar!
Grown-up ghouls will shriek in delight for these spirited potions! Stick spook-tastic Halloween labels onto the wine bottles you'll be serving. With names like "Raven's Blood Brew" and "Ghoul's Grog," everyone will want a taste. Arrange a skeleton vulture nearby to look as if the missing bartender left his skeletal friend in charge!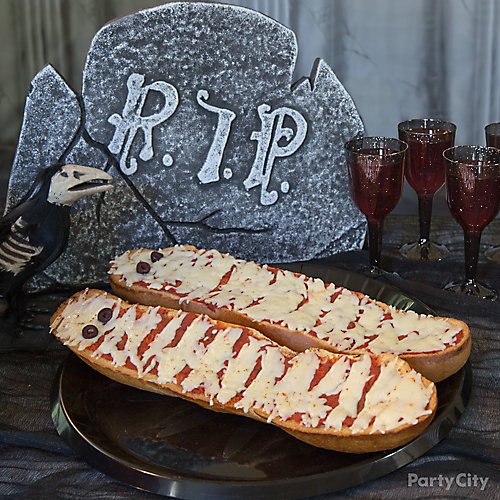 Idea 5: Try this yummy mummy!
Wrap up French bread in true mummy fashion for a spooky and delicious pizza bread! To make, slice a loaf of French bread and cover with pizza sauce. Layer strips of mozzarella cheese for mummy wraps and a couple sliced olives for eyes – eerily easy! After baking, keep your pair of crypt keepers toasty in a warming dish until it's time to serve.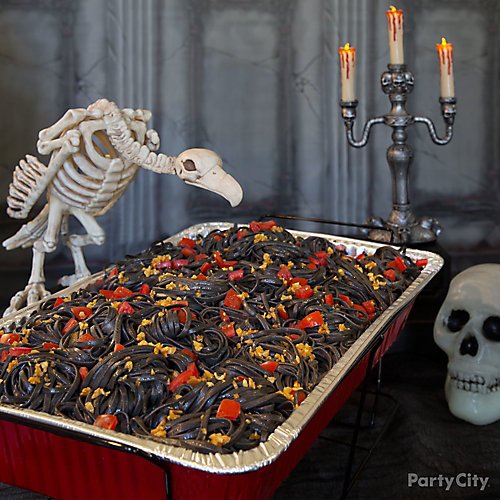 Idea 6: Spooky good squid-ink pasta
Serve a Halloween-hued dish everyone will want to sink their teeth into! To make, saute 2 cups of cherry tomatoes and 4 cloves of chopped garlic in a pan with 1/4 cup olive oil until the tomatoes burst and the garlic has turned a golden-orange color. Add in 1 lb of cooked squid-ink pasta and toss to coat. Keep your creepy-yet-savory pasta warm in a chafing dish before serving on skull-covered plates.