Get farm fresh with blush tones and rustic accents. A rustic theme bridal shower is all about traditional charm with a trendy twist! A decorative blend of class and comfort, a rustic theme bridal shower is perfect for the bride who is all about celebrating the next big step surrounded by an intimate gathering. We show how to use mason jars, wood grain textures and soft blush tones to create a unique and trendy shower with a traditional twist. Get cozy by browsing our rustic bridal shower ideas for ways to get modern, fresh-from-the-farm looks.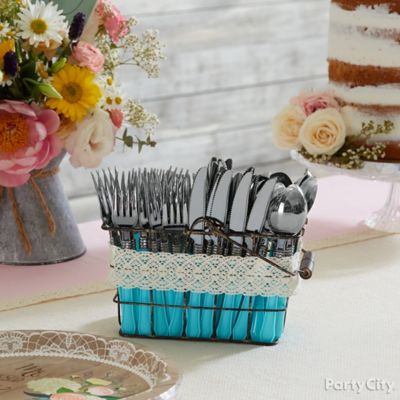 Idea 1: Make your cutlery a cut above the rest with a pop of color
Make your table setting a "cut" above the rest with cutlery that's both formal and friendly. For a rustic bridal shower, go for cutlery that has the look of silverware but a handle that complements the color scheme. Then place them in an open utensil holder for a convenient and stylish grab-and-go look.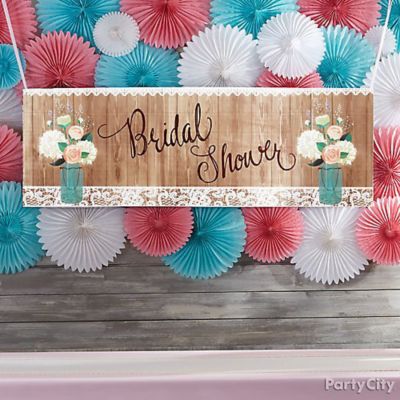 Idea 2: Punch up a rustic banner with paper fans
A decorative banner is already eye-catching, but adding simple decorative accents like paper fans can really make it pop. They make for an easy and charming way to bring color and decor together and for giving rustic pieces like a rustic-print banner a modern makeover.
Idea 3: Less is more with this naked cake idea
When it comes to a rustic theme bridal cake, underdressed is the recipe for success. The simplicity of a naked cake—where the texture of the cake shows through a thin layer of icing—is a natural fit for a rustic theme wedding. Accent it with fresh flowers to make this bare all cake a bit dressed up.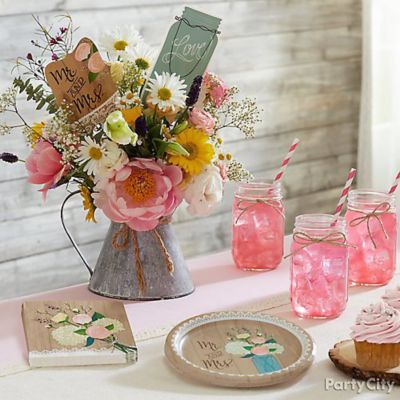 Idea 4: Spruce up centerpieces with simple props
A floral centerpiece always spruces up a table setting, but here's a simple trick for tying the arrangement to the bridal shower theme: tuck in a couple of centerpiece sticks. Select iconic rustic-theme props like a mason jar cutout, and then place them in your floral arrangement for a simply photo-worthy look!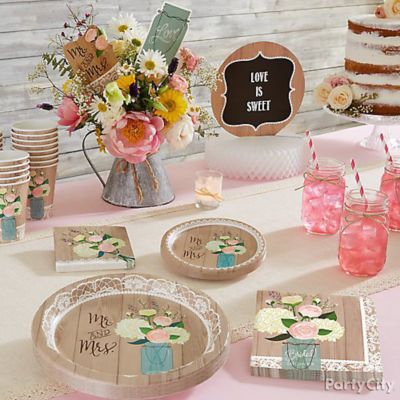 Idea 5: Create a simply dreamy tablescape with shades of blush
Draw inspiration for a rustic-theme table setting from muted tones of pink and cream. Weave these shades in your plateware, table centerpiece and food display—it's an effortless way to go shabby chic.
Idea 6: Love is sweet with simple cupcakes!
Even as a simple dessert, cupcakes are an understated way to tie in the color theme of the celebration. Cupcakes for a rustic theme bridal shower calls for icing in a muted color tone and topped with a touch of pearl sprinkles. This sweet idea is easy to love!