Brew up your own take on a "skull and bones" theme by selecting your favorite skulls, small skeletons and rustic decorations from wood and burlap. Serve drinks on the top shelf and trick out the bottom shelf with your fave skulls, bottles and pumpkins. To complete the scene, stack crates filled with skeletons, gourds and votives, then spook up the wall with a "craft cocktails" sign and a few classy bats.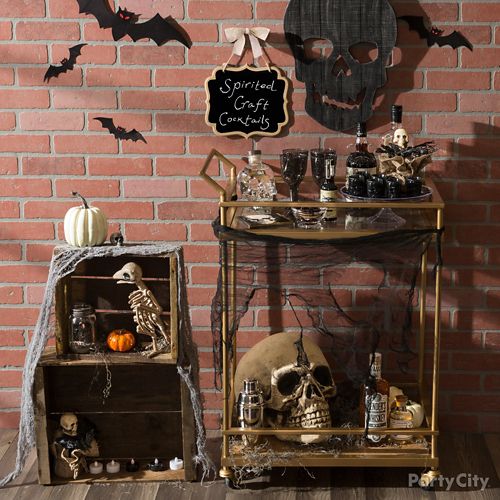 If you like your Halloween to be more stylish than spooky, this whiskey tasting bar cart has bewitching appeal. The devil is in the details, so upgrade your basic bash with our tips for recreating this look that uses skull-theme decorations, spooky-chic drinkware, and touches of chalkboard and burlap that play off the rustic Halloween decorating trend. Keep scrolling for recipes!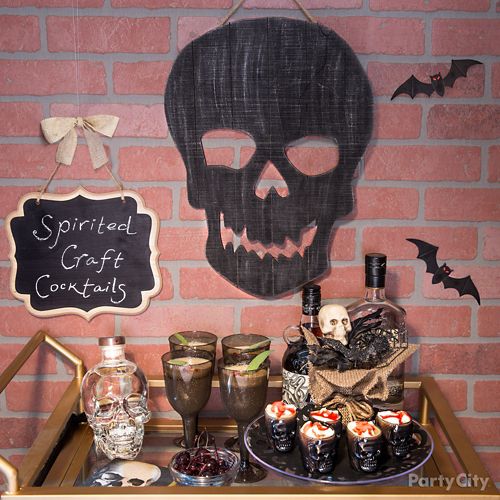 1) Decorate the wall
A "rustic" theme works with a variety of wood and metal decorations. Think skulls, bats and touches of burlap. Write a your own saying on a chalkboard sign for a unique take.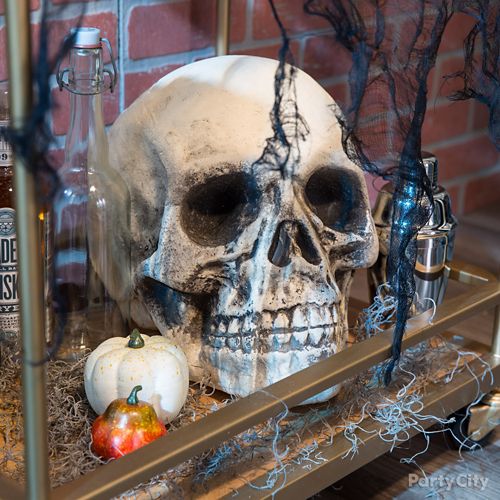 2) Choose a bold icon
This over-sized skull works perfectly on the bottom shelf of a bar cart to set a sinister scene. Style the cart with black gauze and decorative moss, mixing in a selection of small gourds, bottles and cocktail shakers.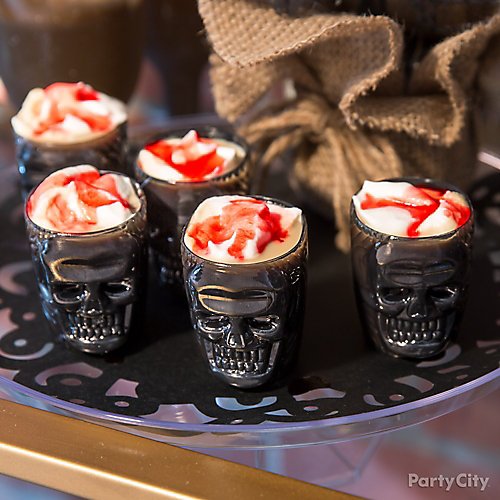 Idea 3: A ghoulishly glam skull shooter for the blood-thirsty!
Fill skull shot glasses with a fiery cinnamon whiskey, top with whipped cream. To make them blood-dripped, drizzle raspberry syrup for a deliciously sinister air. Display your devilish drinks on a cake stand lined with a black doily. To taste other whiskeys on your bar cart, have a tray of more skull shot glasses at the ready.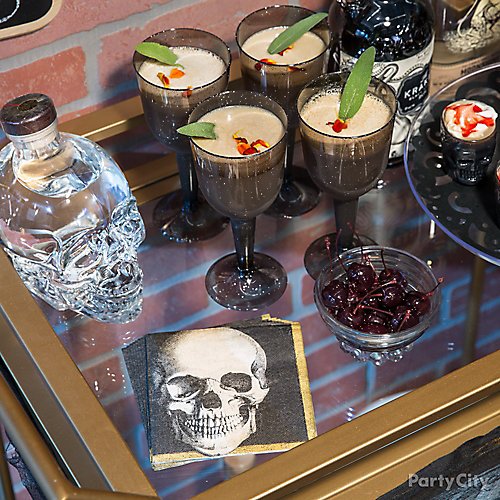 Idea 4: Spine-tingling ideas for bewitching spirits
Haunt the top shelf of your bar cart with sinister and chic libations. To brew up a classic Whiskey Sour: put 2 parts scotch whiskey, 1 part lemon juice, ice and a whisked egg white in a cocktail shaker. Shake gently and strain into glasses. Make it yours with creative garnishes like sage leaves, orange zest, lemon peel or edible nasturtium flowers.