Flashy ways to decorate and entertain at a glam movie party. Decorating ideas with star power! Roll out the red carpet for your movie party or awards night bash! Check out these decorating ideas to turn your living room into the Walk of Fame. It's easy with our wide assortment of themed decorations. Click through all of our Hollywood party ideas, including a scene-stealing popcorn bar!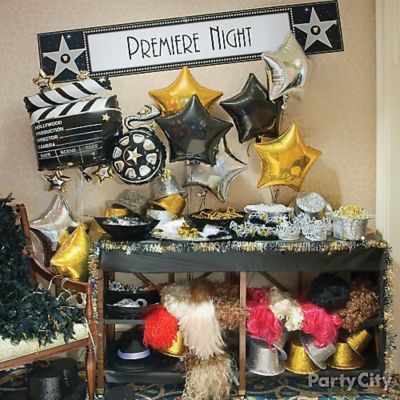 Idea 1: Give guests the gift of glam with Hollywood costume looks
Get guests excited about your Hollywood party with a favor bar brimming with glamorous Hollywood costume accessories and wearable favors! Set out glittery top hats, tiaras, wigs, glasses and boas so that guests can put on the ritz. They'll feel like A-list celebrities walking the red carpet with all of their goodies!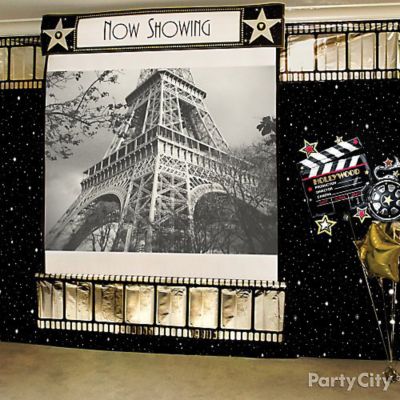 Idea 2: Let your inner star shine and strike a pose
Be ready for the action with a glitzy photo booth backdrop! Put up your favorite movie poster and border it with glam Movie Film Party Tape and a custom Hollywood banner. Shiny black floral sheeting adds a dramatic backdrop, while balloons accent the scene. Guests will be lining up to take their Hollywood-perfect pictures!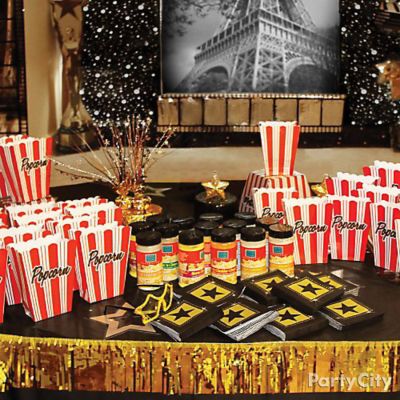 Idea 3: Draw their attention with eye-catching decorations
Popcorn is a movie party must-have! Set up the perfect popcorn bar by starting with glitzy garland and star cutouts on a table near your big screen. Star balloon weights in silver and gold are a great way to add more glam, while popcorn boxes give it a classic cinema feel.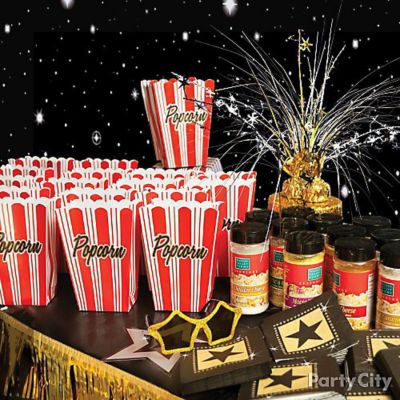 Idea 4: A movie-theater popcorn bar will steal the show
Complete your popcorn station with reusable popcorn boxes with classic red and white stripes, and set out popcorn toppings so guests can season their kernels their way. Don't forget plenty of Hollywood theme party napkins for buttery fingers ... things can get messy when the plot thickens!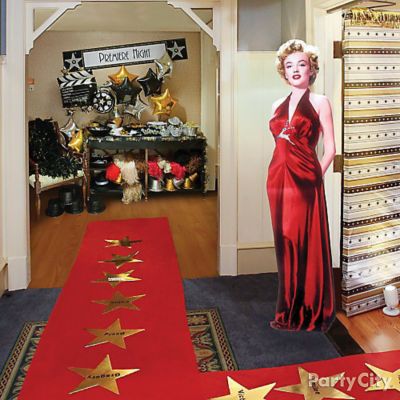 Idea 5: Fill your party room with big stars!
Get ready for awards show season by throwing a Hollywood party with a star-studded red carpet and bouquets of star balloons! A glamorous gold, silver, red and black color scheme helps create a picture-perfect opening scene. Complete the photo-ready setting with life-sized cutouts of your favorite stars!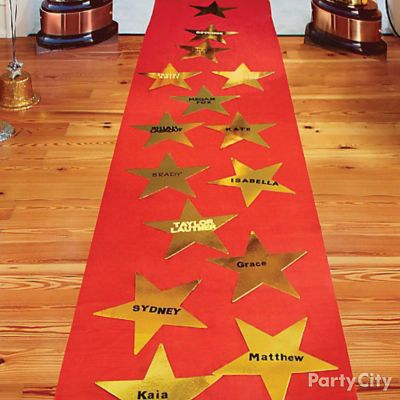 Idea 6: Roll out the red carpet
Make it an authentic Hollywood party by creating your own red carpet Walk of Fame! Use a red carpet runner as your red carpet, then add gold star cutouts. Use letter stickers to spell out the names of guests invited to your Hollywood party, or use celebrities' names.