We filled up these modern Christmassy cups with a classic winter treat. Creating the perfect peppermint bark is as simple as melting and layering! Check out the recipe below.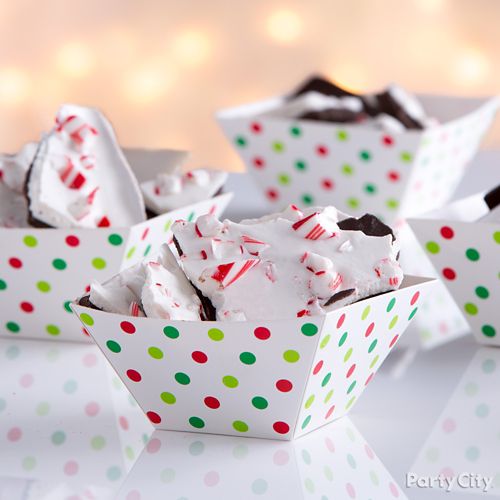 How-To
Ingredients:
White chocolate candy melts
Milk or Dark chocolate candy melts
Mini candy canes
Peppermint extract (optional)
Supplies:
Baking sheet
Parchment paper
Cups to serve in
Mixing bowls
1) First layer
Melt your milk chocolate according to package directions and add a dash of peppermint extract, if desired. On a sheet pan covered in parchment paper, pour a layer of chocolate candy melts and let cool at room temperature.
2) Prep your candy canes
While you wait for your first layer to cool, crush up your miniature candy canes: different sizes and textures make each bite interesting, so don't completely pulverize them!
3) Second layer
Melt your white chocolate. When your first layer is set, pour a layer of white chocolate on top and immediately sprinkle with crushed candy canes, pressing them gently into the white chocolate to ensure they stick. Once it cools, you can break the bark into pieces and serve at your tasting!