Throw a birthday party that's simple, stylish, and brilliant! Little piggies will love playing fun games, dressing up, and enjoying a fun-filled day in a world of Peppa Pig. Check our our easy ideas for everything from invitations to decorating and more!
Idea 1: Create a special outfit for the birthday girl!
She'll love being dressed up in her own Peppa Pig accessories! Add a birthday award ribbon, pink tutu, and Peppa Pig cap to any outfit, and she's ready for the big day. Be sure to snap a few pics with Mummy and the birthday girl!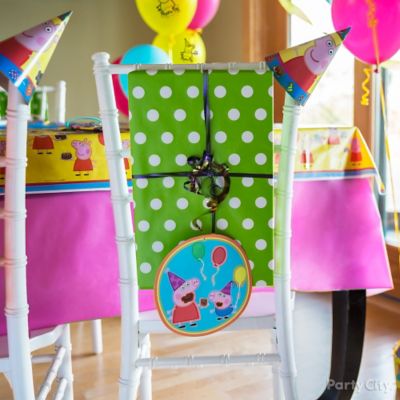 Idea 2: Decorate the chairs with DIY faux birthday presents!
Little guests will love this easy and fun chair decoration. We made each chair look like a present by wrapping a cardboard box lid in polka dot gift wrap and curling ribbon. Then, we hung a Peppa Pig cutout off the ribbon and added a cute Peppa party hat on top to complete the look. For 8 chairs, be sure to pick up two packs of swirls so you have enough cutouts. Use extra decorations around the party room!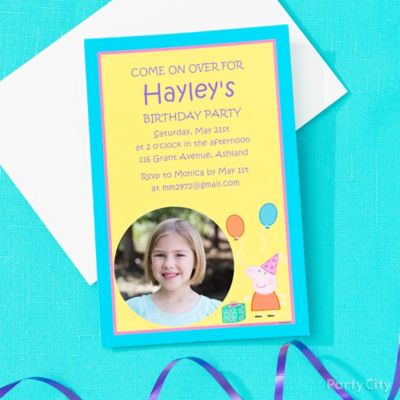 Idea 3: Say "You're invited!" with a photo invitation
Have the fun start early! Make the Peppa party extra special from the start by grabbing a picture of the birthday girl and using it in Peppa Pig custom photo invitations. To make guests oink with joy, surprise them with photo invitations filled with Peppa Pig tattoos and confetti. The girls will save the date and dream about cake!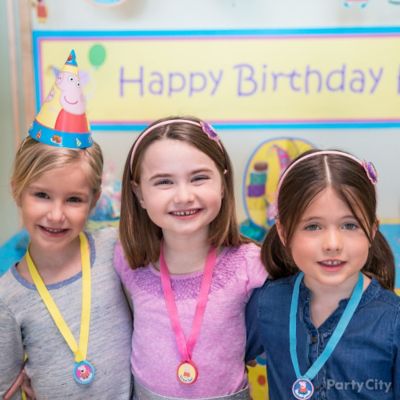 Idea 4: Have the girls join in the dress up fun!
Play dress up with the birthday girl! Have medals, headbands, and party hats for the little cuties to wear throughout the party. You can even add a special treat to the invitations beforehand so guests arrive to the party prepared to be a part of the pig family for the day!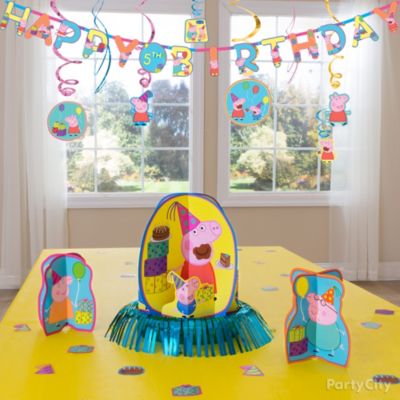 Idea 5: The table is ready for fun!
Make your party pop with the essentials — a Peppa table centerpiece! It matches perfectly with a Peppa Pig letter banner and swirl decorations. Our kit has everything you need, or you can mix and match solid color decorations to create a unique look.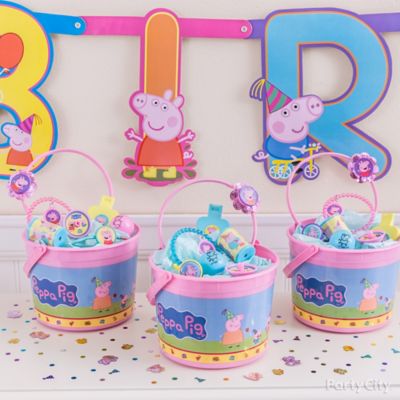 Idea 6: Go all out with buckets full of favors!
Headbands, bracelets, hair ties, and more — this easy party favor idea has it all! Save time with a party favor kit that includes buckets and a variety of goodies. You can even mix and match your own choice of favors for customized goodie buckets.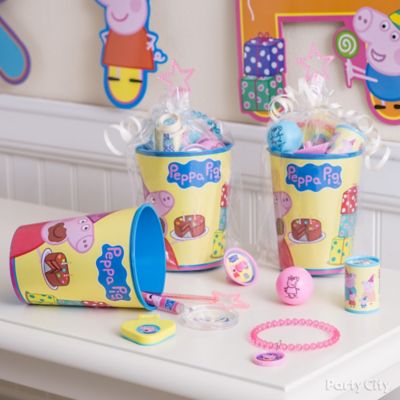 Idea 7: Fill reusable Peppa favor cups with lots of pig-approved favors
Give her BFFs a favor they can use over and over! Simply fill reusable Peppa Pig cups with paper shred and a variety of favors. It's even easier with a pre-made favor kit. Wrap them in a clear favor bag tied with ribbon and you're done! The girls will love it as much as piggies love mud. And better yet, they can use the cups at home to remember the big day.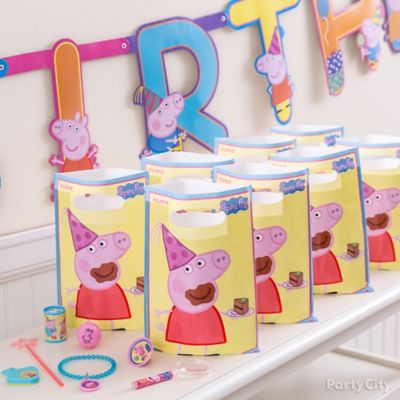 Idea 8: A favor kit for the busy mum
Don't miss out on the party fun. Favor kits make it easy to give away goodies at piggy parties, small to large! This favor kit comes with adorable Peppa Pig favor bags and enough goodies for eight little pigs making it easy on busy mums and daddies.
Idea 9: Serve up garden fresh veggie cups
Even little piggies need to eat healthy! These veggie cups are easy to assemble and get kids interested in vegetables. All you need are Peppa Pig Treat Cups, some toothpicks, and your favorite veggies. Stick the toothpicks into the veggies and have them poke out of the cups. It's like a mini garden you can eat!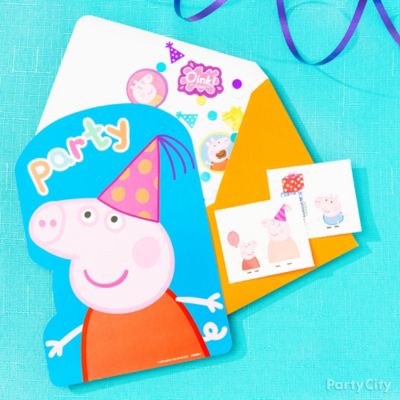 Idea 10: Send them a secret party pass!
It's her birthday! Get the girls excited about the VIP (Very Important Piggy) party with an invite and Peppa Pig tattoo! Tell guests it's their secret party pass so they'll wear them on the day of the party. They'll be practicing their oinks for the big day!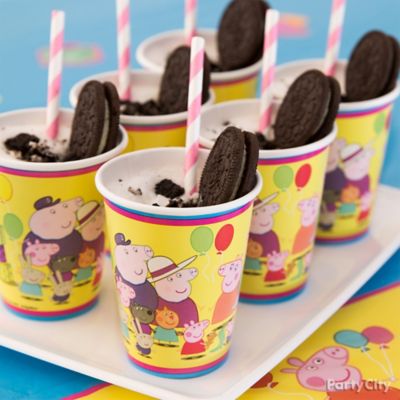 Idea 11: Thirsty piggies love muddy milkshakes!
Little pigs will get thirsty and these Muddy Puddle Milkshakes will make the birthday guests squeal in delight. Pour your favorite chocolate shake recipe into Peppa Pig cups and sprinkle chocolate cookie crumbles on top to make it look like mud and dirt. Add a straw, and watch them slurp this sweet treat!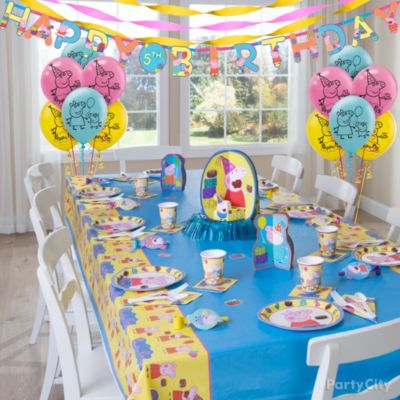 Idea 12: Decorate the perfect Peppa party room!
Mummies and daddies love how easy it is to create this awesome room. To get a Peppa party look from top to bottom, all you need are a few decorations, balloons, and a cute birthday banner. Or choose a Peppa Pig party kit and mix and match additional centerpieces.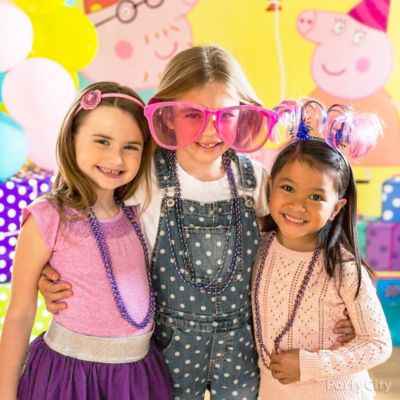 Idea 13: Capture their goofy personalities!
An easy-to-hang Peppa Pig Scene Setter adds to the perfect photo backdrop! Simply attach the scene setter to a wall and add custom touches to set the scene for photo time. With the adorable pre-made photoshoot kit that includes giant sunglasses, beads, and oh-so-adorable headbands, you can get great candids that Mummy and Daddy Pigs will think are insta-adorable.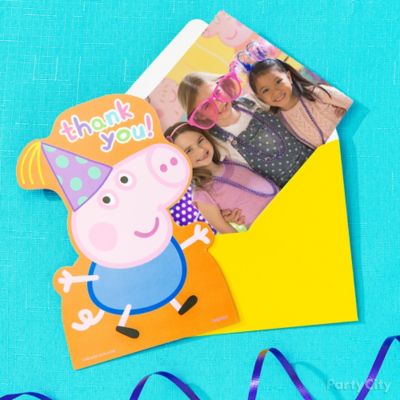 Idea 14: A photo and thank you in one!
Thank everyone for coming in an adorable way! Tuck a picture from the party in with your Peppa Pig thank you notes. Not only will they know how much you appreciate them joining in on the fun, they'll have a cute memento from the big day.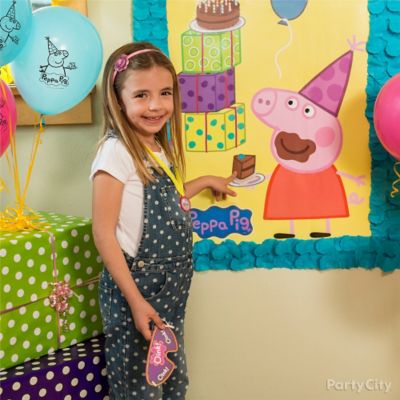 Idea 15: Give Peppa a piece of birthday cake!
Peppa loves chocolate cake! So let your guests feed it to her with our pin-it game! They can take turns trying to place their slice of cake close to Peppa's plate. Guests will giggle when they see where the cake landed! Save time with a pre-packed game, or customize the game by decorating the border with garland to make a fun yet simple party decoration.
Idea 16: Pick a ribbon for a pinata surprise!
Hand out Peppa Pig buckets or goodie bags, because it's pinata time! With a pre-packed pinata kit, little ones can enjoy a fun party pinata that is full of surprises! The birthday girl and her friends take turns picking a string to pull and see which one releases the goodies! They'll be on the candy faster than Peppa in a muddy puddle!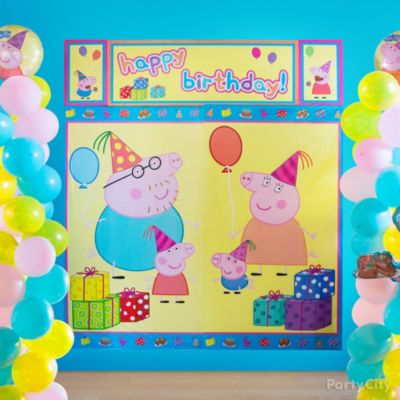 Idea 17: Create the world of Peppa Pig with a scene setter!
The party is always brighter when Peppa and family join in! Here we covered poster boards in a blue table cover to complement the party colors and add height. Next, we added the Peppa Pig scene setter and balloon towers on each side. It's a decoration and photo backdrop all in one!