Peppa fans will ♥ this balloon centerpiece!
Balloons go with birthdays like Peppa Pig goes with muddy puddles! For a super fun look, add balloons to the party table with this DIY centerpiece. With a few materials and a little creativity, you can create this look. Just follow our simple How-To.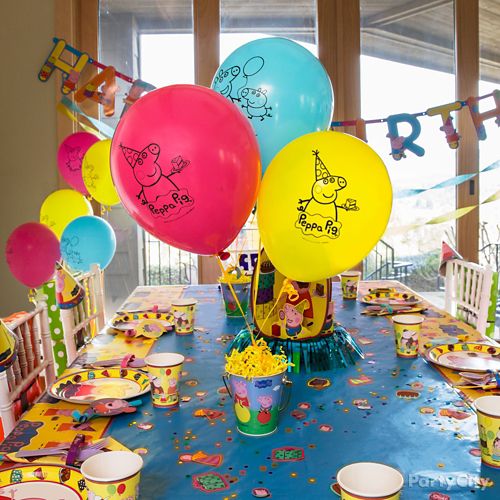 How-To
Supplies:
2 Peppa Pig Metal Pails
2 Orange Balloon Weights
1 pack Peppa Pig Balloons
1 Yellow Ribbon Keg
1 pack Yellow Crinkle Shreds
OR 1 Peppa Pig Centerpiece Kits (includes all supplies listed above)
1) Inflate Balloons
Inflate six latex balloons. Helium is recommended to keep the balloons floating above the party table.
2) Tie Balloons to Balloon Weights
Tie one balloon of each color to one balloon weight and repeat for the other balloon weight.
3) Place Balloons in Pails
Place one set of balloons with balloon weight into each pail.
4) Complete With Paper Shred
Fill each pail with paper shred. All done!