Decorate a perfect piggy cake
They will have a pep in their step when they see the birthday cake! We decorated this delightful dessert with balloons and presents in vibrant colors. Then, Peppa Pig candles and bright blue gumballs were added to complete the look. Cake time will be hog heaven! Just follow our easy How-to.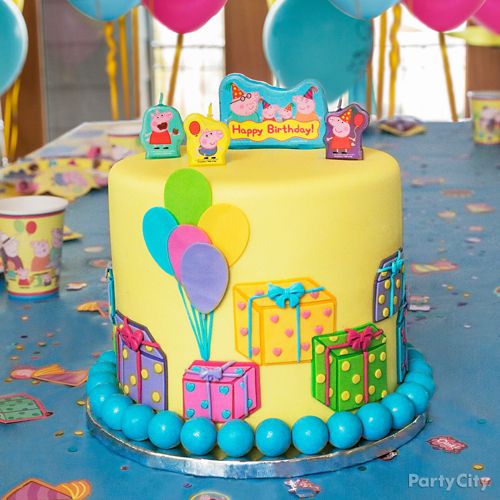 How-To
Ingredients:
4 12in round cakes
Icing
3 boxes of white fondant
Pink, green, yellow, blue and violet icing colors from kit
Caribbean blue gumballs
Supplies:
12in cake pans
Spatula
Toothpicks
Fondant roller
Round decorating tip #5
Fondant smoother
Cake board
1) Bake Cake
Use a round cake pan and bake your favorite cake. Use multiple layers for extra height.
2) Apply Icing and Fondant
Cover the entire cake with buttercream icing then cover with yellow fondant.
3) Create the Scene
Cut the multicolor fondant into pieces shaped like balloons and presents.
4) Add Candles and Candy
Finish off this piggy cake with gumballs around the base and Peppa Pig candles on top.