Call the party pups together for cake time!
Kids will want to make like Rubble and dig into this tasty fondant cake, especially when it's decorated with their favorite pups! With a fondant collar featuring Chase's badge, paw prints and a candy border, this cake will be the star of the treats table. See our pup-tastic PAW Patrol Fondant Cake How-To below for the step-by-step instructions.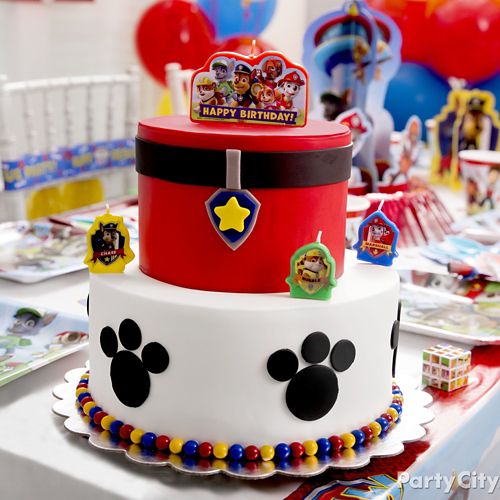 How-To
Ingredients:
2 - 6 in. cake rounds
Two 9 in. cake rounds
White buttercream icing
1.5lb white fondant
Multicolor rolled fondant (blue and red colors used)
1.5lb black rolled fondant
Black icing color
Red Sixlets®
Yellow Sixlets
Blue Sixlets
Supplies:
2 - 9 in. cake pans
2 - 6 in. cake pans
Fondant roller
Fondant smoother
Paring knife
Round & Star Decorating Tips (Tip #3 used)
Disposable decorating bags
Couplers
Star cookie cutters 4ct
Round fondant cutters 6ct
12 in. cake board platter
PAW Patrol birthday candles
1) Prepare cake
Stack the two 6 in. cake rounds on top of each other with a thin layer of buttercream icing between layers. Repeat with the two 9 in. cake rounds. To prepare both sets of cake rounds to be covered with fondant, ice them with a layer of buttercream icing.
2) Cover with fondant
Knead and roll out 1 lb white fondant. Place over the larger cake round and smooth using a fondant smoother. Trim off the excess with a pizza cutter or paring knife. Do the same for the smaller cake using a ball of red fondant. Place the smaller cake on the larger cake on top of a cake board.
3) Make a collar
To make the collar, knead a ball of black fondant and roll out to approximately 6 in. long. Cut a 1 in.-wide strip and wrap around the cake, then attach to cake with buttercream in a disposable bag with tip #3.
4) Make Chase's pup tag
To make the Pup Tag, tint a small ball of white fondant with a dot of black icing color to make grey, then roll out and freehand cut a 2 in. shield shape and 1 in.-long rectangle to attach to the cake "collar." Knead and roll out a ball of blue fondant, then freehand cut a shield shape slightly smaller than the grey one you just made. Knead and roll out yellow fondant, then cut out a star shape with the smallest star cookie cutter. Assemble the Pup Tag with dots of buttercream icing, layering the star on top of the blue shield on top of the grey shield. When it's dry, attach the Pup Tag to the top tier of the cake with buttercream icing.
5) Whip up paw prints & candy border
To make the paw prints, roll out remaining black fondant and cut out six paw prints with the two smallest round fondant cutters. Add a dot of buttercream icing in a disposable bag with tip #3 to the back of the circles, then arrange them around the bottom tier of the cake. To make the candy border, use buttercream to place small dots around the bottom tier of the cake and alternate red, yellow and blue Sixlets®. Add the finishing touch with PAW Patrol birthday candles, then it's ready for action!