"Raise the woof" with a Party Pups shindig! Your puppies won't be the only ones wagging their tails with delight once you see our easy, puppy-riffic party ideas. No "paw-blem"!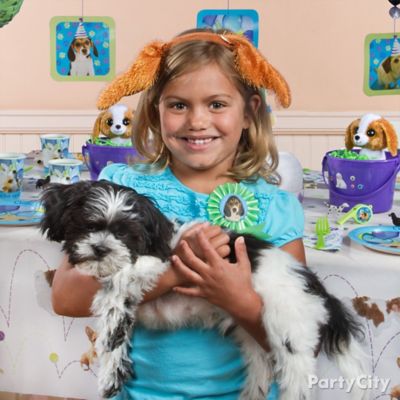 Idea 1: Accessorize a special birthday outfit
The birthday girl would look bow-WOW in Party Pups accessories! She can stand out in a hat and special ribbon to go with her specially chosen birthday outfit.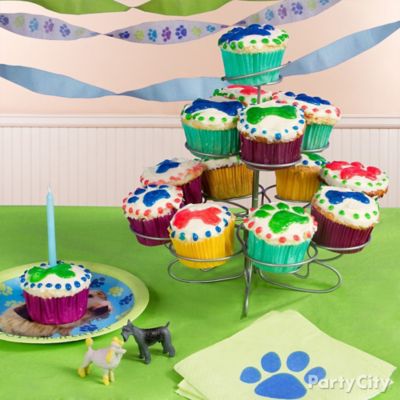 Idea 2: Create a towering cupcake display
After hours of puppy playtime, it's time to chow down! Birthday cupcakes in the birthday girl's favorite flavor keep her friends energized, while cute bone and paw-print icing designs keep with the adorable party theme.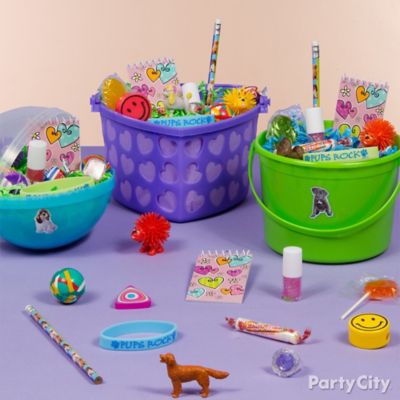 Idea 3: Say thanks for coming with favor buckets
Put your personal paw print on ordinary favor containers with colorful Party Pups stickers. Then, fill them to the brim with toys, accessories and even school supplies. What a "fetching" thank-you gift!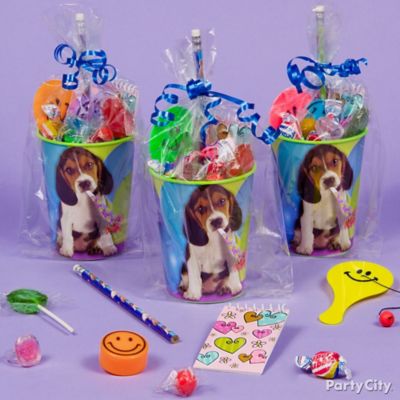 Idea 4: Create pup cups brimming with favors
Pup cups are a real treat! Fill a Party Pups favor cup with party favors and candy, wrap it up and tie it off with a curl of ribbon. Give your friends the gift of hours of fun, long after the party's over!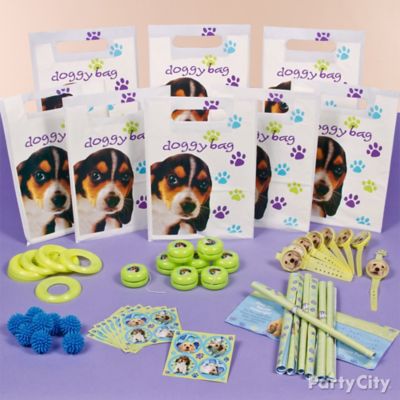 Idea 5: Save time with a party favor value pack
Giving out party favors is a walk in the park! Our Party Pups favor pack contains cute favor bags and enough goodies to fill them all. Now you'll have more time on your paws for playtime!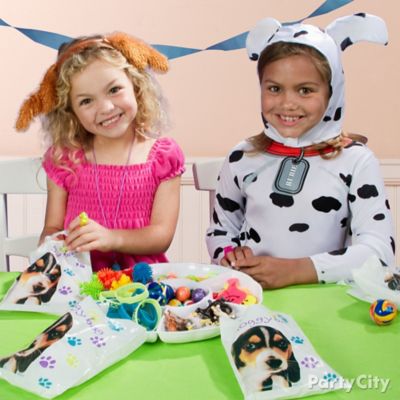 Idea 6: Surprise your pups with a favor bar
Set up a favor bar full of Party Pups treats and you'll be a pup's best friend! Fill a sectional tray with fun toys and accessories and everyone can make their own fun.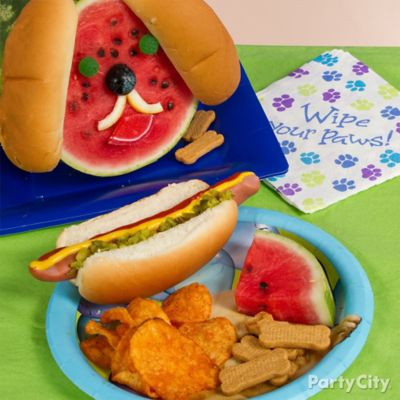 Idea 7: Serve up some savory chow – "bone" appetit!
Hot dogs are the perfect dish to serve at the birthday pup's celebration. Round out the meal with potato chips, bone-shaped cookies and fresh fruit served on Party Pups tableware. Don't forget the napkins so that your guests can wipe their paws!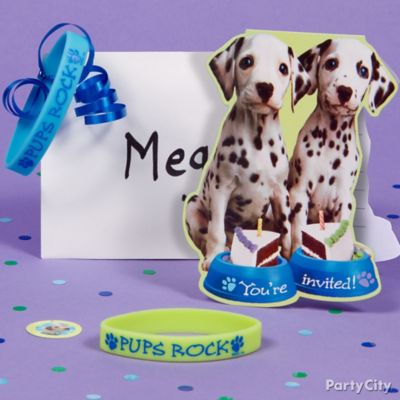 Idea 8: Hand-deliver your invites with a pre-party treat
If your pup is delivering Party Pups invites by hand, why not include a pre-party favor? Punch a hole into a corner of the envelope and tie on a cool wristband using ribbon. It's a tiny gift that will have your friends begging for more!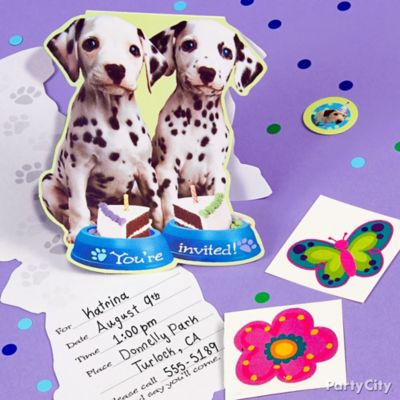 Idea 9: Give your guests puppy passes
Teach your top dog this new trick: Sprinkle confetti into the envelopes with your Party Pups invitations for some party flair. Be sure to include a colorful tattoo; it's an "ID tag" that lets each party guest into the bash!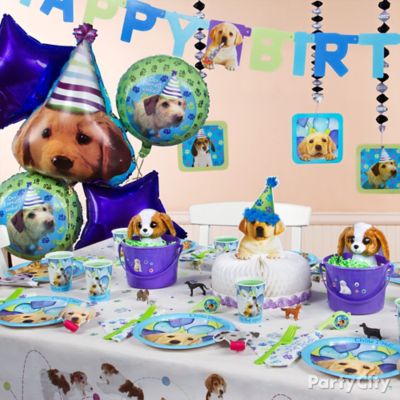 Idea 10: Tails will wag for your party table!
Our range of Party Pups decorations includes everything you could want to transform your room nose to tail, and in a cool blue, purple and green color scheme. Complete the party room with even more decorating ideas below.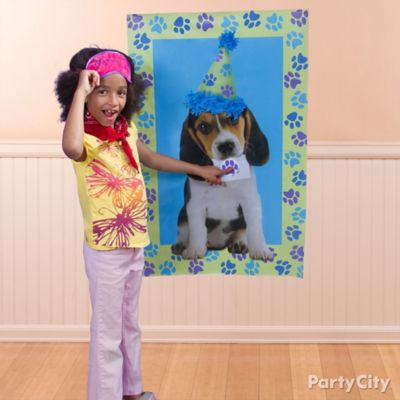 Idea 11: Put the paw print on the pup!
In this fun twist on the classic Pin the Tail on the Donkey game, the adorable beagle puppy is missing a paw print on its letter. For the Party Pups party game, give each player a sticker and see who "pins" it closest to the right spot!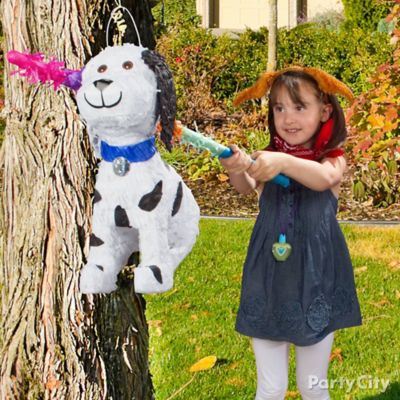 Idea 12: A pooch pinata is a must!
Make no bones about it: the pinata game is a classic party activity that kids and grown-ups love. Fill a Party Pups pinata with sweets and treats that your puppy guests will drool for!
Idea 13: They'll howl for these place-settings!
Dog bowls just won't do! Arrange Party Pups tableware at each place-setting with complementary solid-color utensils. Matching blowouts double as a table decoration and party favor!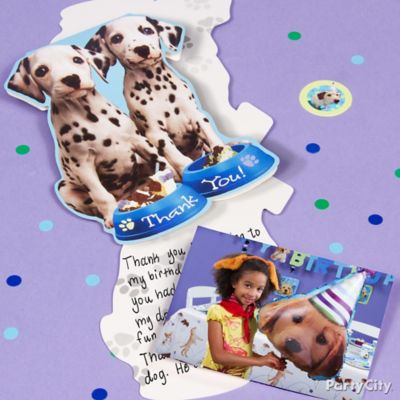 Idea 14: Say thank you with a photo memento
A Party Pups thank you note makes every party guest feel like a top dog! Have the birthday pup write a sweet "Thank you" on the back of the card, then send off with the included puppy sticker seal.