Whether you're celebrating Cinco de Mayo or looking for summer theme party ideas, take your decorating cues from the gorgeous hues of Mexico. Our guide to planning a Cinco de Mayo celebration is blooming with trends and traditions. All the colors of intricate paper garlands, or "papel picado", are in your palette as you create an amazing taco bar, tasty margarita recipes that will be talked about, and decorating DIYs that are uniquely you!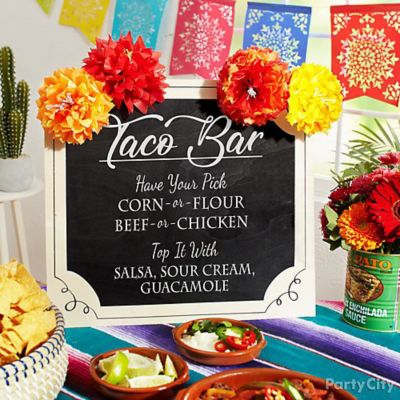 Idea 1: Try the new chalkboard trend
A taco bar is about options, so use a sign to share everything on the menu. This year's chalkboard trend is cursive lettering, and you can create this graceful look with chalkboard markers from a crafts store. Craft DIY tissue flowers in warm colors to tie in the "papel picado" theme.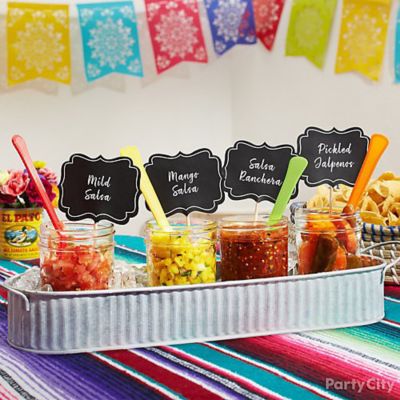 Idea 2: Keep your options open with a tray of toppings
The beauty of having a taco bar is it let's everyone choose their preferred extras. An ice-filled metal tray with mason jars speaks to the rustic trend. Label your salsas with picks so it's clear which one is mild, and include pickled jalapenos for an interesting option.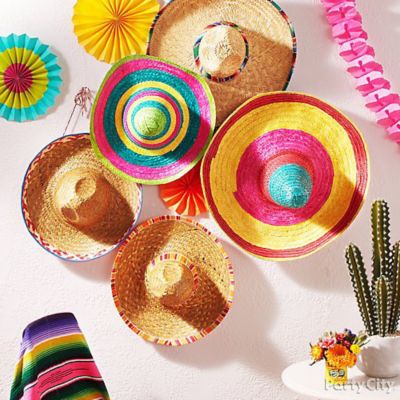 Idea 3: Hang your hat on sombreros for a wall decoration
Displaying sombrero hats for decorations at your Cinco de Mayo celebration is a unique way to add color, texture and authenticity to your party room. Using plastic hooks and string or fishing line, you can decorate with a handful in a pleasing arrangement, or a floor to ceiling grouping that fills a larger wall space.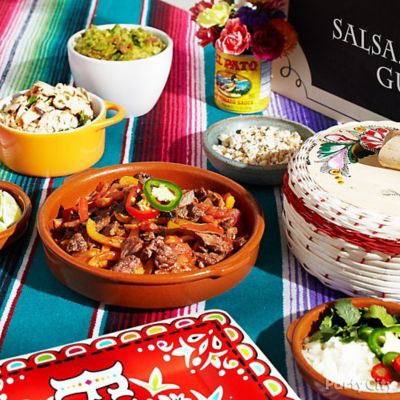 Idea 4: Use serape blankets to set the scene
To make your Cinco de Mayo party rich with tradition, fold a thin serape lengthwise to create a runner, layer serapes over solid-color table covers or drape as you would a tablecloth. Use thicker serapes on the chair backs.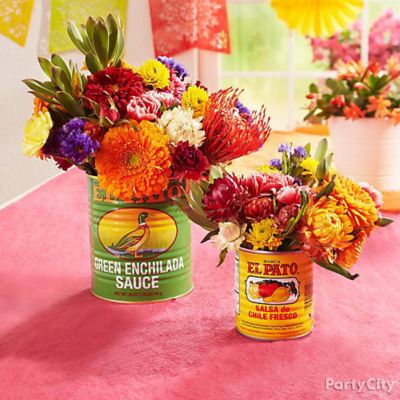 Idea 5: Get creative with blooming centerpieces
Hunt for colorful enchilada and salsa cans at the market and fill them with flowers in dark hues like yellow, purple, brick red and marigold. Mix in dried flowers and succulents then gift your creations to your guests.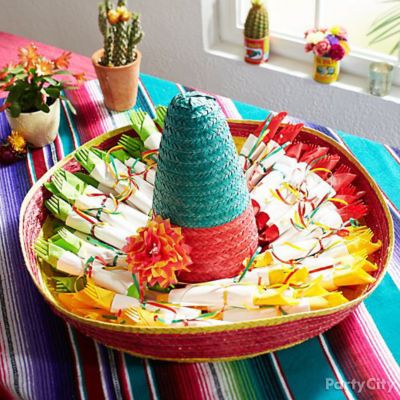 Idea 6: A clever way to begin the buffet
Indoors or out, this idea keeps your cutlery neatly displayed with style. Create these sweet little packets in green, yellow and red by layering colorful and white napkins and tying them off with curling ribbon. Tuck them into a sombrero and add a DIY tissue paper flower to make your Cinco De Mayo buffet table really bloom.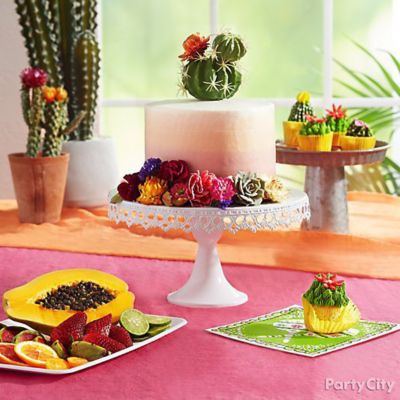 Idea 7: Sweet ways to play with the cactus theme
Cactus parties are trending and this is the perfect icon to inspire your Cinco Mayo party desserts. A pale pink ombre cake is on-point when you add playful plants – from spiny artificial cactus and succulents to dried flowers in rich, dark hues. Complete the dessert display with cactus cupcakes and a tray of tropical fruit to complement the cake: think papaya, limes, and prickly pear.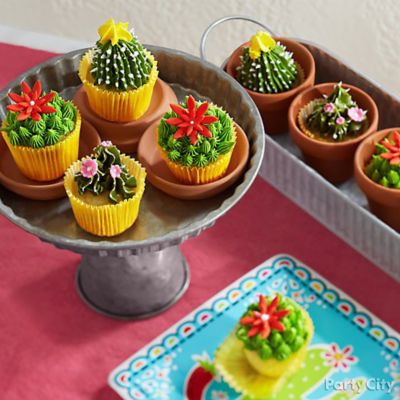 Idea 8: Impress with flowering cactus confections
Have a bakery create these amazingly realistic cupcakes and display them in clay plant pots. Galvanized metal trays lend a rustic, on-trend tone to your Cinco de Mayo event and pair well with brightly colored thematic plates.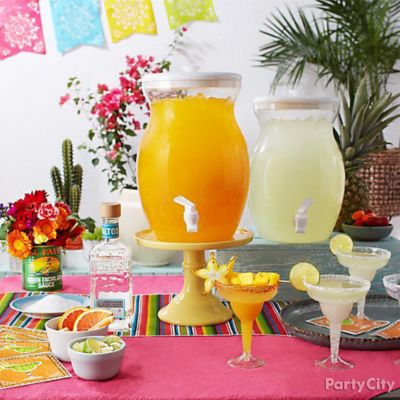 Idea 9: Essentials for a stylish drink station
Go beyond the expected with a fresh take on the Margarita bar. Add breezy style to your Cinco de Mayo celebration with curated accents like cake stands, cactus plants and palms, decorative pineapples, metal trays, serapes, and layered fabrics in muted tones. Stock the bar with tequila bottles, a mini plate of salt, drink dispensers, clear glasses, beverage napkins, straws as well as skewers and sliced fruit for garnishes.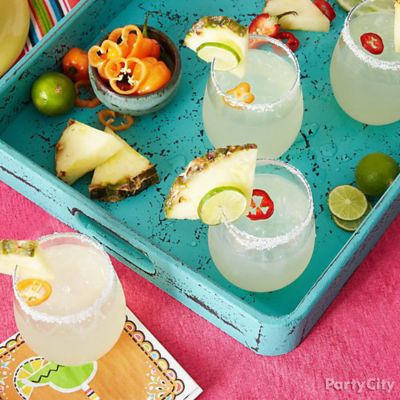 Idea 10: Kick back and relax with some kick
Play with jalapeno peppers in every color to create this margarita with bite. Combine in a shaker or blender: 4 cups pineapple juice, 1 cup tequila, ¼ cup fresh-squeezed lime juice, 1 tbsp. fresh-squeezed orange juice, 1/2 cup Cointreau or other orange liqueur, 2 teaspoons light agave syrup and ½ of a seeded jalapeno cut into thin round slices. (For stronger kick, let jalapeno slices stand in tequila for one hour.) Salt glasses: Rub rims with lime and dip in coarse salt. Serve: Fill glasses ¾ full with ice and pour. Garnish with pineapple wedges, lime wheels and pepper slices. Share your pics with #partycity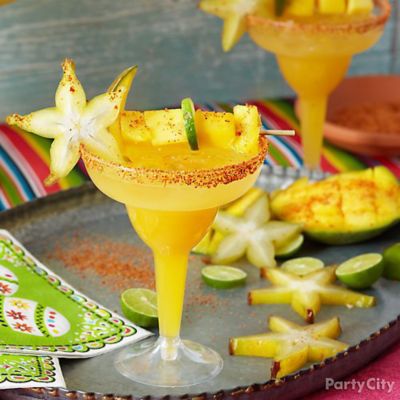 Idea 11: Be unique with chili spice and starfruit
Make your Mango Margaritas stand out with subtle seasoning and beautiful drink styling. For the garnish: cut slices of mini limes and starfruit, place on bamboo skewers (trim skewer with scissors to ideal length). Blend: 2 cups frozen mango,1 cup orange juice, ½ cup lime juice, ½ cup Tequila. Serve: Rim glasses with lime wedge and dip into a bowl of Tajin chili seasoning. Pour into clear margarita glasses, add skewer, and pair with napkins in kiwi green to complement this drink perfectly.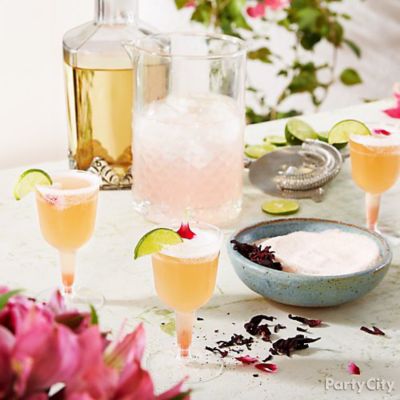 Idea 12: Add an exotic, fruity drink to your offering
This inventive floral and tangy recipe gives a tropical air to your Cinco de Mayo celebration. Combine in shaker: 2 tsps. hibiscus syrup, ½ cup fresh grapefruit juice, ½ cup lemon-lime soda, juice of 1 lime and 1/3 cup tequila. Rim glasses: rub with lime wedge and dip in Himalyan fine pink salt. Serve from a pitcher and garnish with dried hibiscus flower and lime wheels.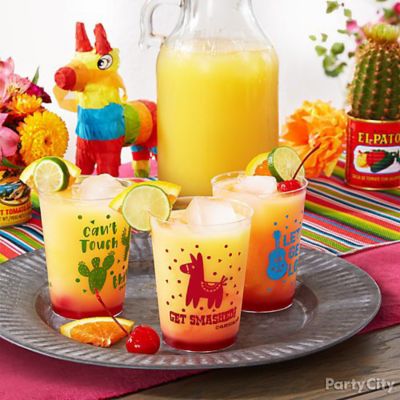 Idea 13: A new citrusy twist on the Tequila Sunrise
Fresh juices and garnishes make this drink as beautiful as a Mexican sunrise. In a blender combine: 3 cups ice, 1 cup orange juice, 2 tbsp. lime juice, 2 tbsp. Cointreau or triple sec and ¾ cup tequila. To create the sunrise: salt rims, pour a small amount of pomegranate juice or grenadine into the glasses, and add blended drink. Top off with a splash of Prosecco and stir gently. Garnish: style with maraschino cherries, oranges and limes.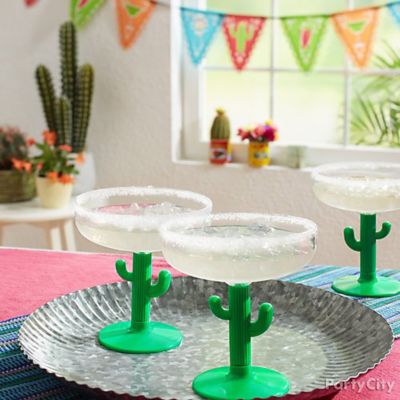 Idea 14: Play up the cactus icon with a next level drink idea
Cactus-themed everything is on trend, and so should be your Cinco de Mayo party drinks. Margaritas are traditionally served three ways: on the rocks (shaken with ice), "frozen" (blended with ice), or straight up (without ice). Here's our fave "on the rocks" recipe: Prep glasses: rub lime wedge around rims of glasses , dip in salt, set aside. Combine in a shaker: ¼ cup tequila, 1 tbsp agave nectar, 1-1/2 tbsp. fresh-squeezed orange juice and ¼ cup fresh lime juice. Place on tray and pour: Fill with ice, shake and strain into glasses.