Your magical mantel is an enchanted forest of leaves, lights, candles and creatures! Enchant them with a bewitching mantel! Get the spell for brewing up your own modern display that stylishly combines dreadful black elements with a pop of orange. Choose your favorite Halloween creatures and accent the scene with polka dots, chevrons and glittered pumpkins.
Idea 1: Paper lanterns = wicked style
Wave your wand to make these Halloween lanterns float into place in your witch-themed nook! Concoct a magical effect using clear plastic line. Chevrons and dots are perfect for a modern witch theme!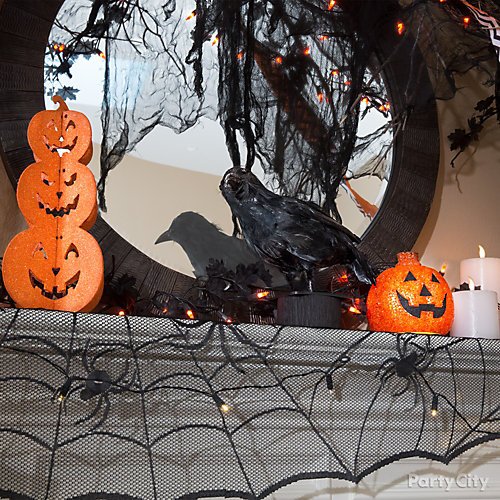 Idea 2: Caw, caw!
Use a large mirror as a focal point and drape gauze and lights over it. The reflection of a solitary crow is quite chilling. Add your favorite pumpkin décor for a pop of color amidst the dreadful scene.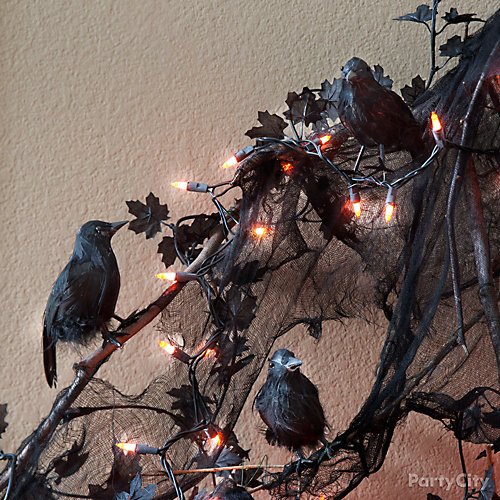 Idea 3: Something wicked this way comes!
Crow props look like witch "familiars" – perch a handful of feathered raven friends at your command. Wire the birds to natural branches, glowing with twinkle lights, and position them in different directions for a realistic effect.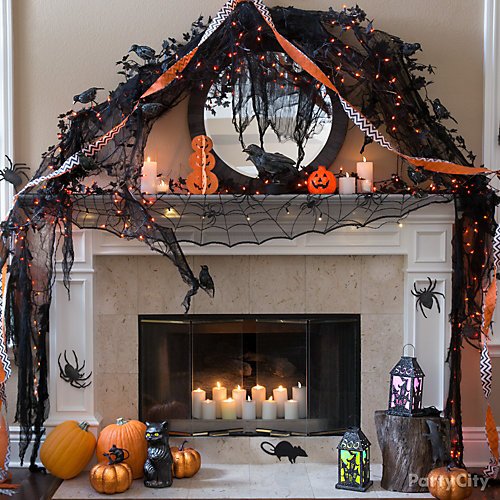 Idea 4: Brew up an enchanted mantel
Create your take on a wicked-cool witch's den. Drape a black net "cobweb" across the front of the mantel then artfully mix garlands of black leaves with bits of gauze and enchanted creatures like spiders, mice and a flock of feathered crows. Use a base of natural branches or hang décor from stick-on hooks.
Idea 5: Your magic spell for style
Enchant little witches and warlocks when they fly by to visit! Use natural wood rounds to brew up an enchanted friendly Halloween scene. Arrange candles and lanterns in the hearth, and nearby create a gathering of pumpkins, witch-themed glowing lanterns and curious rats.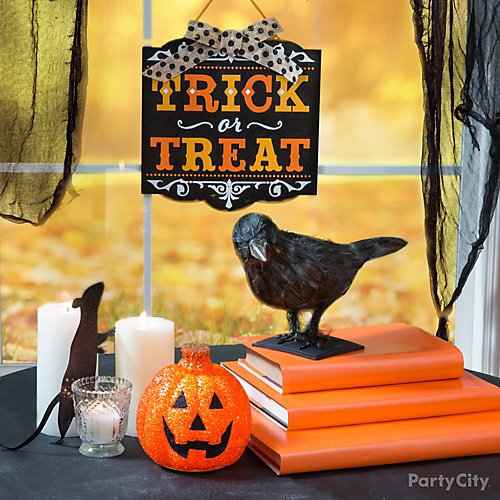 Idea 6: The perfect spot for spellbooks!
Conjure a stylish window scene. Any table nestled in a corner will do nicely for your witchy workshop. Hang a sign, cover books in orange giftwrap and perch a raven on top. Candles, pumpkins and a rat make it spookily stylish.