Even the cake pops are dressing in glitter!
This easy and amazing cake pop creation is decorated with a tiny white fondant mask and is the perfect midnight snack to go with the bubbly! Almost too enchanting to eat, this idea works with your fave cake pop recipe!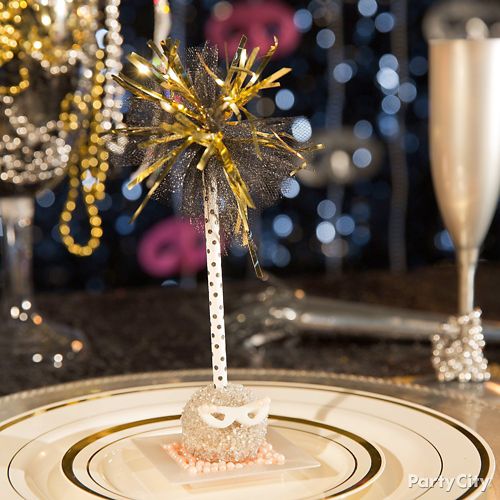 How-To
Supplies:
Striped Straws
Silver sugar sprinkles
White fondant
Hobby knife
Black tulle
Gold metallic shred
Appetizer tray
Pearl pink sugar sprinkles
1) Add striped straw
Once you've rolled and chilled your cake balls, melt your coating and dip in a striped straw about ½ inch, then push your striped straw into your cake ball no more than halfway through.
2) Make it shine
Holding the striped straw, dip your cake ball into your coating and let the excess drip off. Press the cake ball down gently so the bottom flattens and it stands on its own with the straw sticking up. Before the coating dries, cover with silver sugar sprinkles.
3) Create the mask
Roll out a small piece of white fondant and cut out the mask shape using a hobby knife.
4) Top it off
To create the decoration at the top, we hot-glued small strips of black tulle along with bits of gold metallic shred. Once the pieces are glued and dry, arrange pink sugar sprinkles in an appetizer tray and place the cake pop on top.