3…2…1…YUM!
Waiting for the ball to drop sure can work up an appetite! Keep the munchies at bay with these adorable New Year's treats! Check out the how-to below.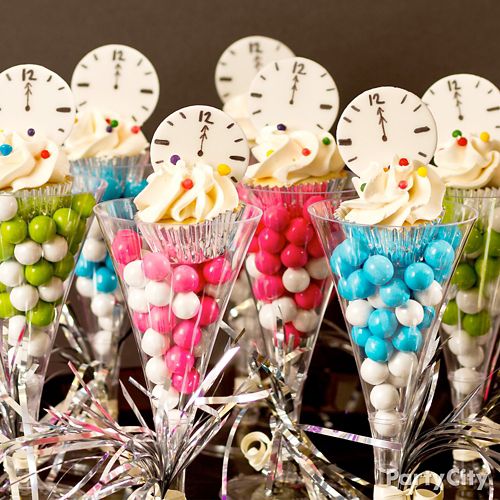 How-To
Supplies:
Flutes
Sixlets
Mini cupcakes
White fondant
Edible ink markers
Silver tinsel shreds
1) Fill flutes
Start by filling flutes with Sixlets® and cute mini cupcakes in party-perfect silver cups.
2) Make clock faces
These cute clocks are totally edible! Cut white fondant into circles and use edible ink pens to draw the clock details. Don't forget to set the hands to midnight!
3) Attach clocks
Let the edible ink dry at least ten minutes, and then carefully press them into the icing of your mini cupcakes.
4) Tie tinsel
To make these flutes countdown-ready, bend a small bunch of silver shreds in half before tying them to the stem of your flute. Nothing beats a glass of champagne in one hand and sweet treats in the other!