Are you planning a Cookie Decorating Party? I love cookie decorating, the upside is you get to eat our mistakes! Here is a fun new idea! How about a NO BAKE Cookie Decorating Party? I love an easy party and if you take out the baking, it makes it even easier. I found a few different shaped cookies at my local grocery store and the rest of the supplies I was able to pick up at Party City from icing to plates!
Let the kiddos decorate the cookies however they want! Use sprinkles and jimmies and premade icing. I was able to even find some festive candies at Party City to decorate with also! Every good party needs a cute party favor, and these Cookie Decorating Party favors are so easy to put together and your guest will be able to decorate more cookies at home!
I used my electronic cutting machine to add just a little more bling to this already adorable party favor.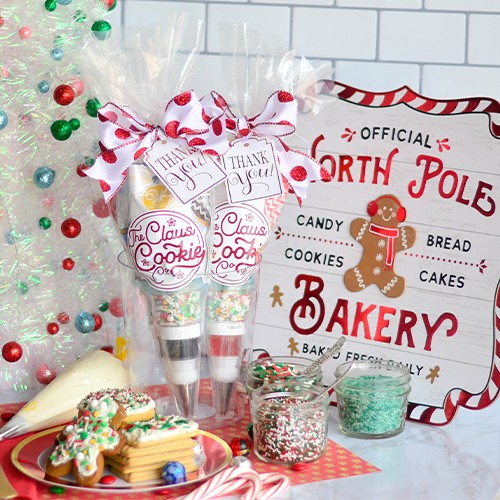 Supplies:
Color Icing Kit 8ct
White Icing Pouch
Rainbow Jimmies
Disposable Decorating Bags
Decorating Couplers 4ct
Cookie Decorating Tip Set
Traditional Christmas Sprinkles
Thank You Gift Tags 25ct
Optional Red Adhesive Vinyl, transfer paper
Rubber bands
Decorative ribbon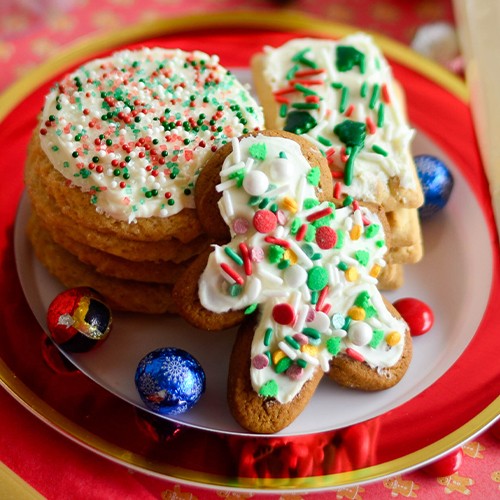 Instructions:
1. OPTIONAL: Use a digital cutting machine to cut your chosen image out of the adhesive vinyl. Using transfer paper attach the vinyl to the front of the Pastry bag.
2. Starting with the decorator tip drop it first in the pastry bag, followed by the white coupler, next are the sprinkles. To get the icing to fit fold the bag about 1/3 from the bottom and place in the pastry bag.
3. Use a small rubber band to tie off the top of the pastry bag.
4. Decorate with ribbon and add the thank you tag! You can personalize the tag with a heartfelt note on the back!
The Cookie Decorating Party favor is now ready to send home with your guests!