Is your favorite holiday carol about snakes, spiders and screaming pumpkins? Sounds like you're a fan of Halloween Town and its patron spirit, Jack Skellington. Don't worry, as fellow fans of Tim Burton's The Nightmare Before Christmas, we totally get you. We're just as obsessed with the ghoulishly delightful details of the stop-motion film, which has been a holiday favorite for 25 years and counting. Seriously, it's the *best* movie that captures the festive spirit of the year's biggest holidays: Halloween and Christmas…but mostly Halloween.
Well, we're ready to spread some holiday cheer. We've got all you need for recreating your own version of Halloween Town. From decorating to party hosting, these ideas pretty much guarantee you the title as the Master of Fright (that you'd happily share with Jack Skellington, of course!). Read on to get the details on creating a frightfully festive Halloween inspired by The Nightmare Before Christmas.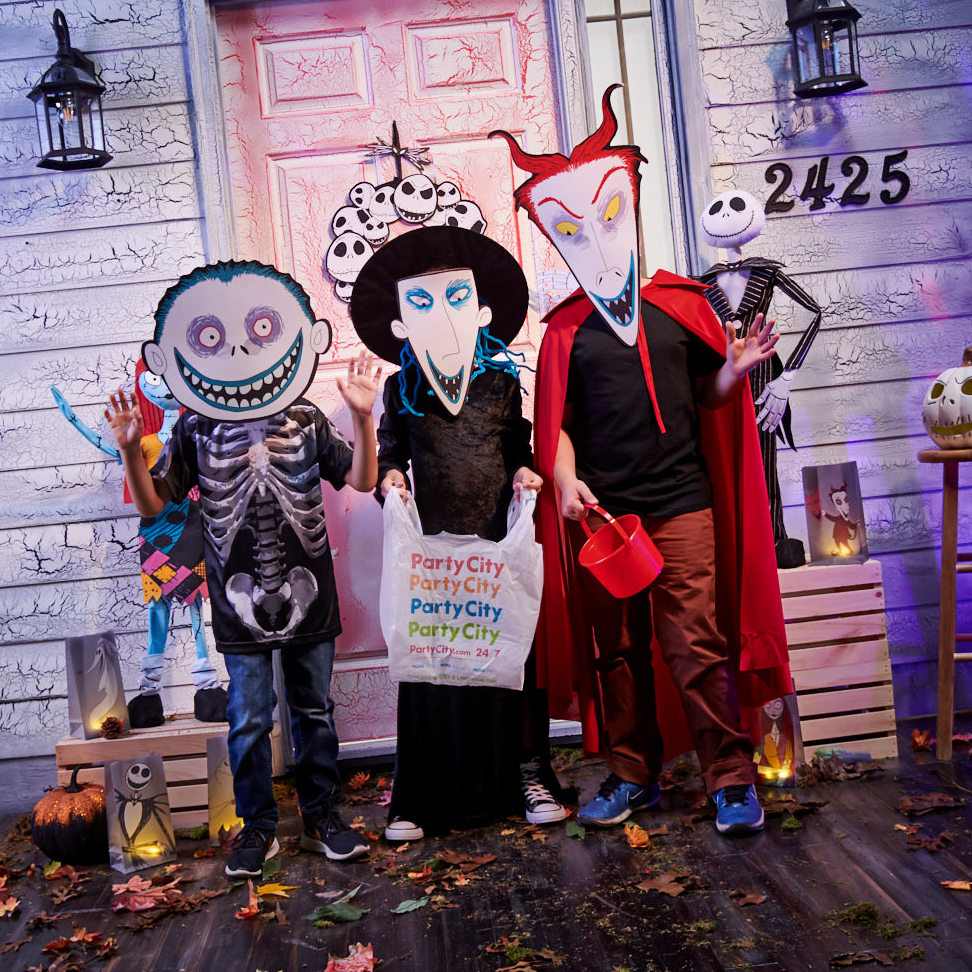 Costumes for Your Crew
Who are you going to be for Halloween? As if that's a question for a Nightmare Before Christmas fan—because it's going to be character from Halloween Town, obvi. But the struggle is real when you think you're limited to just one look to spook. So enlist your family and friends to join in on the fright and fun with a Nightmare Before Christmas group costume theme.
For a couples costume idea, there's always the classic Jack and Sally, but mix it up this year by dressing in other pairings like Jack as Sandy Claus and an inflatable Oogie Boogie. And what better group costume idea than the troublesome trio of Lock, Shock and Barrel? Pinning down a group costume idea with your besties makes the planning just as fun as Halloween itself.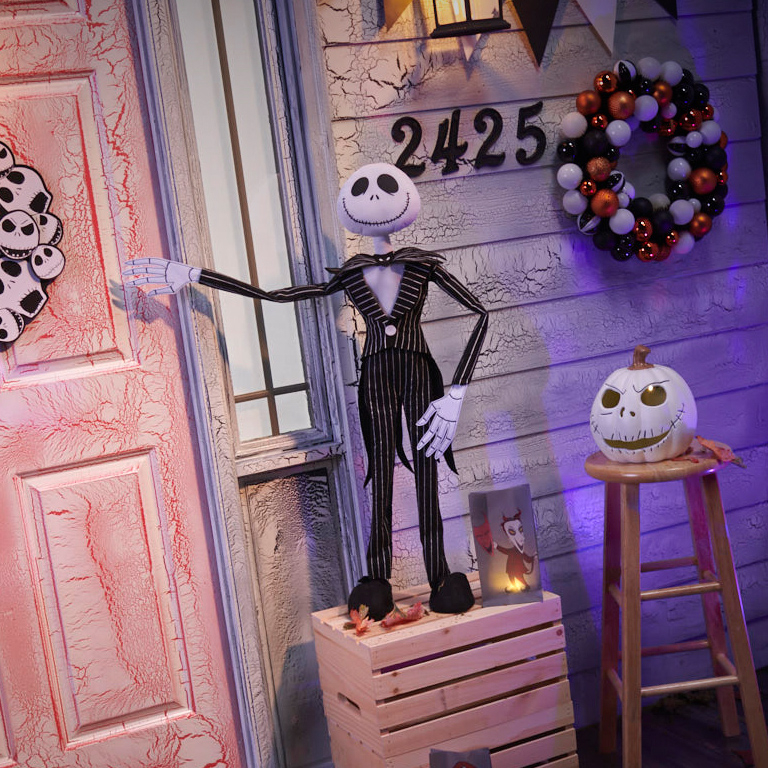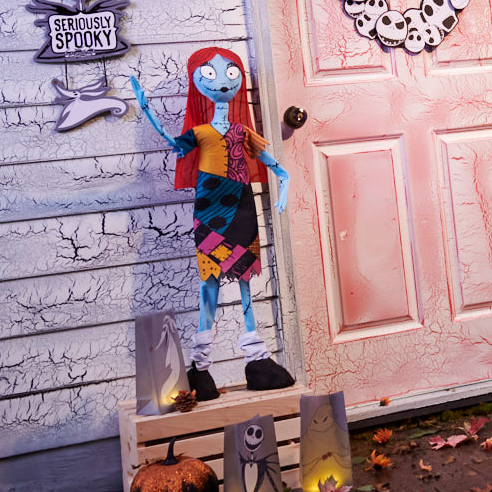 Frightfully Friendly Standing Props
Jack and Sally are your #relationshipgoals, which makes them the perfect porch props: their presence lets others know what they're getting into when they enter your home. With Jack and Sally's welcoming faces at your door, your fondness for all things Nightmare Before Christmas won't be such a shock to visitors.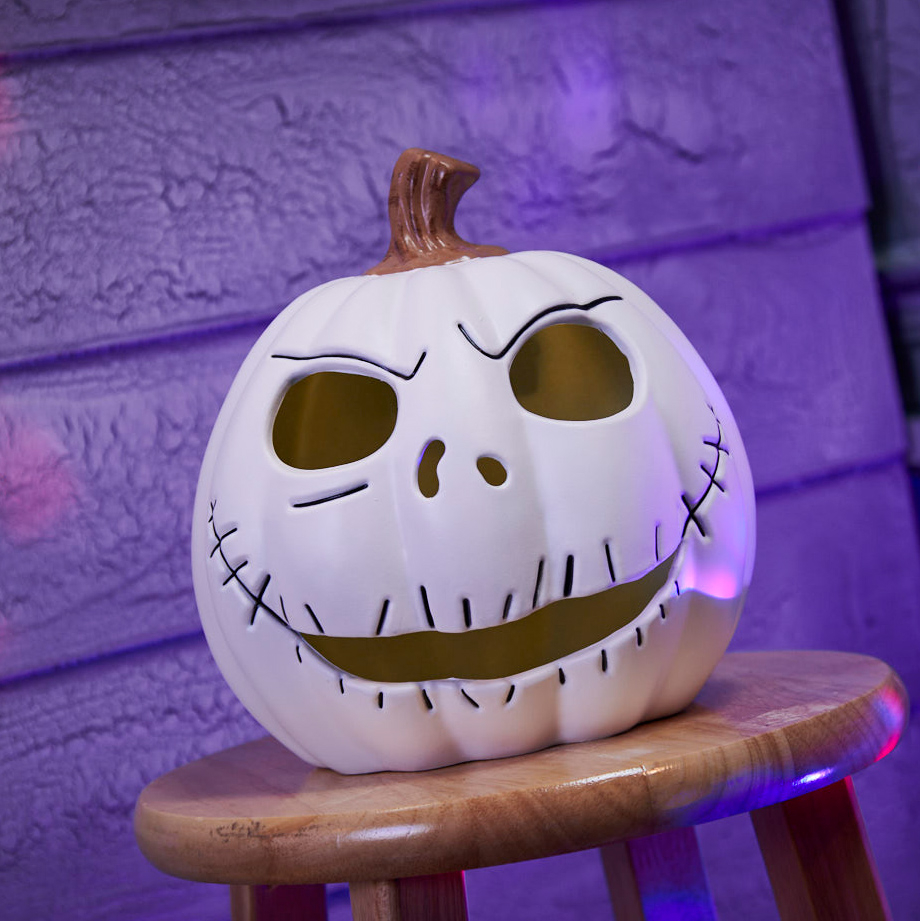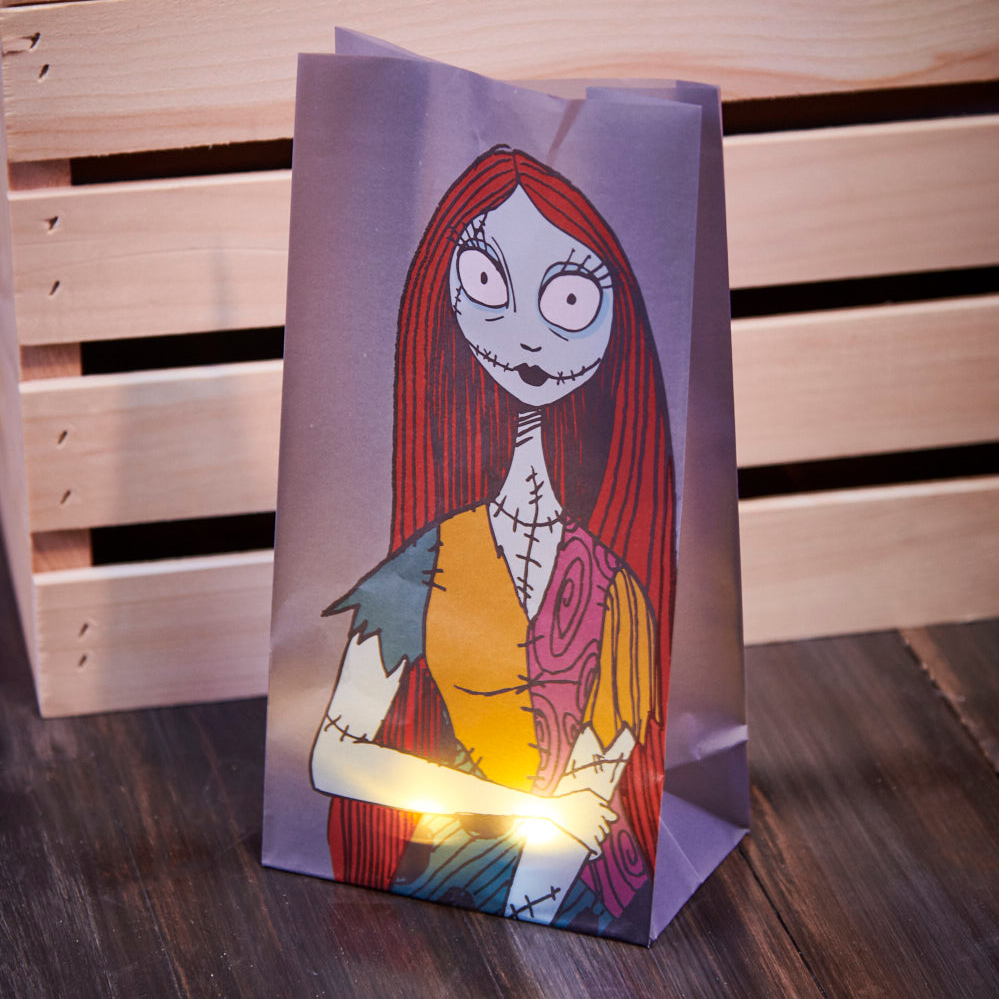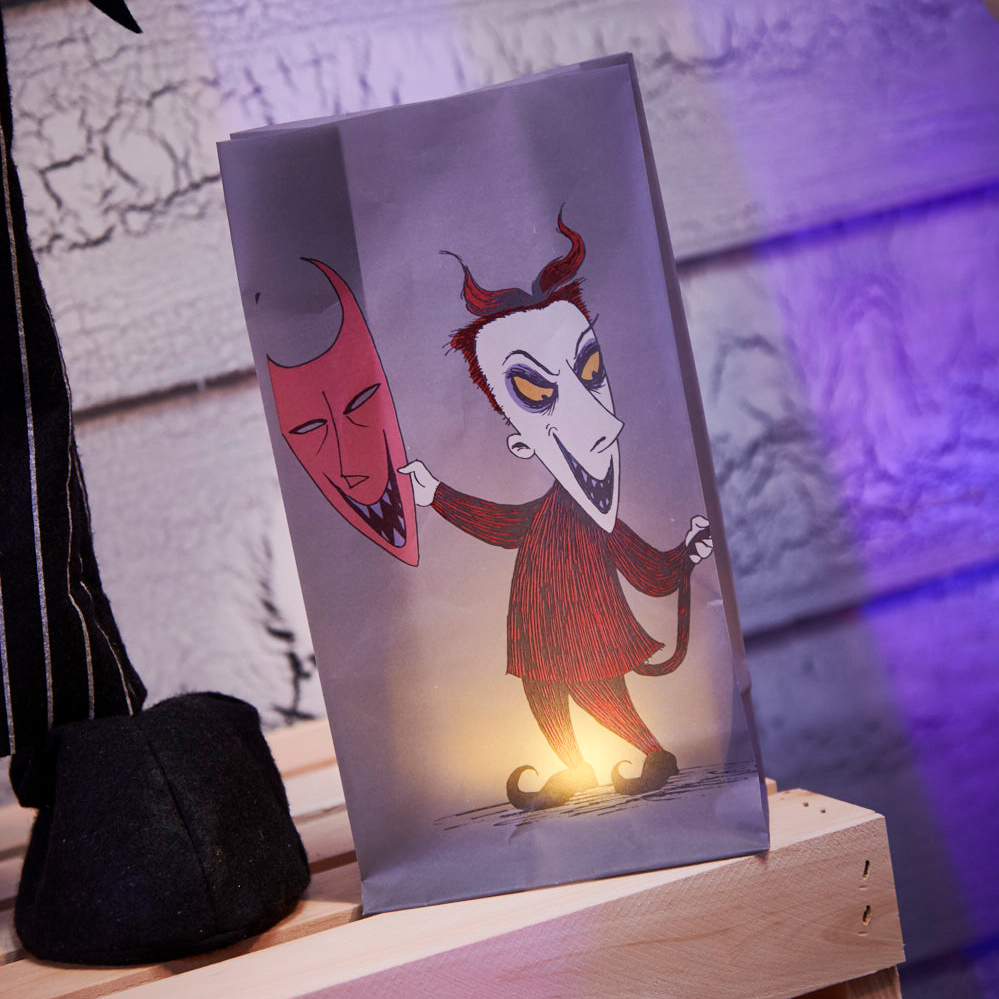 Lit Porch Decorations
Show them what haunts your home—Jack Skellington and his friends—by lighting a path with luminary bags of Halloween Town characters and ceramic jack-o'-lanterns in the faces of Jack or Sally. While these decor items look festive on their own, adding a couple of flameless tea lights completes their spooky look and keeps your Halloween looking bright all month long.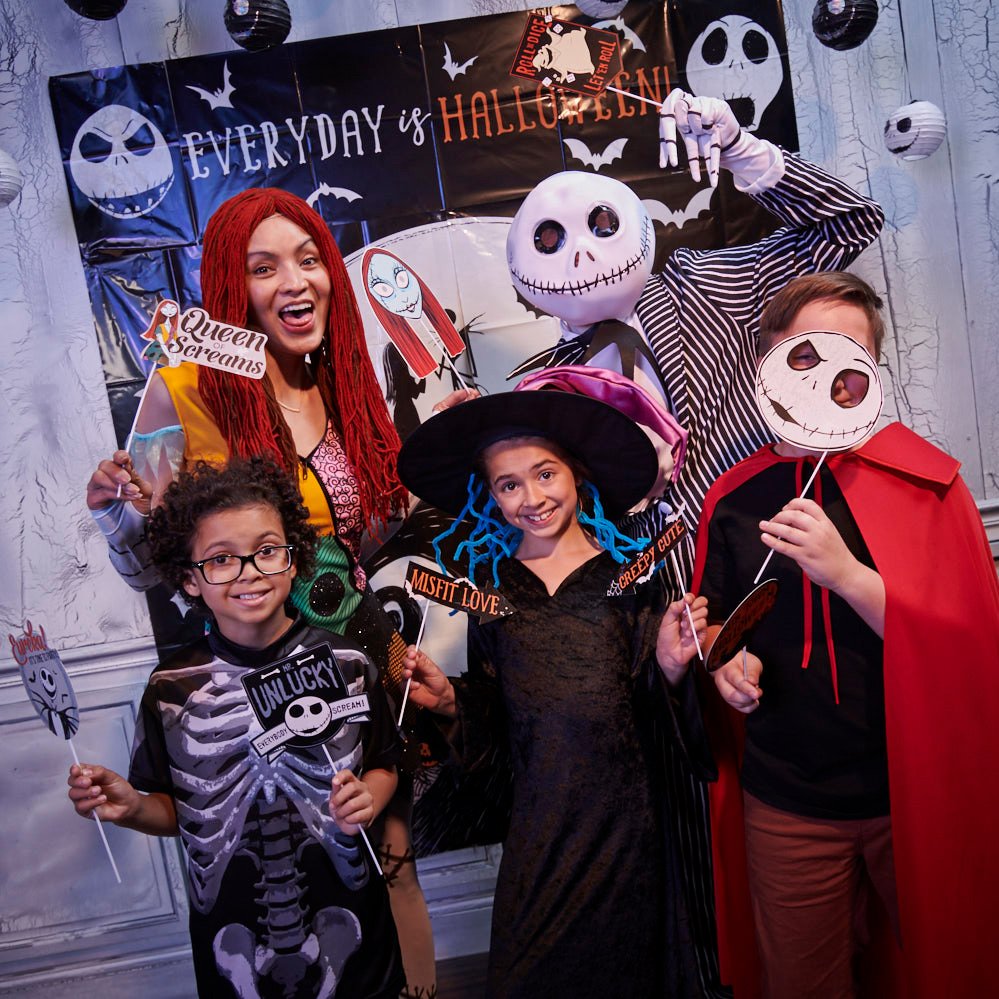 Photo Op in a Snap
If there's anything that's a must at your Halloween party, it's a photo booth. Lucky for you, a Nightmare Before Christmas photo backdrop is an easy setup. Just tape the scene setter to the wall and you're DONE. Hand out the photo booth props as guests enter so they can take a quick group pic or selfie before they partake in the other party festivities.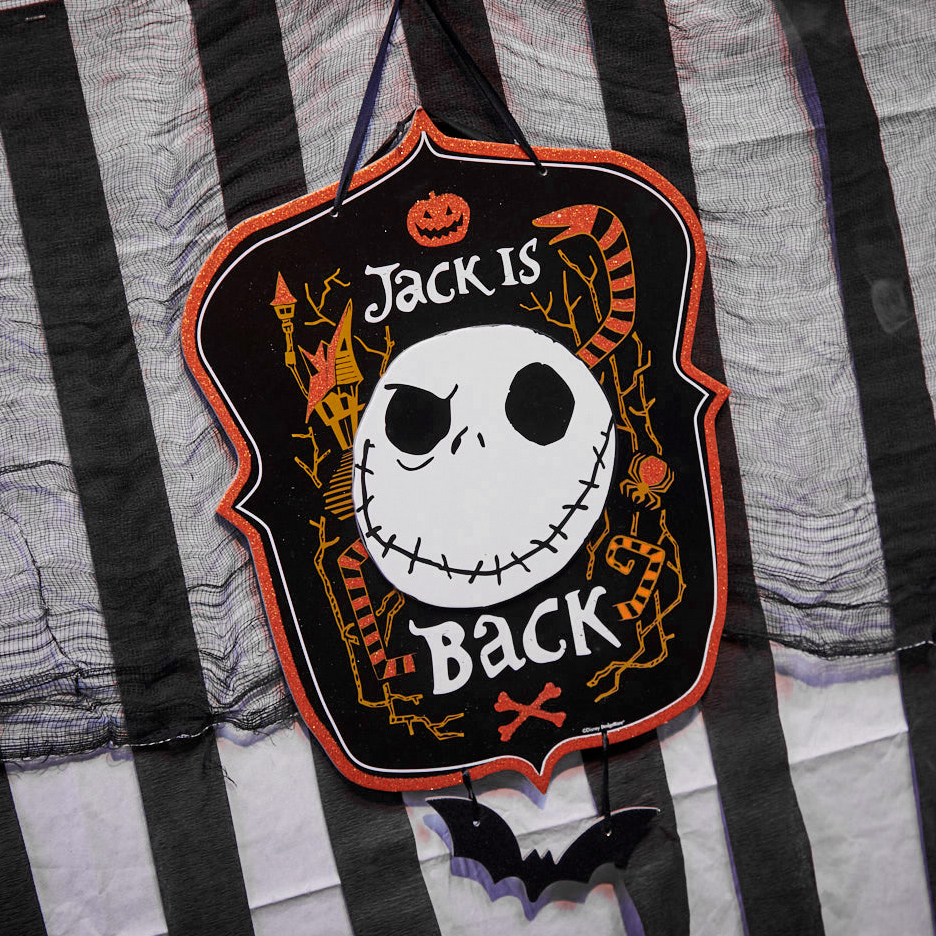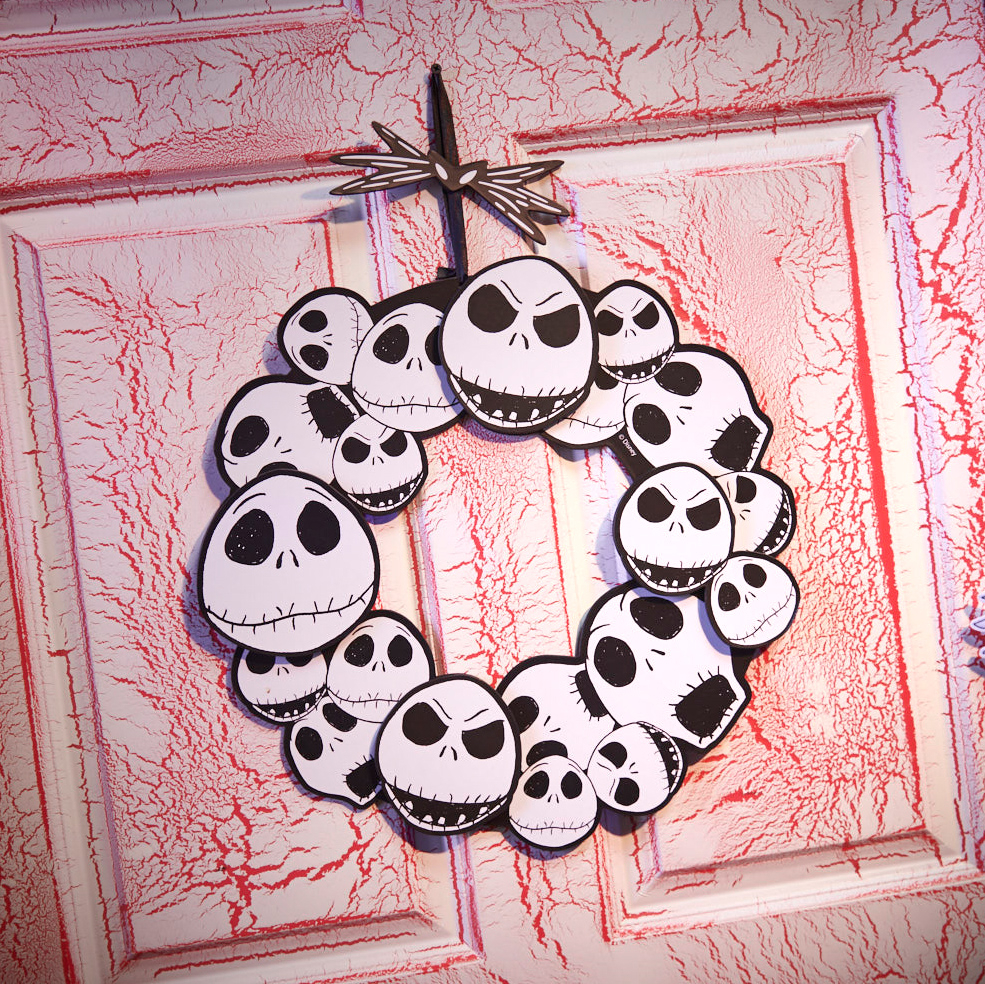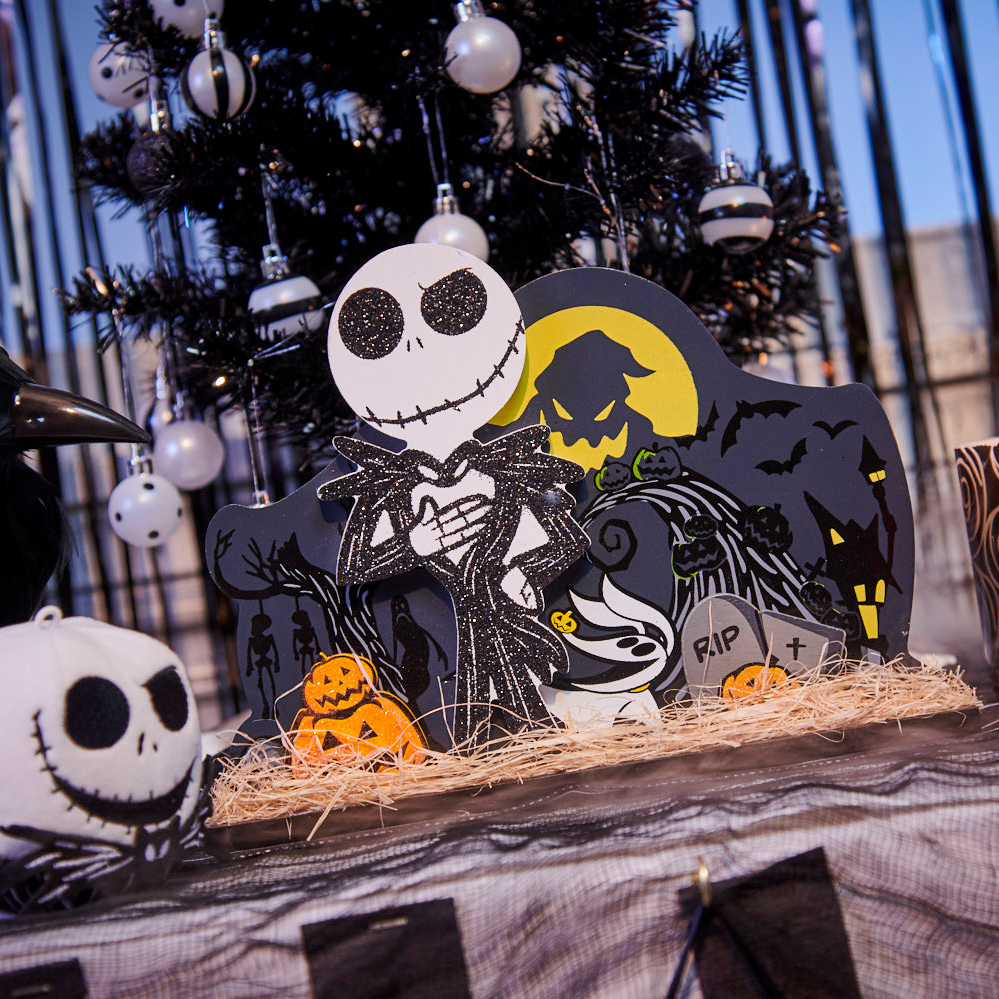 Simply Spooky Signs
Don't have time to go all out for Halloween decorating? Simple signs make it possible for any room to have a quick makeover. Jack Skellington in all forms—whether plastered on a glitter-lined wall hanging, as a skull-covered wreath or a spooky table centerpiece—will keep your party looking festive and fresh in a flash.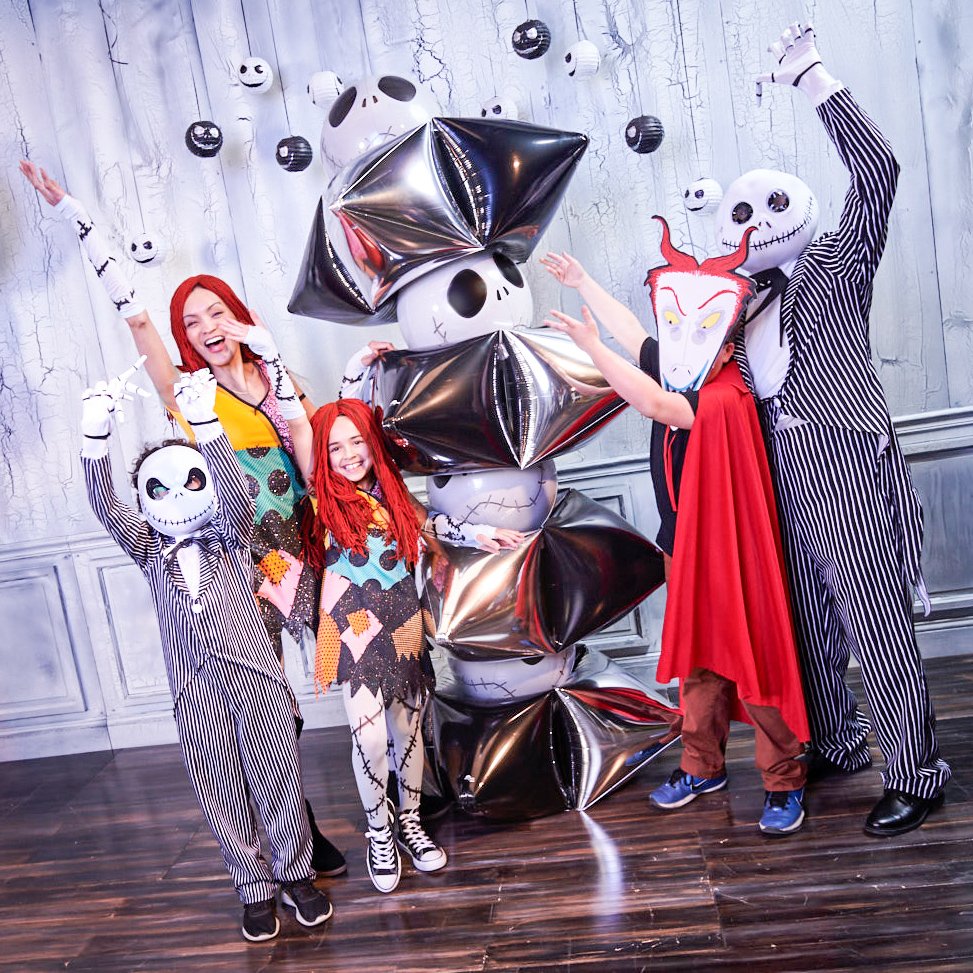 Decorate With Balloons
When the occasion calls for it, go big with balloons. A Nightmare Before Christmas party is undoubtedly one of those times. Here's a balloon decorating idea that will impress without you feeling stressed: a balloon column using Diamondz Orbz and a Jack Skellington Orbz.
Start by inflating four Diamondz balloons with a balloon pump—don't use helium because you don't want it to float away! Connect the base of each Diamondz balloon to each other with tape, creating a square opening after they're connected. Place an air-filled Jack Skellington Orbz balloon in the opening. Continue to build the balloon column until it reaches the desired height.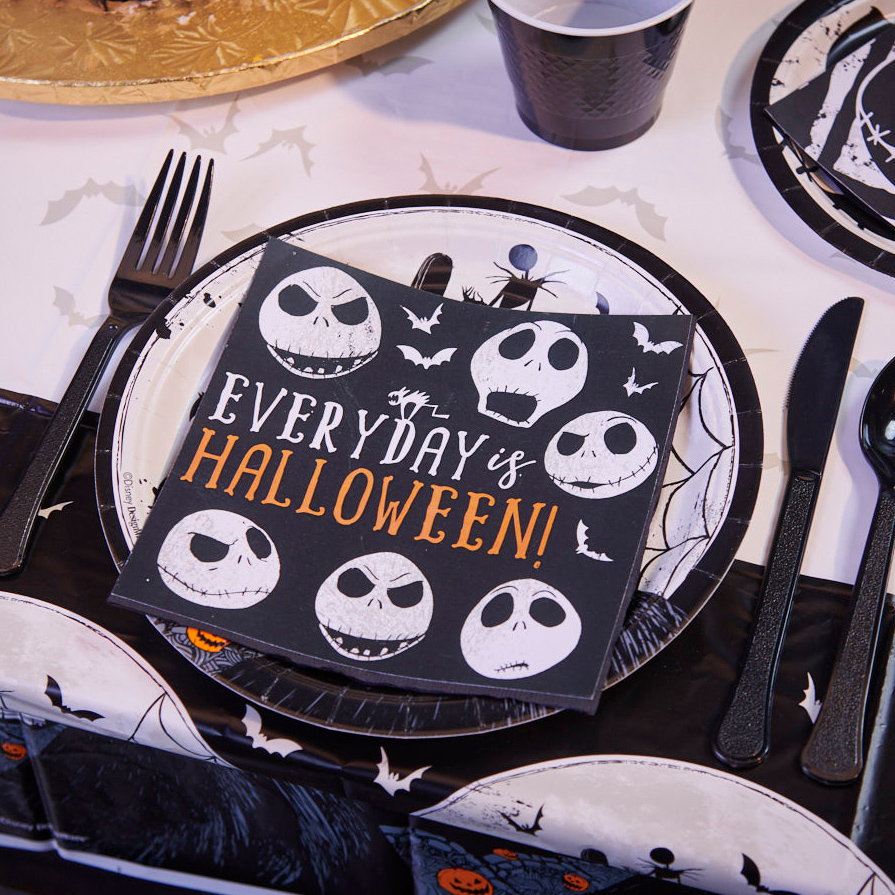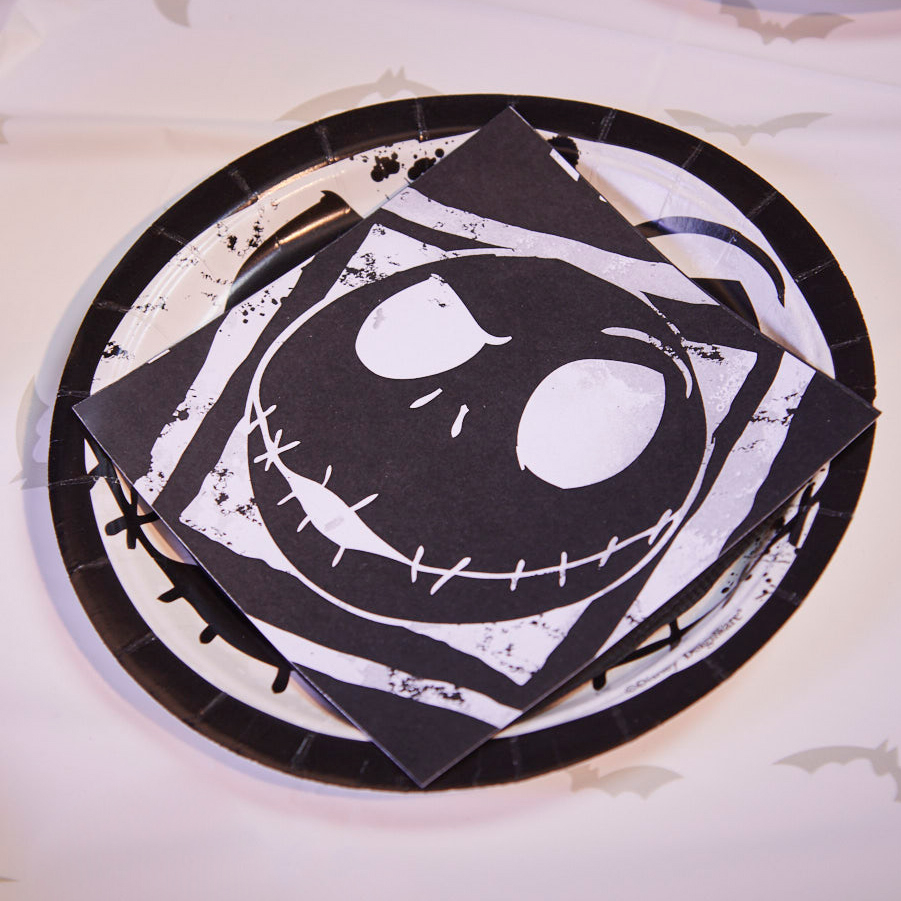 Plate Setting Fitting for the Pumpkin King
Get your party guests thinking "this is Halloween" by serving up a plate setting featuring the Pumpkin King. Mix and match Nightmare Before Christmas themed beverage or lunch napkins, dessert plates and lunch plates to your liking—it's hard to go wrong when Jack's got your back.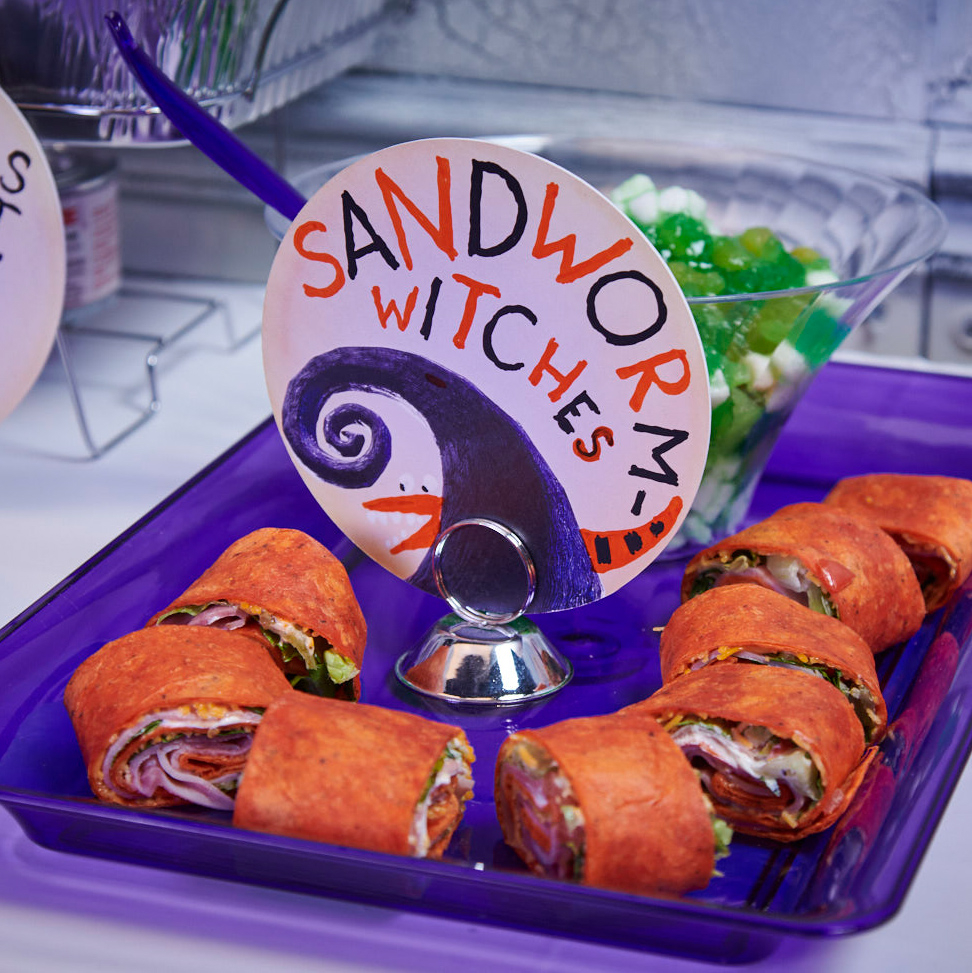 Scary Easy Food
They say you eat with your eyes first, which goes to show that Halloween party food is about scaring up an appetite at first glance. That's why clever names give ordinary food their own Halloween makeover. Label sandwich wraps as "Sandworm-wiches" or call green grapes as "Oogie Boogie Boogers." By renaming food with references to the movie, you don't have to conjure up a complicated feast for a Nightmare Before Christmas-themed party.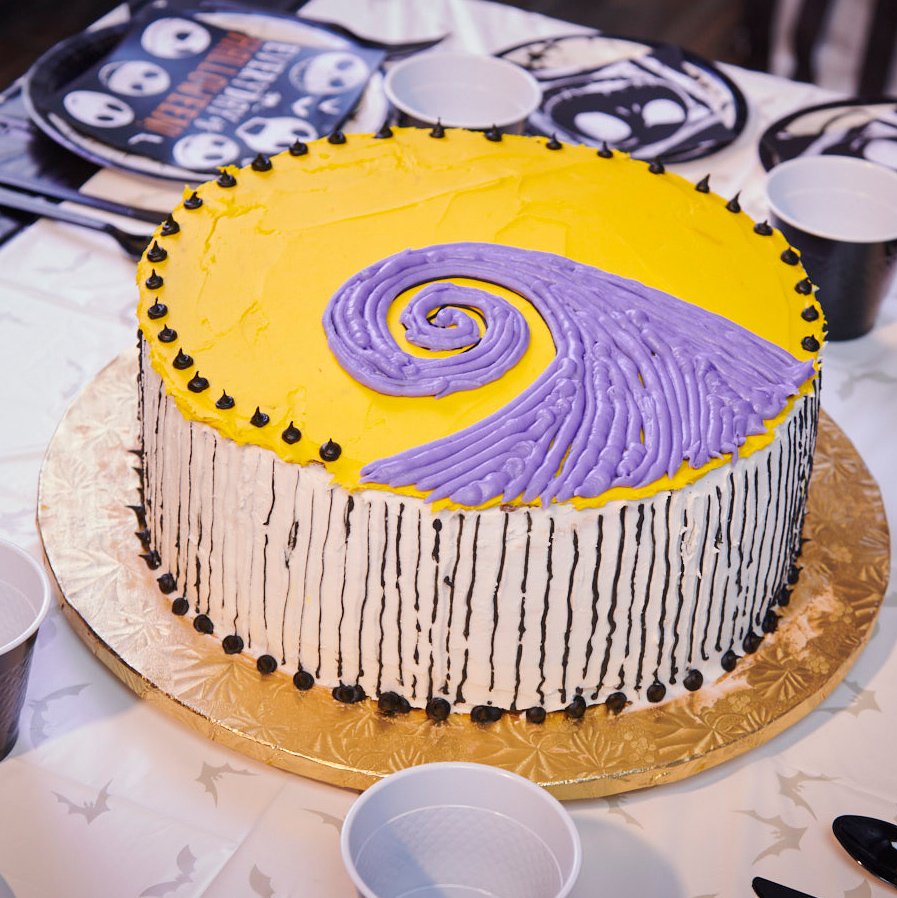 Spellbindingly Sweet Cake
Let's be real—your Nightmare Before Christmas party isn't complete without *something* alluding to the Halloween Town's iconic landmark: Spiral Hill. You see the hill in various scenes throughout the film, so of course, Spiral Hill should make an appearance at your party. Making it as your cake design is spellbindingly sweet. After coating your cake in a white buttercream frosting, create the hill by pipping it with small icing tips, which are great for creating stripes, dots and other little details.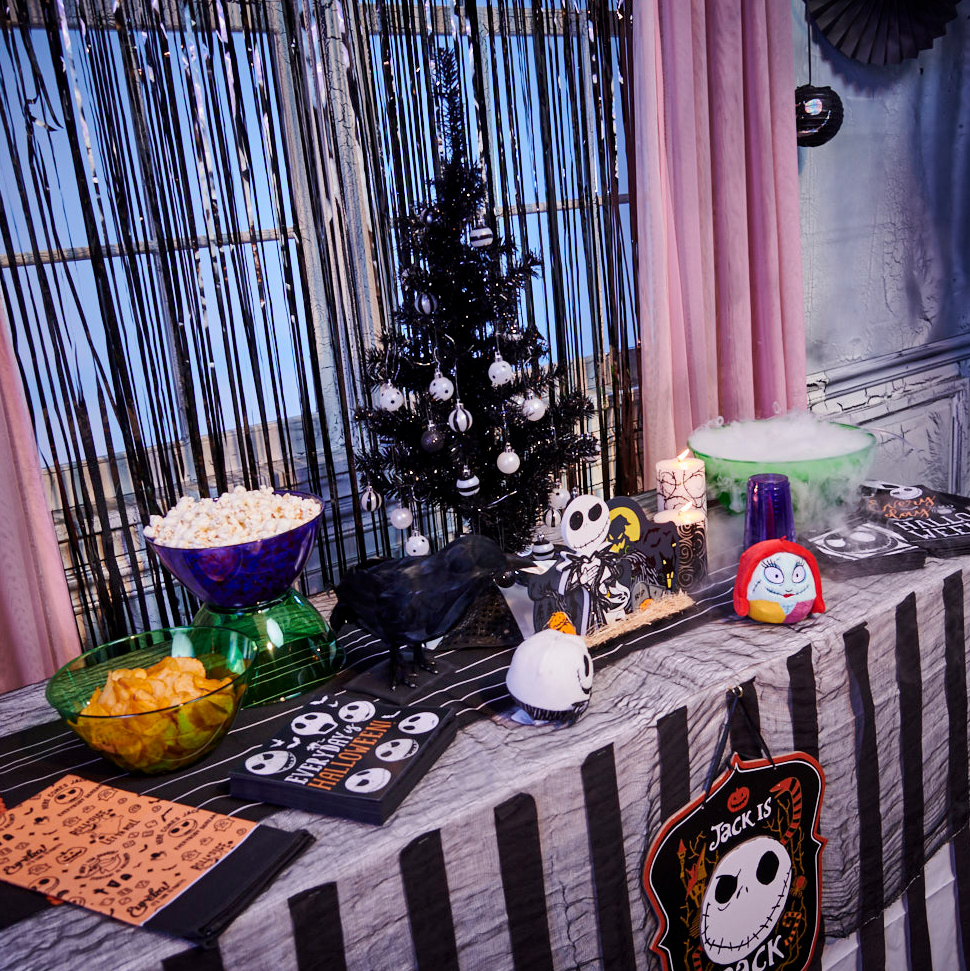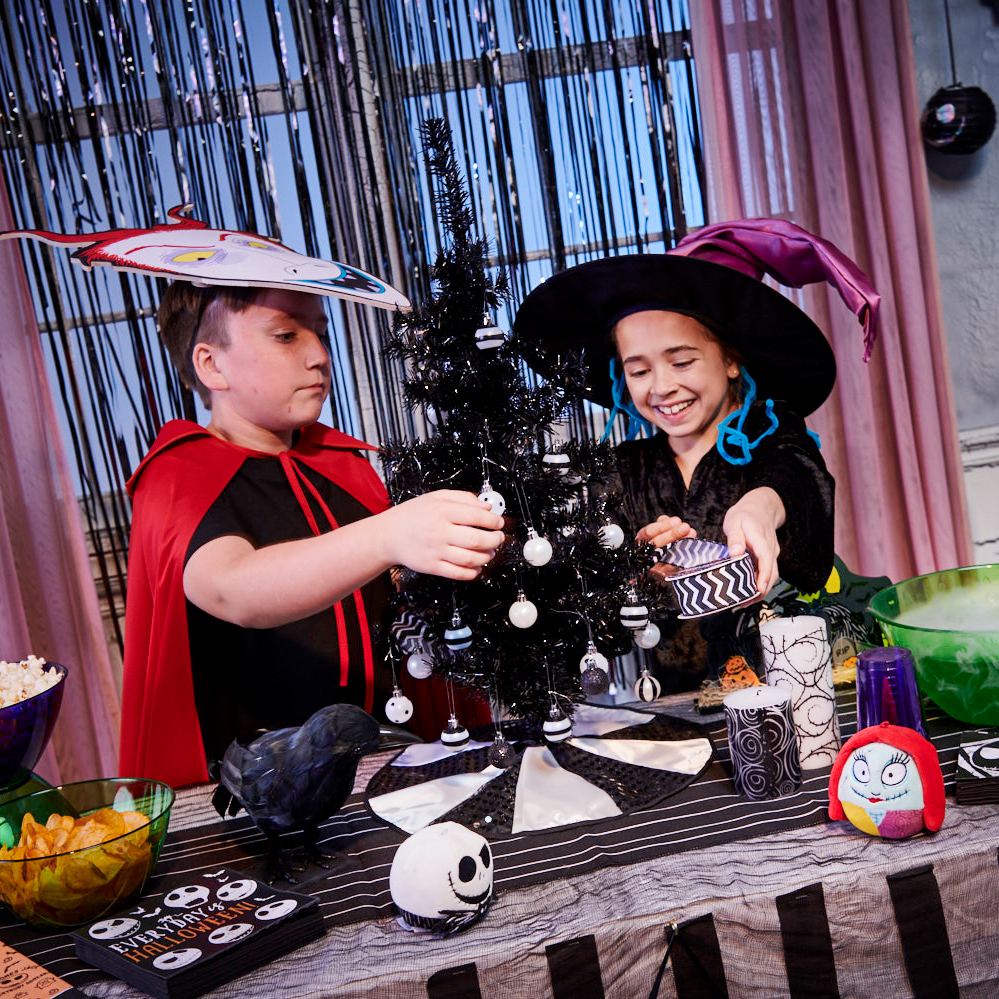 Deck the Table
When you have party food, you've got to serve it somewhere. Create a food table that's not only filled with treats but also with decorative details that Nightmare Before Christmas fans will appreciate—like a mini black Christmas tree. While others may find the color a bit macabre, those loyal to the Pumpkin King will say a black Christmas tree is true evergreen, a timeless decoration for both Halloween and Christmas. Complete the holiday look with mini black-and-white ornaments and a mini tree skirt, and you got a look that Sandy Claus will love.
These ideas and your own creations using Nightmare Before Christmas Halloween party supplies or costumes will surely impress the Pumpkin King. But we know one thing: no matter what, your Nightmare Before Christmas-themed party is going to be screamin' this (is) Halloween.