Hook them in with a stylish nautical celebration! Try your hand at our drink, decorating, and party food ideas for a summer party that's a breeze to pull off. Decide on a design, deck out your party table, decorate with style, and plan an on-theme menu. These ideas are your first stop on your journey to summer's splashiest nautical party.
Idea 1: Set your table to set the mood
The party table is a hub of interaction at any event. One simple way to create an ocean-inspired look is with themed plates, napkins, cups and cutlery. A well-dressed table goes a long way in creating the perfect seaside party atmosphere. When your party table and buffet look the part, the mood follows.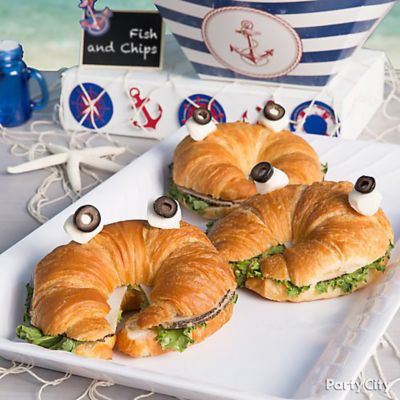 Idea 2: Catch a tasty crab croissant
Crab croissants give guests something to chuckle about! Create the eyes by layering mozzarella balls and black olive slices. We made turkey and lettuce sammies but these crabs will add a pinch of charm to any sandwhich type!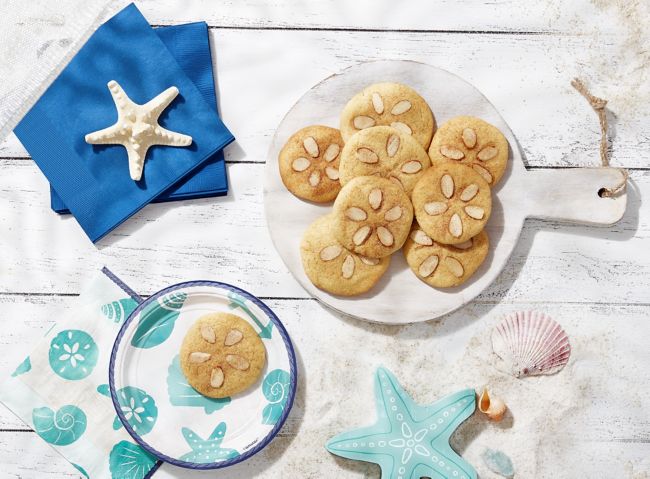 Idea 3: Amaze them with almond cookies
Soft, chewy almond cookies will have your guests coming back for more, so make sure to bake a big batch! These will likely become one of your go-to party recipes.
INGREDIENTS
1 cup (2 sticks) unsalted butter
2 cups granulated sugar
2 eggs
1 teaspoon almond extract
3 cups all-purpose flour
½ teaspoon baking soda
½ teaspoon cream of tartar
Sliced almonds
INSTRUCTIONS
Mix the butter and sugar on medium speed until smooth.
Add the eggs and almond extract into your mixture and mix thoroughly.
In a separate bowl, combine flour, baking soda and cream of tartar. Then add into the batter and beat on medium-low speed until well blended. Stop once the dough forms.
Use a large cookie scoop to scoop the dough onto a parchment paper lined baking sheet.
Place five sliced almonds on top of the cookies. Refrigerate the dough for at least 30 minutes, but the longer the better.
Preheat the oven to 350° F.
Place your scoops 2 inches apart and bake at 350° F for 11-15 minutes.
Let your cookies cool on the baking sheet for another 5 minutes or so before you transfer to a rack to cool completely.
Idea 4: Let the fun fly with decorations!
An anchor decoration, themed balloon bouquet, dyed seashells, a hanging rope sign, and a wooden beach sign all in your party color scheme set a polished, professional scene. Your guests will "ooh" and "ahh" in the moment and share lasting memories across their Instagram!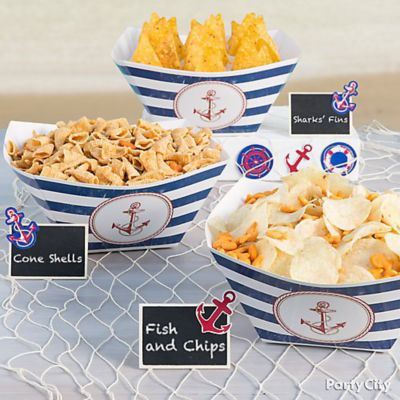 Idea 5: Reel them in with 3 clever snack ideas
A set of three bold serving bowls is perfect for clever edibles! Fill one with goldfish and potato chips with a "fish and chips" chalkboard sign. In a second bowl serve crackers that look like edible shells. And for the third bowl, stack chips on end to look like "shark fins". To make clever signs, use the small anchor cutouts that come with our nautical centerpiece kit (you'll want the kit to decorate the table!). Attach an anchor cutout to the chalkboard signs and write your clever phrase. Super fast and fun!
Idea 6: Chevron baking cups + anchors = sweet cupcake idea
Breezy blue and white baking cups are on theme. Whip up toppers with fondant—use white fondant tinted with blue and red icing color for the anchors and life buoys. Chill the toppers in the fridge then stand them up in the icing "foam." Pick up the nautical centerpiece kit and you'll get small anchor cutouts that you can use to decorate a chalk sign that says, "Cruisin' Cupcakes". Anchors away!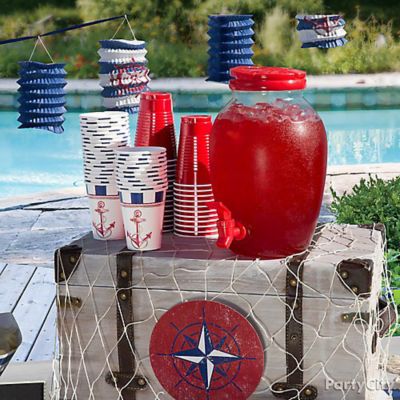 Idea 7: Water you waiting for? Try the punch
A drink dispenser and stacks of themed cups are easy peasy for larger parties. Fill it up with a bright tropical punch drink and a generous amount of ice for the thirsty sailors, and style it with a fish net, a nautical cutout and anchor's away cups. It's a cool refreshment for a hot party!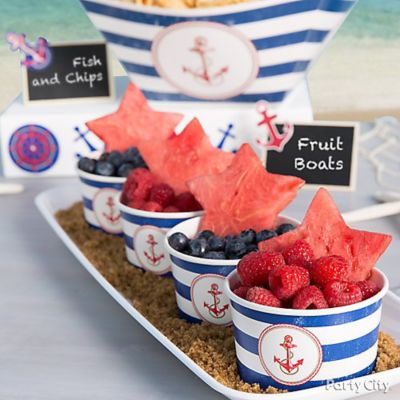 Idea 8: Healthful fruit boats in your party colors
The sailors love navigating with the stars! Have a healthy snack option with your choice of berries in treat cups, and top them off with watermelon stars. Display them on a bed of brown sugar "sand."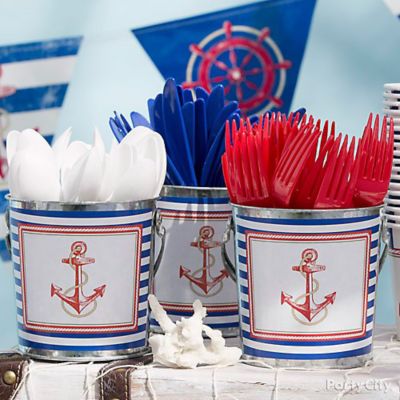 Idea 9: Plastic cutlery shore is easy
Dock your cutlery here! Use three metal pails to set out buffet utensils in your party colors. Using utensils in your party colors creates a decorative and functional display! Decorate the table with fishing nets to finish the look.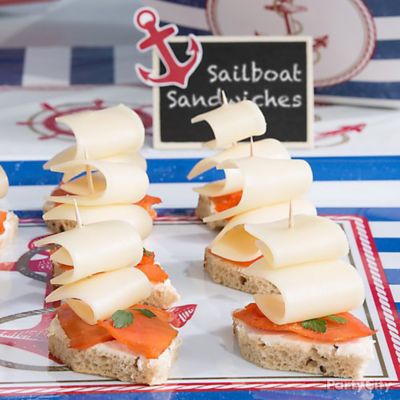 Idea 10: Sailboat sandwiches are a breeze
These little boats will be your signature nautical party food idea. Just layer salmon lox on sliced focaccia with a thin layer of cream cheese then use a toothpick and two small slices of jack cheese for "sails". Tuck in Italian parsley for flavor. The sailors will knot resist this savory treat!