Set sail with cute and clever ideas for a splashy baby shower! Ahoy baby! Sail through our easy-peasy ideas for treats, favors and decorating. A nautical theme is perfect for a boy or a gender-neutral baby shower. Set sail with fun baby shower ideas that play off this splashy theme. Nibble on our clever treat ideas, cute favor ideas and fabulous decorating inspiration. We've got easy and amazing ideas for throwing a unique baby shower that will be fun for the whole crew.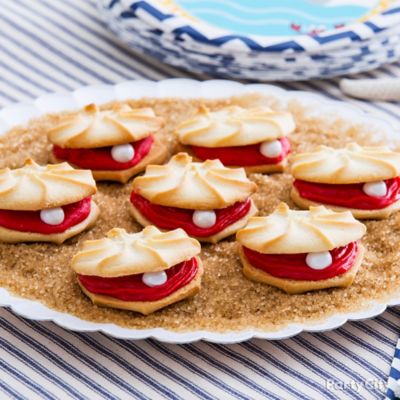 Idea 1: Make sea-sational clam cookies with candy pearls
Clam and pearl cookies on a brown sugar sand? Brilliant idea! To set off the chocolate Sixlet® "pearls", ice the flat side of one cookie with red icing. Place pearl on the edge of the cookie and add a second cookie at an angle. Make a layer of brown sugar sand on a plate and display your creations!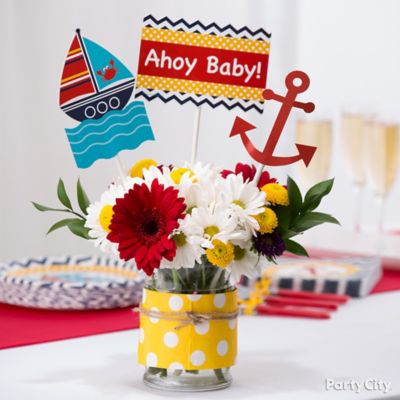 Idea 2: How to turn fresh flowers into a party-perfect centerpiece
We love this easy nautical baby shower decorating idea. Start with fresh flowers in your party colors (red, white, yellow), in a glass vase. Add decorative "ahoy" baby shower signs that come on sticks, then wrap your vase with a polka dot napkin and some gold ribbon. Easy!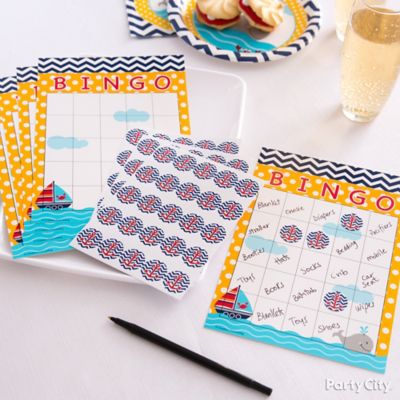 Idea 3: Play baby shower bingo!
Baby shower games are a must! Choose a game like bingo that's classic and fun for guests of any age, from the kids to grandparents. To play this game, write in baby shower gifts like "toys," "books" and "diapers" on your bingo cards. As the gifts are opened, players put a sticker on the card. The first person to get a full row of stickers wins!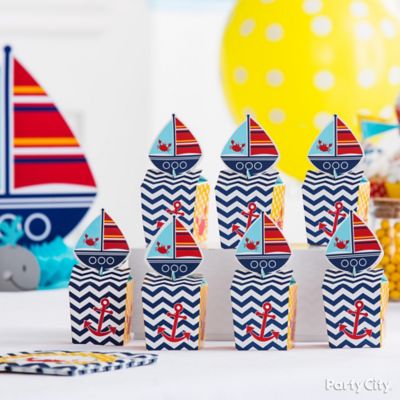 Idea 4: Fill favor boxes with splashy candy!
Thank the guests for coming to the shower with favors like these splashy nautical boxes, filled with candy. We like small red chocolate coins to match the nautical theme, but any small candy works well!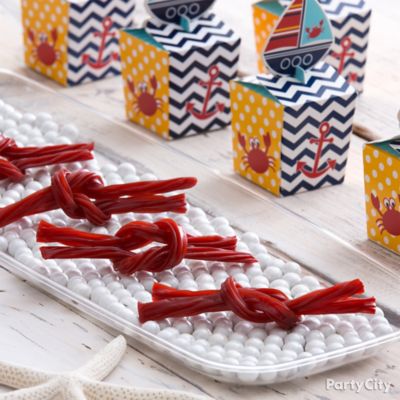 Idea 5: Tie up some licorice into sailor knots!
To create a yummy, edible ship's knot, start with two pieces of red licorice. Loop the ends and tie them as shown. They look amazing on a tray of shiny white Sixlet chocolates!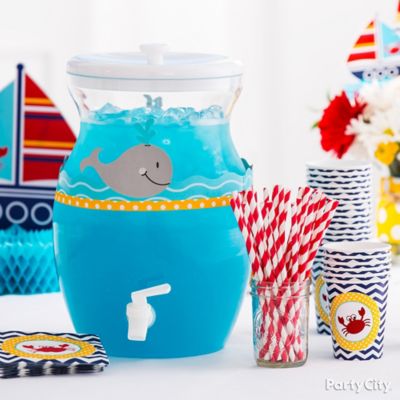 Idea 6: They'll have a whale of a time with this drink idea!
Create a blue drink that looks like ocean water and serve it in a clear drink dispenser. Start with lemonade and give a blue hue by adding blue vitamin water or sports drink. We decorated this dispenser with a section of our centerpiece decorating kit. Use nautical paper cups and red striped straws to complete the look!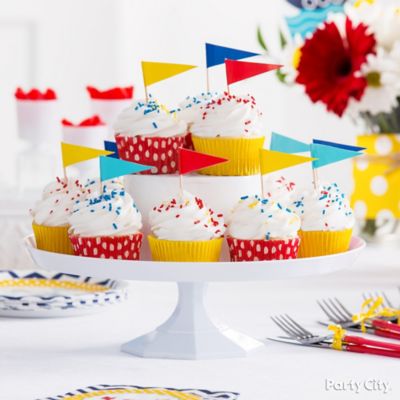 Idea 7: Sail over to this cupcake idea!
They'll dive into your bright and cheerful cupcakes! To make your treats fit the nautical theme, use pennant flag cupcake picks in bright colors. Simple cupcakes with white frosting and colorful sprinkles make this an easy and adorable treat idea for large baby showers!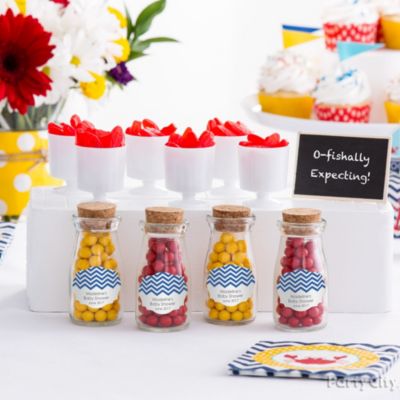 Idea 8: Dive into two clever nautical candy ideas!
Get clever with candy at your nautical baby shower. Put Swedish fish licorice into small white pedestal cups and make a sign that says "O-fishally expecting!". Pair these with nautical-look clear bottles with corks, filled with Sixlets in red and yellow. You can also personalize the bottles with the parents' names and the date of the shower.