Whether you are celebrating National Neighbor Day, welcoming somebody to the neighborhood, or simply thanking the family next-door for being amazing, this sweet surprise will surely warm their heart.
Even if you aren't close friends with those who live around you, it's always a great idea to cultivate a good relationship with your neighbors. And if they have gone out of their way to help you, it's time to tell them how thankful you are.
These sweet surprise baskets are perfect to give to your neighbors. The best part is that they won't make a big dent in your budget! Remember to always include allergy-friendly snacks, whether they're nut free or gluten free.
The final touch? A personal, handwritten note! That will make YOU the best neighbor ever.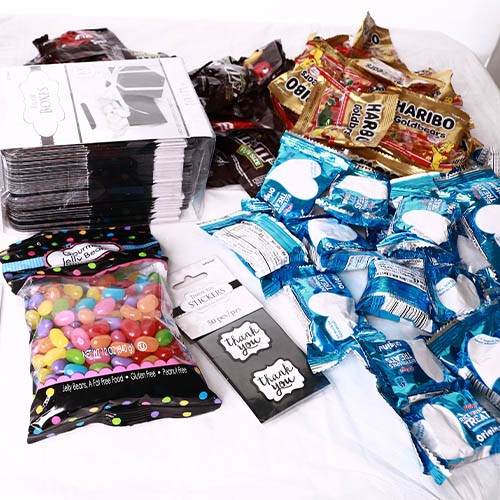 Supplies:
Rice Krispies Treats Mini Squares
Haribo Gold-Bears Pouches
Milk Chocolate M&M's Fun Size Packs
Rainbow Jelly Beans
Large White Square Plastic Favor Paint Can
Large Black Square Plastic Favor Paint Can
Cellophane treat or container bags
Black Square Favor Boxes
Black Scroll Thank You Sticker Seals
Ribbon or string to tie the treat bags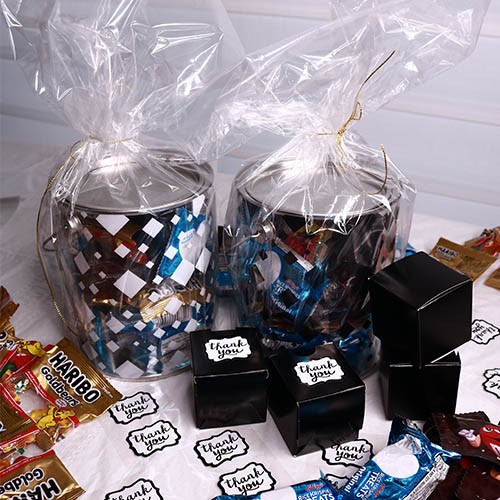 How to Assemble the Baskets
1. Assemble the treat boxes and affix the 'Thank You' labels.
2. Fill with jellybeans (or any other treat) and close.
3. Assemble the basket. Fill each paint can (or clear container) with layers of your favorite treats. Save the jellybean box for last. Fill with extra candy. Close the lid.
4. Wrap in cellophane and tie with ribbon or string. Don't forget your personal note!