Make a magical My Little Pony cake!
Give the birthday girl a towering confection that's as magical as she is! Trot on over to our magical My Little Pony Fondant Cake How-To to create your very own rainbowlicious birthday cake with My Little Pony birthday candles, plates and napkins.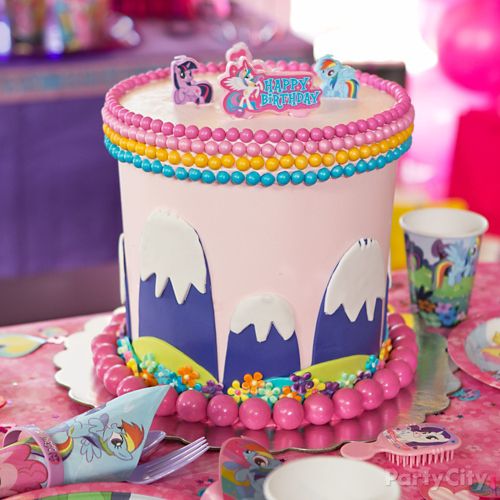 How-To
Ingredients:
2 two-layer cake rounds, 10 in. in diameter
Buttercream Icing
3 Boxes Pre-Rolled White Fondant
Color Icing Kit
Royal icing
Pearl Sprinkles
Bright Pink Gumballs (about 40)
Pink Sixlets® (about 40)
Bright Pink Sixlets® (about 40)
Yellow Sixlets® (about 40)
Caribbean Blue Sixlets® (about 40)
Supplies:
My Little Pony Birthday Candles
Fondant Roller
Fondant Smoother
Pizza cutter or paring knife
Toothpicks
Decorating Tip #16
Decorator Bag
Couplers
14 in. Cake Platter
1) Ice and stack cakes
To prepare your cake rounds to be covered with fondant, cover them with a layer of buttercream icing. Stack cakes.
2) Tint fondant pink
To create pink fondant, use the fondant from 2 boxes and knead into one ball. Using a toothpick, dot pink icing color (from the color icing kit) onto the fondant, and knead until color is evenly distributed.
3) Cover cake with fondant
Roll out the pink fondant. Place over the entire cake and smooth using a fondant smoother. Trim off the excess with a pizza cutter or paring knife.
4) Create mountains
Open the third box of fondant and separate the fondant into 2 halves. To make the snow-capped mountains, tint one of the fondant halves with purple icing color. Take a piece of the other fondant half for the white snow caps. Roll out the purple and white fondants and use a pizza cutter or paring knife to cut out your desired shapes.
5) Create hills and water
Tint the remaining white fondant with leaf green and sky blue icing colors to make the green fields and water.
6) Attach fondant to cake
Glue the fondant shapes to the cake with dabs of water.
7) Add flowers
Now for a little flower power! Tint small batches of icing in hues to match the mini gumballs. Pipe on with a decorating bag using a drop flower decorating tip (#16). Attach a pearl sprinkle in the center of each flower with royal icing.
8) Place candy
Use royal icing to secure rows of Sixlets® around the top and bright pink gumballs around the bottom of the cake.
9) Place candles
Top off your cake with My Little Pony candles to make your masterpiece as magical as Equestria!