Take a bite out of these marshmallow pops!
Marshmallow pops drizzled with fashionista black make for the cutest snack! All you'll need to do is grab large marshmallows, Candy Melts®, Monster High icing decorations and lollipop sticks (oh, and the Monster High Marshmallow Treats How-To helps too!). If you can resist the urge to take a nibble, bury the end of the stick into a vat of candy, and they'll be as irresistible as the fear-leading squad!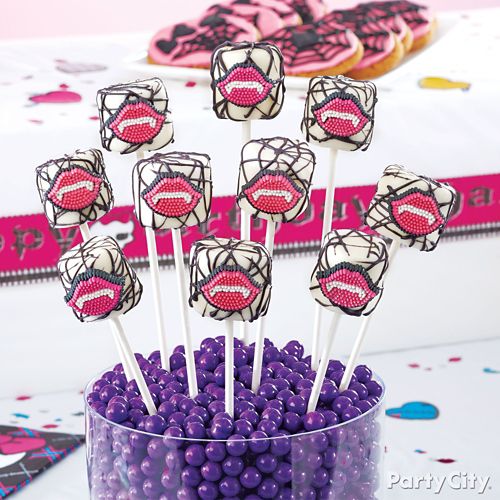 How-To
Ingredients:
White Candy Melts® Candy (12 oz. makes 48 to 50 treats)
Large marshmallows
Black Candy Melts Candy (6 oz. makes 48 to 50 treats)
Monster High Icing Decorations
Supplies:
Microwave-safe bowl
8 in. Lollipop Sticks
Craft foam block
12 in. Disposable Decorating Bags
Food-safe scissors
1) Dip marshmallows
Melt white Candy Melts candy in microwave-safe bowl according to package directions. Insert lollipop stick into top of marshmallow. Dip marshmallow into melted white candy, gently tapping on side of bowl to remove excess candy. Place in craft foam block and chill until set, about 10 to 15 minutes.
2) Decorate marshmallows
Melt black Candy Melts candy in disposable decorating bag according to package directions. Cut small point off of decorating bag. Use melted black candy to drizzle over marshmallows, using a quick side-to-side motion. Chill until firm, about 3 to 5 minutes. Use a dot of melted black candy to attach icing decoration. Chill until firm, about 3 to 5 minutes.