I don't care how old or young you are, Halloween holds a special place in my heart, and I bet it does in yours, too. It's no surprise that Halloween sales grow every year, right? While this year might look a little different, we plan to celebrate and already have some spooky happenings up our sleeve. These Halloween monster cake pops are just some of my first creations of the year. We'll decorate our full house, get the kids in costumes, and more.
I actually hadn't planned to start my Halloween baking quite so early, but when I went into Party City to check out what they had this year, I got distracted in their baking aisle and couldn't help myself. For these, I went with brownies inside because it seemed to go better with the Halloween theme than cake. And they taste amazing this way!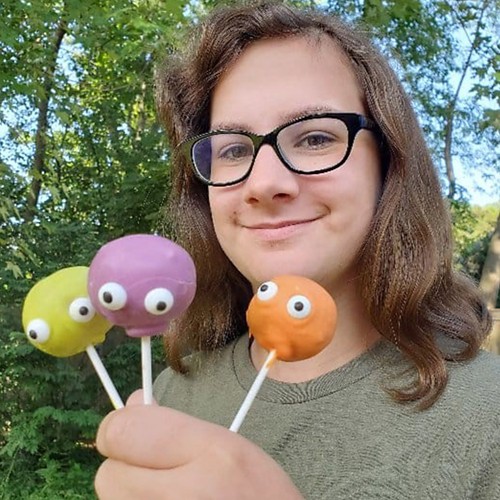 Tell me you don't just rely on Party City for Halloween costumes and decorations. You know they are my one-stop shop for all things Halloween, and yes, that includes what I need for baking, too. Needless to say, I couldn't resist the candy melts, and I dreamed up these Halloween monster cake pops. It's easy Halloween baking at its best.

I got everything I needed (except for the brownies!) at Party City for under $18, and I have enough candy melts to make plenty more fun Halloween treats down the road, too.
Bonus? I picked up some marshmallows and decided to make some gluten free treats, too. If you have anyone with allergies, consider making monster marshmallows instead.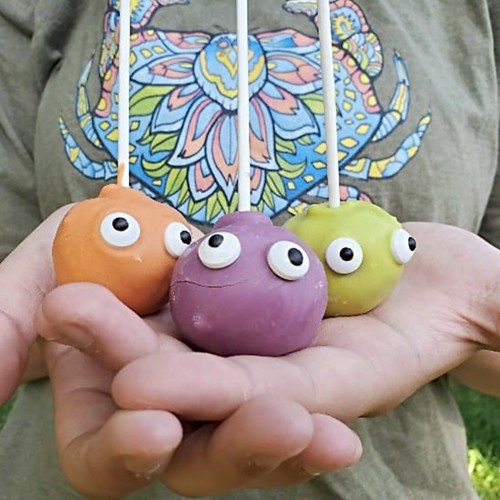 There's absolutely no baking involved at all, and you can whip them up last minute. However, if you are making these for anyone with food allergies, make sure you do your marshmallow dipping first before you do the brownies to avoid cross contamination!

Just follow the same steps you do for the monster cake pops in terms of the dipping, and you're all set!
I definitely plan to make these fun treats again and again. Party City even has different size candy eyes, so you can have some real fun making silly monsters.
If you know what you need, Party City has super easy curbside pick-up options and free delivery, but I can't help myself. I love to go in and browse the aisles and get inspired by all the fun I can find.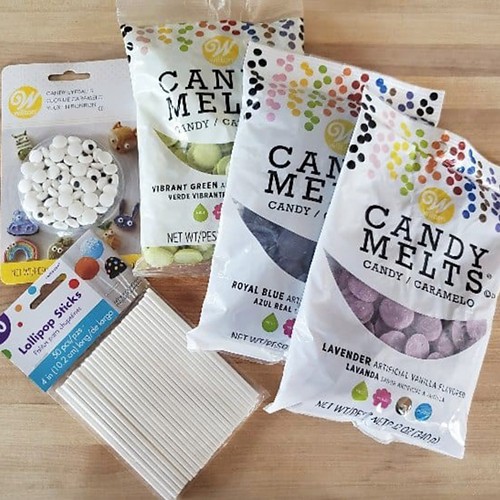 What You Need to Make Monster Cake Pops:
Pan of cooked brownies
Cream cheese
Candy Melts in various colors
Candy Eyeballs
Lollipop sticks
A box with holes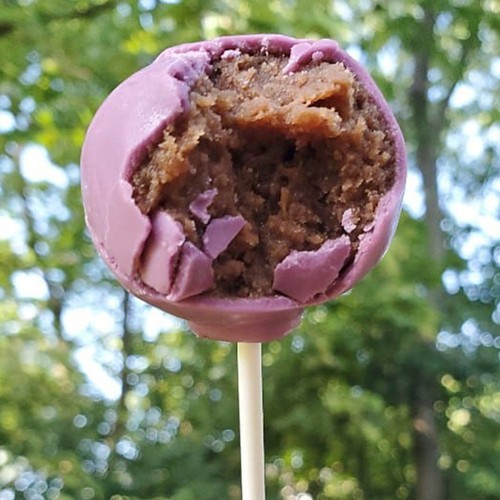 To make the brownie center:
You can make these with both box mix brownies and homemade brownies. I love using my classic brownies for this, but use your favorite recipe. This is a great recipe to make with leftover brownies that maybe are a day past their prime and a tiny bit dry.
Adjust the amount of cream cheese you use based on how dry your brownies are when you crumble them. I used four ounces, and that was plenty. I could have probably used two or three ounces. You can always add more if you need it for your brownies to hold together, but you can't easily take it out!
Use a cookie scoop to make even size cake pops. It's the easiest method that make the least mess, and you end up with uniform cake pops.
Refrigerate or freeze your cake pops long enough. It's tempting to want to go through all the steps right away, but the cooler your cake pops are, the easier they are to form into smooth circles and the easier to dip.
How to use the monster cake pops:
Because these have cream cheese in them, you want to keep them refrigerated until you serve them. They will last for a couple weeks, however, so feel free to make them in advance.
These are also perfect for distance gifts, as you can easily package them in single serving bags and tie them with pretty Halloween ribbon, if you choose. It makes for a great socially distanced Halloween treat!
How to Make Monster Cake Pops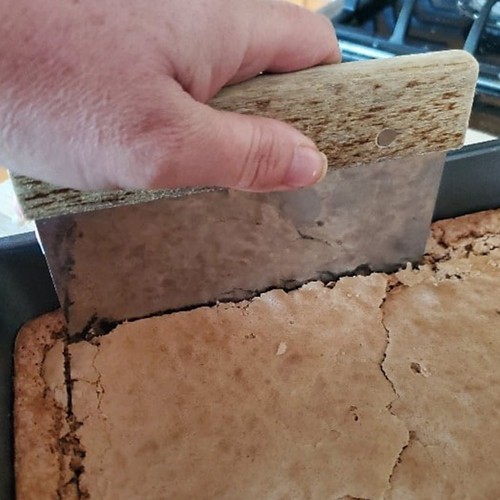 1. Bake your favorite brownies. Feel free to use a box mix or your favorite brownie recipe.
2. Let the brownies cool completely, and yes, you can even do this a day or two ahead of time. Once they cool completely, remove the edges, as you want to use only the soft center for your monster cake pops.
3. Make sure you take your cream cheese out so that it has time to come to room temperature before you start to work on your brownie center.
4. I don't even bother to remove my brownies from the cake pan first. I use my bench scraper to cut around the edges, then I grab one of my plastic scrapers to scoop out the center of the brownies. This protects my nonstick pan from scratching.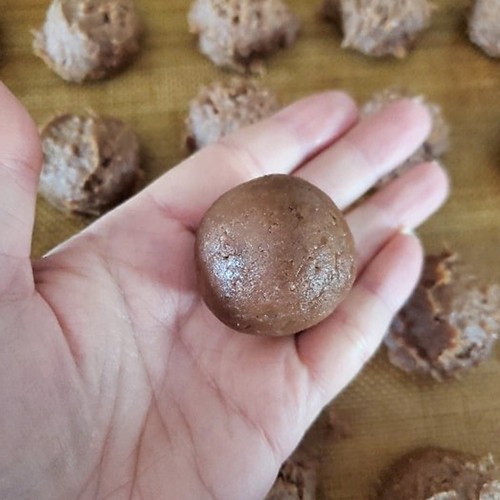 5. Discard the edges, which really means eat them yourself after you're done with your cake pops.
6. Place the brownies into a bowl and mix them up until they come together. Add the cream cheese and beat until it's thoroughly combined.
7. Use a cookie scoop to scoop out the brownie mixture and place it onto a silpat or parchment paper lined cookie sheet. You can place them close together, as they don't change in size at all.
8. Place your cookie sheet into the freeze for at least a half hour or fridge for an hour or more. Once they're chilled (but not frozen), quickly roll them into smooth balls.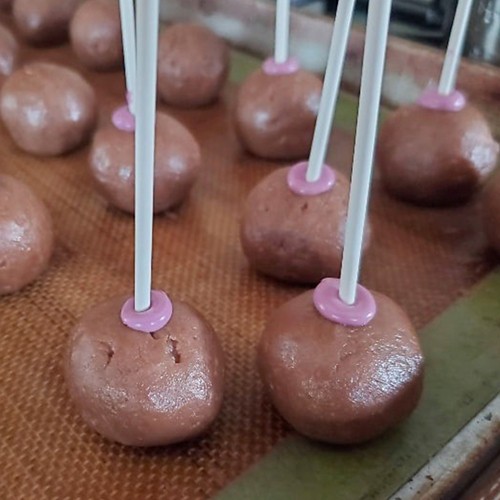 9. You can stop here and freeze them until you need them later, if you run low on time.
10. Otherwise, gently melt a single color of candy melts until most are melted. Remove from the heat and stir until the last bits are smooth.
11. Dip your lollipop stick just a bit into the candy melts, then pop it into your brownie ball.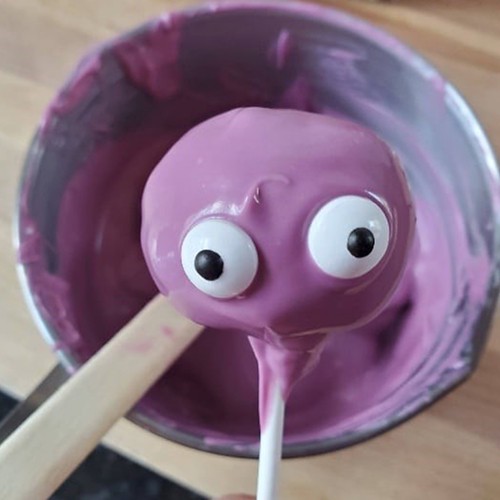 12. Once it hardens, dip the entire brownie ball into the candy melt and gently turn to ensure it's fully coated.
13. Remove from the chocolate and lightly spin to remove any excess chocolate. Add eyes immediately.
14. Place the stick into a holder for the monster cake pop to harden.
15. Serve once hardened, or refrigerate up to two weeks.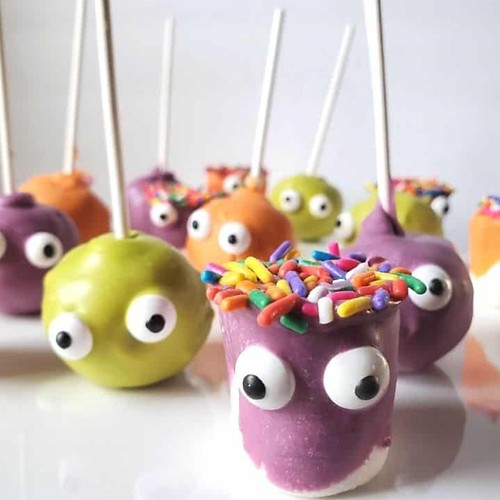 Have you ever made your own monster cake pops?