Munch on marshmallow-een treats!
Give marshmallows a makeover for Halloween! First, give them a coat of color with Orange Color Mist® food color spray. Then drizzle them with a web of Wilton Candy Melts® candy and stand them up in a container of black candy for a treat that will make your guests go batty!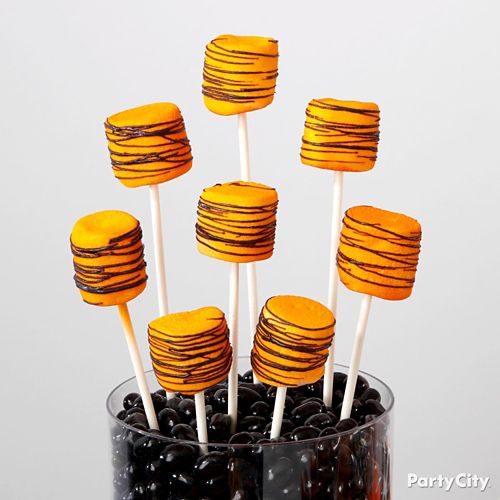 How-To
Ingredients:
Large marshmallows
Black Candy Melts® Candy (2 oz. makes 12 to 15 treats)
Orange Color Mist® Food Color Spray
Supplies:
Microwave-safe bowl
8 in. Lollipop Sticks
Craft foam block
12 in. Disposable Decorating Bags
Food-safe scissors
Waxed or parchment paper
1) Spray marshmallows
Melt black Candy Melts candy in microwave-safe bowl according to package directions. Dip end of lollipop sticks in melted black candy, and insert into marshmallows. Place in craft foam block. Chill until firm, 3 to 5 minutes. Spray marshmallows with orange Color Mist food color spray. Let dry, about 3 to 5 minutes. Reserve melted black candy in disposable decorating bag. When ready to decorate, use scissors to cut small point off of disposable decorating bag.
2) Drizzle marshmallows
Transfer remaining melted black candy to disposable decorating bag. Cut tip off bag when ready to decorate. Hold marshmallows by sticks over waxed paper. Use reserved melted black candy to drizzle sides of marshmallows. Place in craft foam block. Chill until firm, about 3 to 5 minutes.