Cute-as-can-be Mickey Mouse cookies
How to make chocolate-dipped desserts even sweeter? Make them into mini Mickeys! Visit our Mickey Mouse Cookie Ears How-To below for tips on making these mouse-eared treats. These chocolatey bites really pop on a tray of red jelly beans!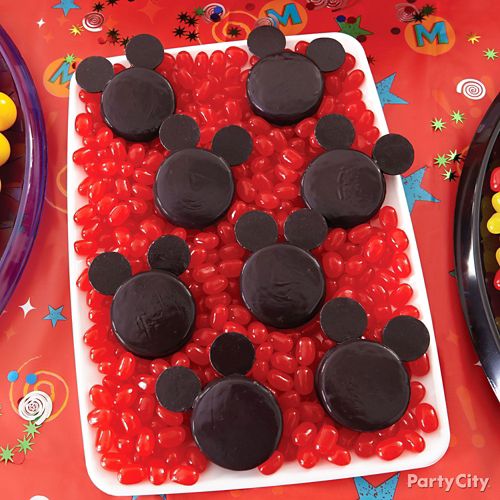 How-To
Ingredients:
Black Candy Melts® Candy (10 oz. makes 16 to 18 treats)
Favorite chocolate sandwich cookies
Supplies:
12 in. Disposable Decorating Bags
Food-safe scissors
Cooling grid
Waxed or parchment paper
Cookie sheet
1) Cover cookies
For ears, reserve two candy wafers per treat. Melt remaining black Candy Melts candy in disposable decorating bag according to package directions. Cut small tip off of bag. Place sandwich cookies on cooling grid over waxed paper-covered cookie sheet. Use melted black candy to cover cookies. Gently tap cooling grid to smooth and remove excess candy.
2) Decorate features
Transfer cookies to waxed paper-covered cookie sheet. Use a dot of melted black candy to attach candy wafers to edge of cookies for ears. Chill until firm, about 10 to 15 minutes.