Green popcorn will steal hearts at your movie party
No movie party is complete without popcorn, so give this classic cinema snack seasonal flair by adding in merry morsels and flavorings. Mini chocolates and marshmallows offer pops of sweetness to this usually savory treat. Create a festive contrast of green and red by using green food coloring and color mist on the popcorn and serving the treat in the holiday red packaging of old-fashioned popcorn boxes. Your guests can't help but nibble on these pops by the mouthful!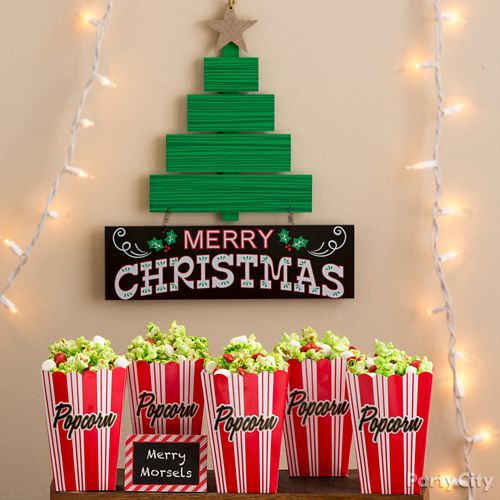 How-To
Ingredients:
10 cups of popped popcorn
Salt (to taste)
1 12-ounce package of white candy melt
Green food coloring
Green mist food coloring
Mini marshmallows
Red chocolate candies
Supplies:
1 large bowl
Parchment paper
Old-fashioned popcorn containers
1) Pop popcorn
Place popped popcorn in a large bowl and remove unpopped kernels.
2) Toss candy melt and popcorn
Pour melted green candy melt on top of the warm popcorn in the bowl. Coat the popcorn with the mixture by gently tossing the popcorn in the bowl.
3) Add tasty treats
If desired, spray green food mist on the popcorn to darken the green. Then, add sweet treats like mini marshmallows and red chocolate nibbles to your popcorn.
4) Cool down popcorn
Cool popcorn by spreading it on parchment paper. Serve popcorn in old-fashioned popcorn containers.