Glitzy ideas for creating parade floats! Learn how to make Mardi Gras floats using floral sheeting, balloons and scene setters! It's Mardi Gras, which means masks, bright colors and fabulous parades. If you're forming your own mini krewe and looking to make a parade float, look no further! We have Mardi Gras float ideas using scene setters, floral sheeting, balloons and more to create a classic and memorable float, so keep scrolling and get ready to hear "Throw me something, mister!"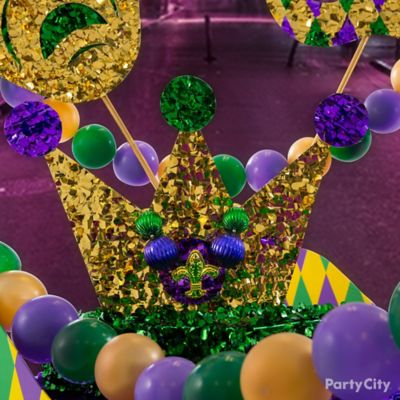 Idea 1: Crown of Rex!
Honor the King of Mardi Gras with a crown made of floral sheeting! You'll need to cut the crown shape out of a tall piece of foam board and layer the sheeting over it. Around the middle spike, hang giant beads, complete with the Fleur de Lys, for that extra festive pop, and have the king of your krewe toss beads and doubloons to the crowd. Is it time for the parade yet?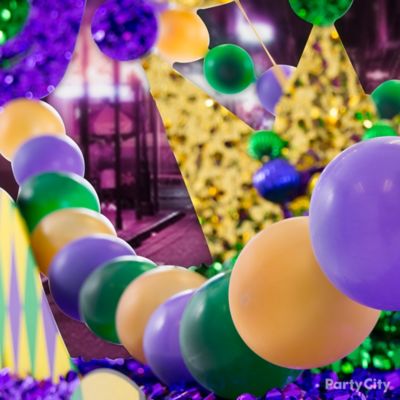 Idea 2: Create a giant string of beads with balloons!
This balloon garland is easy to do and makes a huge impact! Just inflate small balloons in all three festive colors and use heavy tape to adhere them together, taking care to tuck the balloon tabs under the tape. They're ready to drape around the float, especially if they match your throwing beads! Shop all balloons.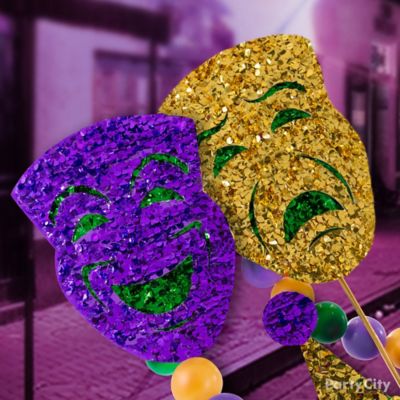 Idea 3: Show off flashy comedy and tragedy masks!
What's Mardi Gras without theatrics? And nothing says theatrics like the classic comedy and tragedy masks. For this Mardi Gras parade idea, we cut out shapes from a foam board – you can find a template and enlarge it to the desired size. Next we lined both sides with either purple or gold sheeting. From the green sheeting we cut out the eyes, mouths, eyebrows and laugh/cry lines to layer on top of the purple and gold. And poof! Your float is dramatic!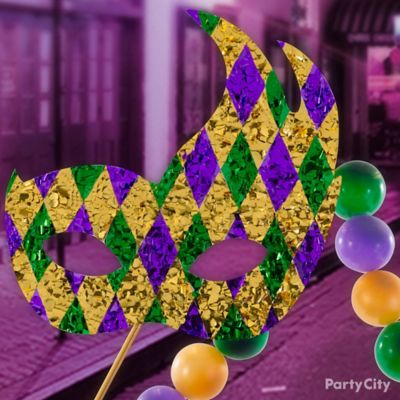 Idea 4: Make your own giant parade mask!
You must wear a mask if you're on a float, so why not give the float a mask as well? Get creative! Just cut out the mask from foam poster board, and cover both sides in gold floral sheeting. Then cut out diamonds from both green and purple floral sheeting and arrange them on the mask, trimming when necessary. It's a harlequin pattern that'll make people grin!
Idea 5: Use large pre-made signs for instant wow factor!
All types of large cutouts in purple, green and gold make decorating the sides of your float super simple. Start with metallic floral sheeting in purple and green, and hang your favorite Mardi Gras signs like this one with large comedy and tragedy masks and get other ideas for creative do-it-yourself signs! Make sure you have coins on hand to throw to the revelers on the parade route!