Get fleur-de-fancy with whimsical Mardi Gras outfits! Beads on beads on Mardi Gras beads! Head down to Bourbon Street with our Mardi Gras ourfit ideas! Our wide variety of Mardi Gras costumes and colorful accessories help you get into character. Complete your outfit with masquerade masks, hats and beads and you'll be ready for the party!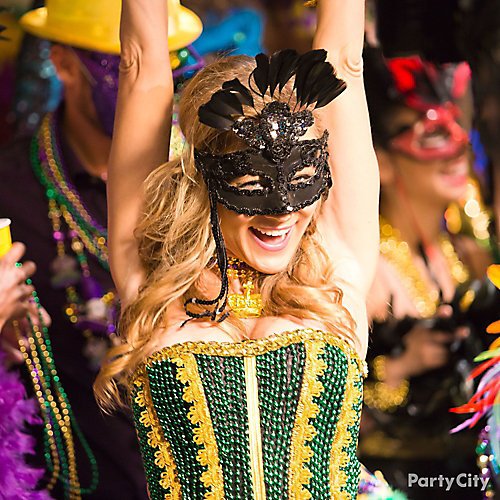 Idea 1: Make your own beaded bustier!
Choose any black feathered mask to keep them guessing. To add more style, create a beaded outfit by hot-gluing your favorite green and gold snipped necklaces onto a plain corset to make it colorful. Get creative with colors and patterns to match your mask, and your look will really stand out from the Mardi Gras crowd. We know you're DIY-ing to try it!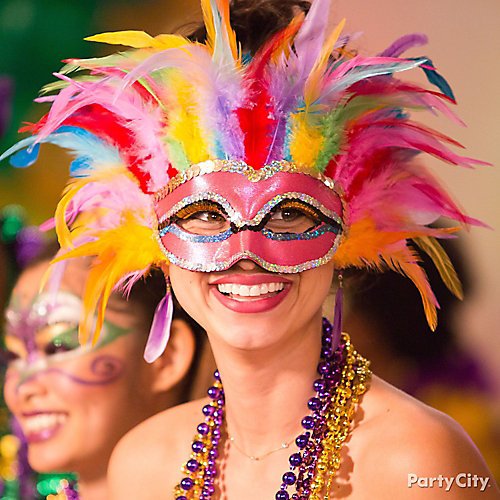 Idea 2: You're a ray of Louisiana light!
Stand out in a sea (or bayou!) of classic purple, green and gold. Hot pink and rainbow feathers, plus sequins galore, make you the belle of the ball and queen of the Mardi Gras parade. Pair your ultra-bright mask of choice with must-have bead necklaces, and you're ready to rock the revelry!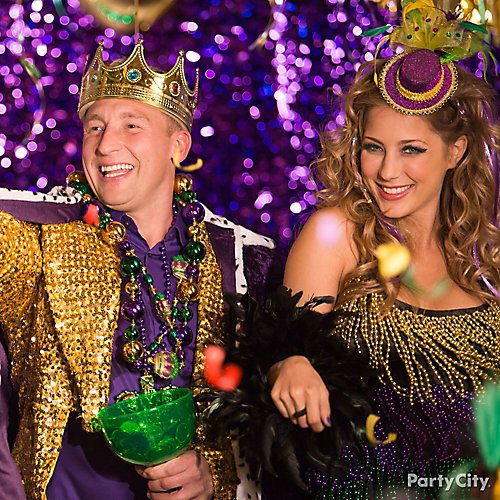 Idea 3: Costumes fit for carnival royalty!
Start from the top with a crown of your choice, like this bejeweled gold style. Pair your headwear with a faux fur-trimmed royal robe to match, and layer on must-have beads – make sure you have enough to throw to your royal subjects! Make it rain beads, and then reign over the revelry with cup in hand!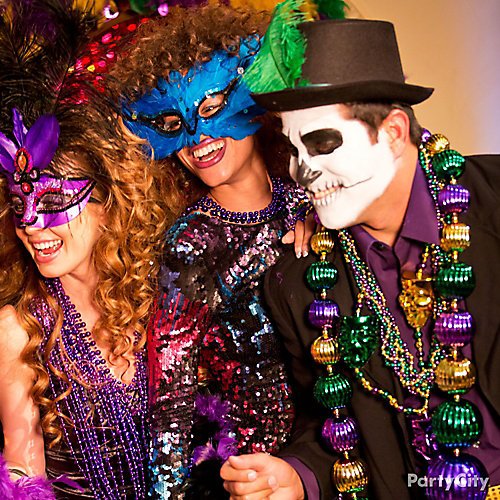 Idea 4: Beads on beads on Mardi Gras beads!
Layer on traditional strands, oversized options and fleur-de-lis pendants for a stylish statement! Mix and match necklaces with masquerade masks covered in feathers, lace, sequins, glam glitter – or all of the above! Want to do this voodoo look? We've got makeup kits for that!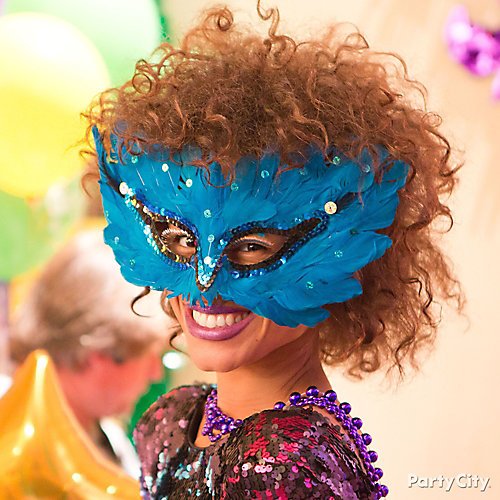 Idea 5: Feathered and fabulous!
Put your best face forward and choose from a variety of styles and designs to suit your party style, like this dreamy blue feather masquerade mask. You'll find iconic Mardi Gras green, purple and gold, as well as luxe metallics and bold hues – each with allover feathers or jewel-embellished plumes. Ooh-la-la!