Parades, masquerade balls, feasts—it's no wonder why the Mardi Gras season has been called the ultimate celebration of the year. And as with any big party, dressing up is part of the celebration. Luckily, we're here to show you how to dress for any Mardi Gras bash. Complete your outfit with masquerade masks, hats and beads and you'll be ready for Bourbon Street! Get fleur-de-fancy with these Mardi Gras outfit ideas—then let others in on all the fun by tagging your instas with #partycity.
Idea 1: Loud and proud: unique necklaces
If you've ever wondered what to wear to a Mardi Gras party, sometimes just one attention-grabbing accessory is all you need. A jumbo bead necklace is an easy way to update the basic beads-on-beads-on-beads look. Don't worry—you'll still have plenty of room to load up on other "throws"—more beaded necklaces, coins, and maybe coconuts—that are bound to come your way.
Don't be afraid to go all-out! The classic Mardi Gras look is intentionally over-the-top. Besides, if you wear a few extra necklaces, you can give them out to friends who forgot their Mardi Gras spirit at home. Shop all Mardi Gras beads, necklaces and throws to complete your look.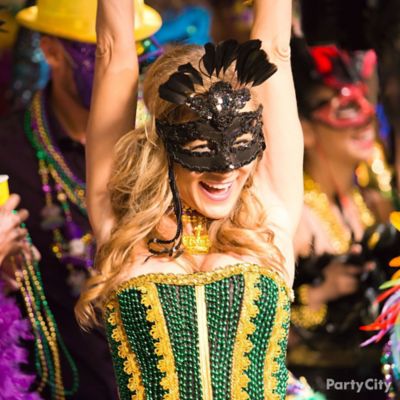 Idea 2: Make your own beaded bustier!
Here's another unique way to rock the iconic Mardi Gras beads. Create an entire beaded outfit by hot-gluing your favorite green and gold snipped necklaces onto a plain corset to make it colorful. Get creative with colors and patterns to match the rest of your outfit and mask. Your look will really stand out from the Mardi Gras crowd. We know you're DIY-ing to try it!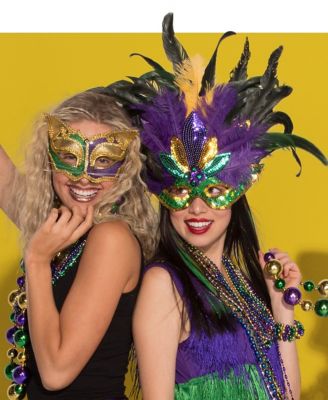 Idea 3: Show off by covering up: Mardi Gras masks
Masks add a sense of secrecy and mystery to Mardi Gras, and have been a part of Mardi Gras history since the 1800s. If you tend to be a little shy, a masquerade mask may help you let go of your inhibitions. An added bonus is that they look great with almost any outfit. A mask is essential in both form and function for Mardi Gras, so make this signature accessory a head-turning piece. Pick a mask that turns up the volume on Mardi Gras revelry, whether that's in the form of billowing feathers or shimmery glitter. Shop all Mardi Gras masks.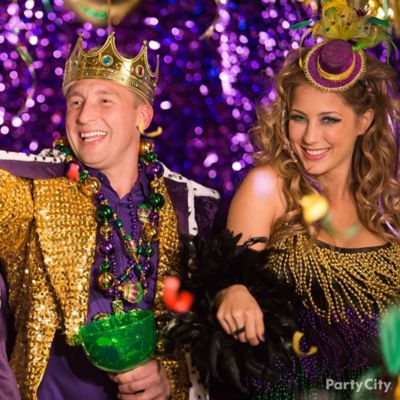 Idea 4: Costumes fit for Carnival royalty!
If you're feeling inspired by Mardi Gras kings and queens, wear a Mardi Gras costume to your party or parade.
Start from the top with a crown of your choice, like this bejeweled gold style. Pair your headwear with a faux fur-trimmed royal robe to match, and layer on must-have beads – make sure you have enough to throw to your royal subjects! Make it rain beads, and then reign over the revelry with cup in hand!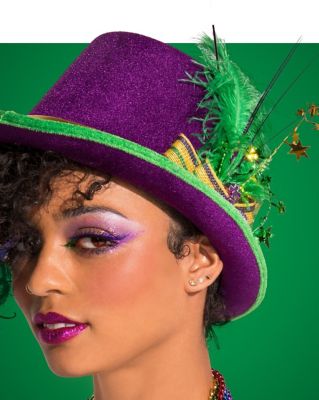 Idea 5: Mardi Gras glam: makeup and accessories
Ready for your closeup? A colorful celebration like Mardi Gras always inspires photographers, so don't be surprised if you see a lens pointed your way!
To feel confident in front of the camera, make sure your Mardi Gras style looks just as good up close. Call attention to your makeup with a fedora, wig, or other flashy accessory, and go big with false eyelashes and a bold eye shadow look in purple, gold and green. Shop Mardi Gras accessories.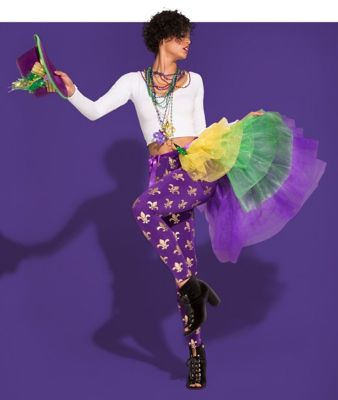 Idea 6: How to dress for a Mardi Gras parade
You'll need a look that you can put on parade, whether you're catching beads on Bourbon Street, hopping the clubs and pubs, or hosting your own Mardi Gras ball. While looking fashionable is always important, make sure you'll be comfortable enough for each event.

If you're participating in a Mardi Gras parade, wear sunscreen and use a themed parasol as part of your outfit to protect your skin. Pack a jacket if you can, since inclement weather is likely during Mardi Gras season. Store your belongings in a fanny pack at your waist to keep things close at hand, and wear comfortable shoes.
The key to the perfect Mardi Gras parade outfit is finding accessories that are comfortable *and* cute. One example is a bustle, which makes it easy to get that insta-worthy look—just attach and go, and you're ready to march to your own Mardi Gras beat.