Get into the Mardi Gras spirit! Treat your Krewe to Fat Tuesday spritzers, juleps and King Cake! It's time for revelry, so make like the New Orleans Krewes and throw a festive party complete with a drink table. Put all your favorite cocktails and sodas into purple, green and gold drinkware, and add fun details to the table, like a mask centerpiece dripping with Mardi Gras beads.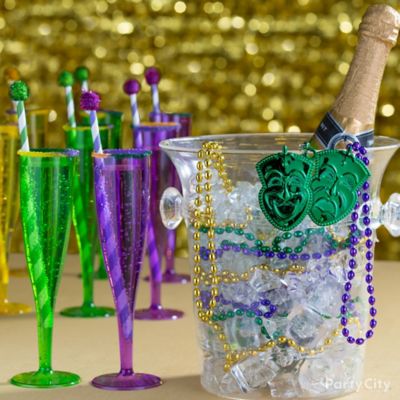 Idea 1: Deck out the champagne with a parade of beads!
Mardi Gras is a time of bright colors and daring theatrics—even the champagne bucket knows that! Add sparkle to your display by layering beads in the ice, and let these Mardi Gras mask pendants shine at the top.
Remember that there's no need to be shy with the Mardi Gras beads—they can be used for so many different things! Drape them across your drink table or hang them wherever you need a little Mardi Gras shine. You can even give them out as favors, or wrap the necklaces around wine glasses or flutes to help guests keep track of their drinks.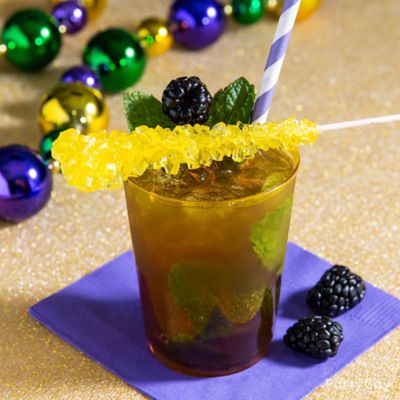 Idea 2: Blackberries, bourbon and mint make for one yummy cocktail!
For a berry delicious mint julep, pour 3 oz. of bourbon over ice and blackberries and sprinkle on sugar. Yum! Then finish it off with 1 1/2 oz. of syrup muddled with mint, a splash of bitters and a dome of crushed ice. Garnish with a sprig of mint, a blackberry and yellow rock candy. Refreshing!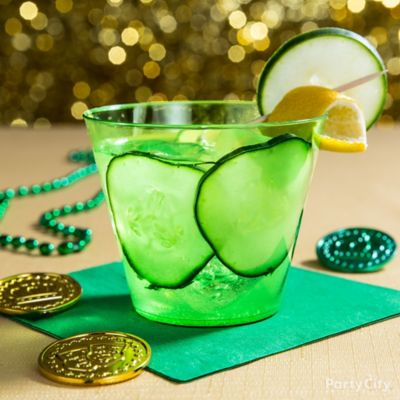 Idea 3: Cucumber hurricanes? Oh yes!
This drink is a fresh take on the French Quarter classic and looks dashing in green cups to match your party colors. For each drink mix the juice of two limes, 1 1/2 oz. vodka and 1/2 oz. triple sec. Finish it off with 3 oz. lemon-lime soda and a cucumber and lemon garnish. That's one tasty hurricane!
Browse our Mardi Gras tableware collection to find the perfect way to serve these hurricanes.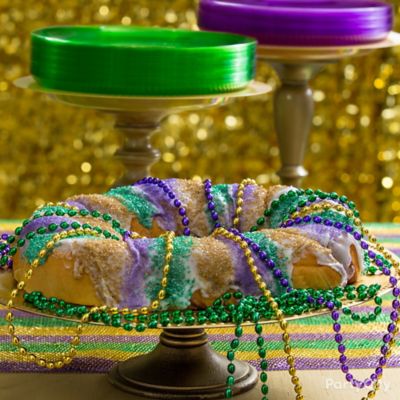 Idea 4: What goes best with Mardi Gras cocktails? King Cake!
King Cake is one tradition you don't want to miss! It's typically made of a brioche pastry dough that is braided and laced with cinnamon, but you can also create the effect with your fave white cake made in a bundt pan. Glaze the top with icing and decorate with green, gold and purple icing and sprinkles. Every cake has a tiny plastic baby figure hidden inside. The lucky one to find it throws next year's Mardi Gras bash!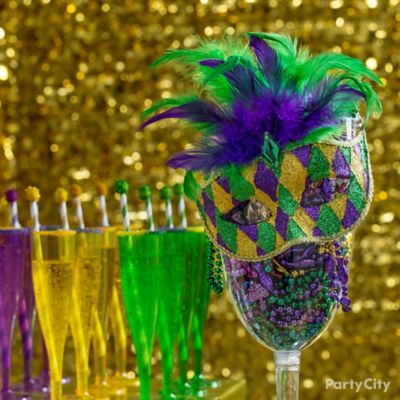 Idea 5: Glitter faces on parade!
Since Mardi Gras masks are the most distinctive look of the day, why not include them in the table accents? This centerpiece also takes a little inspiration from the traditional Mardi Gras colors (purple, gold and green). Fill a jumbo wine glass with Mardi Gras beads and wrap it with your favorite masquerade mask. Everyone will love the French Quarter flair!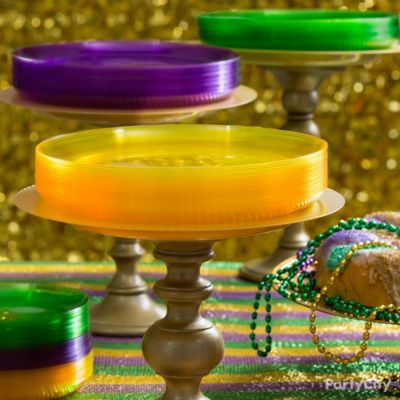 Idea 6: Mardi Gras tableware
Your party setup wouldn't be complete without serving your feast with Mardi Gras colors! Plates in solid purple, gold and green look stunning when stacked on pedestals together and won't clash with your decorations if you've already incorporated a lot of patterns. If your decorations are more focused on color-blocking, you may want to liven things up with plates sporting the Fleur De Lis or cute Mardi Gras phrases. Browse all of our Mardi Gras tableware and find the design that best suits your party!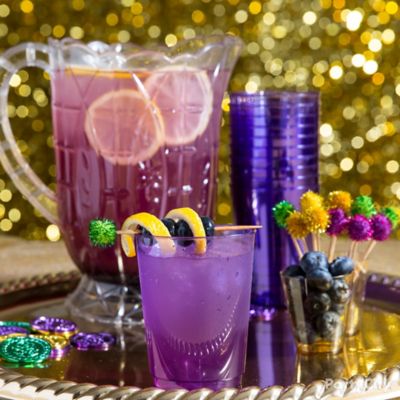 Idea 7: How do you make vodka lemonade even better? Turn it Mardi Gras purple!
Purple Vodka Lemonade is an easy drink to mix in a pitcher to serve a krewe of guests. For every 1 1/2 oz. of vodka, pour in 3 oz. of lemonade and add blueberry syrup to taste. Place the pitcher, tumblers and a shot glass filled with blueberry garnishes on a gold platter – now you're ready for a crowd!