Let the good times roll with French Quarter cocktails! Revelry reigns supreme on Fat Tuesday, so sip on these delicious Mardi Gras cocktail ideas. We've selected the best Mardi Gras party drinks to help you throw a Big Easy bash of your own! Drink ideas include Southern Champagne, Green Hurricanes, Cajun Lemonade and more!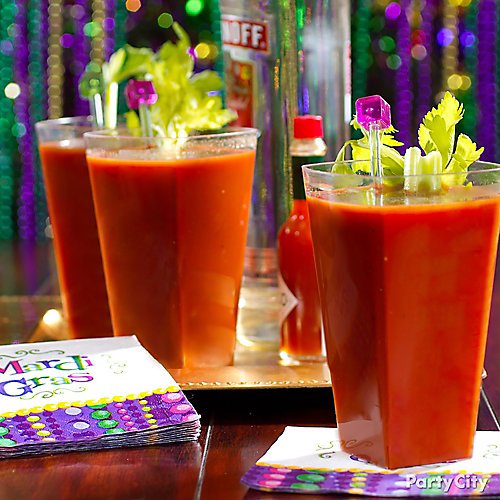 Idea 1: Bayou Bloody Mary
Keep your Mardi Gras party guests overnight and test out this hair-of-the-dog brunch classic. To make a Bayou Bloody Mary, add ingredients to a tumbler filled with ice: 1 oz. vodka, 6 oz. tomato juice, 5 drops Tabasco sauce, 3 drops Worcestershire sauce, 1 pinch prepared horseradish, 1 pinch celery salt, 1 pinch ground pepper, 1 dash lemon juice. Garnish with celery sticks and Mardi Gras drink picks. For more Southern personality, add a few crawfish tails and some extra spice on the rim.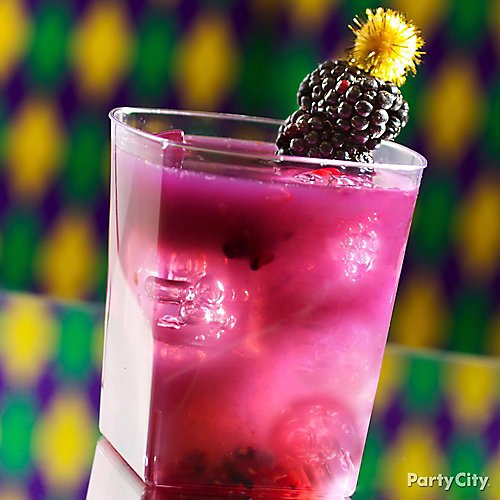 Idea 2: Bourbon Street Blackberry Brut
Start the party with a decadent tequila sipper that matches your Mardi Gras colors. Serve in chic square tumblers to jazz up your presentation. For Bourbon Street Blackberry Bruts, muddle 7 large blackberries, 1/2 oz. agave nectar and 1/4 oz. lemon juice in a glass. Pour ingredients into a shaker with ice and add 1 1/2 oz. silver tequila. Shake and strain into a tumbler filled with ice. Top with brut champagne and garnish with blackberries on a gold puff pick. Delish!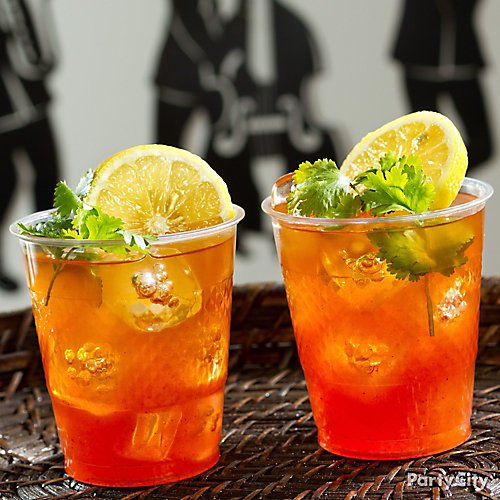 Idea 3: Cajun Lemonade
Spice up your Fat Tuesday feast with a hot dash of Southern flair. It's easy to make two batches, one for the non-alcohol crowd. For back-country Cajun Lemonade with kick, fill cups with ice and add 1 part dark rum, 1 part Pimms, 2 parts lemonade and a dash of Tabasco, and stir. Garnish with lemon slices and cilantro sprigs. Put on some Zydeco and dance the two-step for a knee-slappin' good time.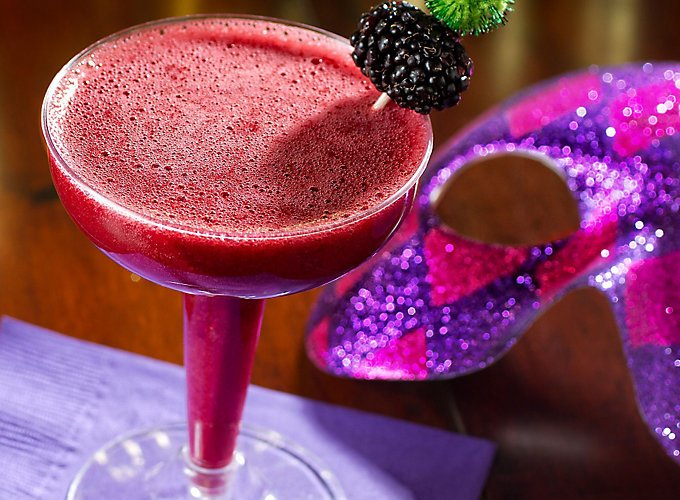 Idea 4: Cajun Whiskey Blackberry
Round out your Mardi Gras party bar with a spicy sipper honoring French Cajun culture, where blackberries are a native favorite. To make a Cajun Whiskey Blackberry, you'll need: 1 1/2 oz. rye whiskey, 3/4 oz. fresh lemon juice, 3/4 oz. blackberry syrup and Tabasco sauce to taste. Shake with ice in a cocktail shaker, strain into a champagne coupe and garnish with a blackberry on a puff pick. Everyone can enjoy a delicious taste of Cajun joie de vivre!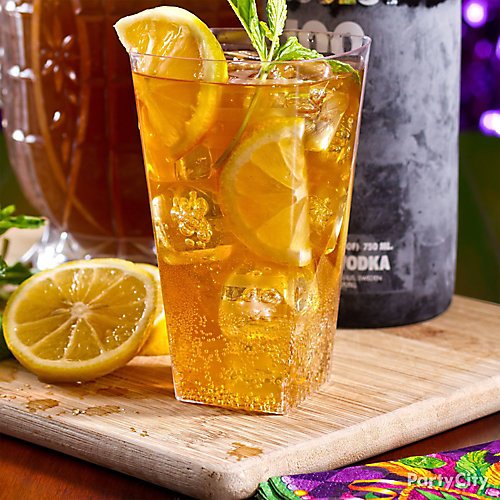 Idea 5: Fat Tuesday Iced Tea
Jazz up your Mardi Gras party with a DIY beverage station. Partygoers can serve up their own refreshers for a N'awlins-style bash that marches on day and night! For a Fat Tuesday Iced Tea table you'll need: several bottles of citrus vodka, pitchers of sweet lemonade and iced tea, and bowls of lemon slices and mint sprigs. Have plenty of large plastic tumblers, a bucket of ice, ice scoops and drink stirrers on hand.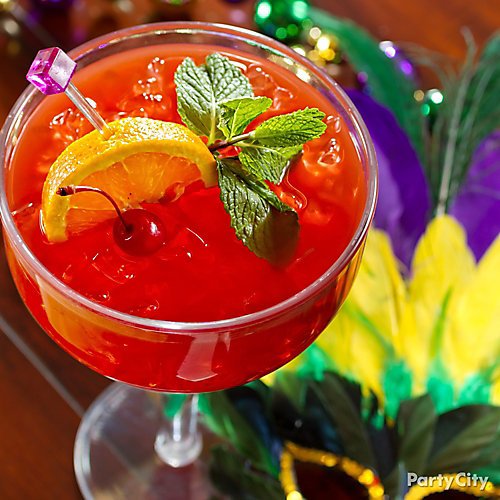 Idea 6: The Flambeaux
To mix up The Flambeaux, muddle an orange slice, a maraschino cherry and 2 spoonfuls of simple syrup in a glass with ice. Add 1 1/2 oz. Southern Comfort and 2 dashes Tabasco sauce. Garnish with an orange slice, a cherry, a mint sprig and a Mardi Gras drink pick. For more fun, serve in oversized goblets and fill out the drinks with orange or pineapple juice.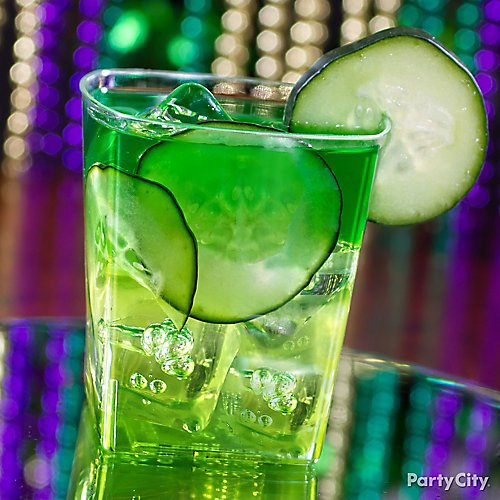 Idea 7: Green Hurricane
Indulge in this chic green take on the stormy French Quarter classic! To mix up a Green Hurricane, place 2 cucumber wheels in a tumbler with the juice of 2 limes. Add ice cubes, 1 1/2 oz. vodka and 1/2 oz. triple sec. Top off with 3 oz. lemon-lime soda, add a cucumber slice garnish, stir and enjoy a taste of Carnival without the crowds.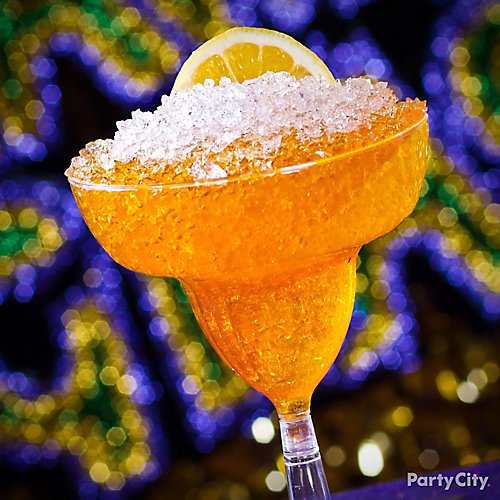 Idea 8: Mardi Gras Kiss
Sipping this rum and pineapple fave is as fun as parade day on Bourbon Street. To make a Mardi Grass Kiss, combine 1 1/2 oz. rum, 1/2 oz. amaretto almond liqueur, 1 oz. simple syrup and 1 oz. pineapple juice in a cocktail shaker with ice. Shake well and strain into a margarita glass. Add crushed ice and garnish with a lemon slice. Laissez les bons temps rouler – let the good times roll!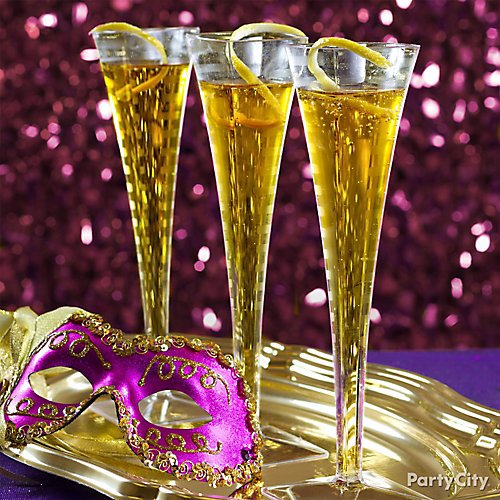 Idea 9: Southern Champagne
Welcome guests with bubbly, beads, masks and hats – everyone can revel like kings, queens, jesters or masked mystery characters. To serve N'awlins-style Southern Champagne, pour 1 part Southern Comfort into a tall flute, add a dash of Angostura bitters and 4 parts chilled champagne, and garnish with a lemon twist. Serve on a regal beverage tray to extend the Fat Tuesday theme.
Now that you have your drink menu prepared, shop all Mardi Gras tableware to make everything look as good as it tastes!