Glam it up with ideas for amazing Mardi Gras decorations, from table decor to balloons. Whether you're hosting a traditional Mardi Gras party on Fat Tuesday or a themed party at any time of the year, find fleur-de-fancy decorations to kick off the revelry. We have DIY Mardi Gras decoration ideas for centerpieces, balloons and more! With our help, you can learn how to decorate for Mardi Gras and set a southern scene in glitzy gold, purple and green.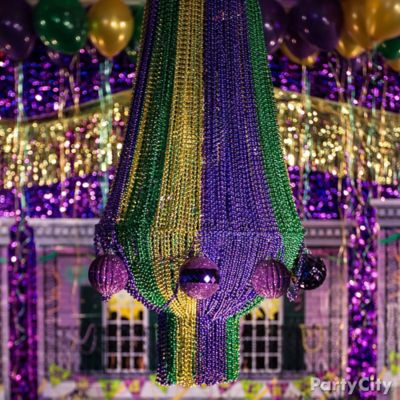 Idea 1: Use beads to make a DIY chandelier masterpiece!
Create your own Mardi Gras hanging decoration with beads, beads, and more beads! All you need are lots of plastic bead necklaces, a hot glue gun and your imagination. Drape, hang and dangle them in cool color patterns and unique designs – it's up to you! We snipped strands and glued them around the edge of a big bowl in color-block rows to create this chic chandelier shape. Add gobs of oversized beads, big pendants and doubloons for your glam pièce de résistance!
Trust us on this one: you can never have enough Mardi Gras beads. They can be used in centerpieces (see below), all sorts of DIY projects, and can be draped around to add an eye-catching touch of Mardi Gras glam to your party decor. Shop all Mardi Gras beads.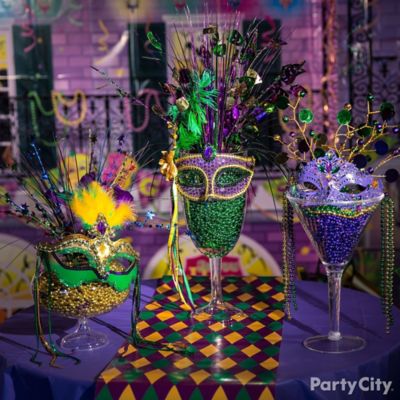 Idea 2: Three ways to create centerpieces with bead "throws"!
More than just a decoration, bead necklaces in giant cocktail glasses double as grab-and-go-party Mardi Gras accessories for the krewe! Add a bright green, purple and gold masquerade mask and tuck in a spray centerpiece for glitz worthy of the Queen of Carnival. The perfect complement to your French Quarter fête! If a DIY centerpiece isn't your style, check out our collection of Mardi Gras table decorations.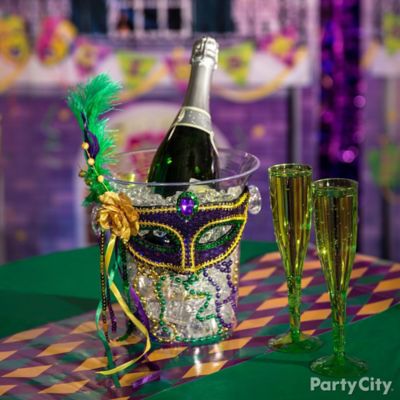 Idea 3: Decorate champagne buckets with masks and beads!
Champagne gets a *pop* of Carnival color! A clear ice bucket dressed up with green, purple and gold bead necklaces and a feathered mask doubles as a glam table centerpiece for Mardi Gras. We love green champagne flutes paired with a harlequin table runner for this Louisiana look. Let the good times roll… and the drinks flow!
Get inspired to create your own unique Mardi Gras centerpiece by exploring our collection of Mardi Gras masquerade masks.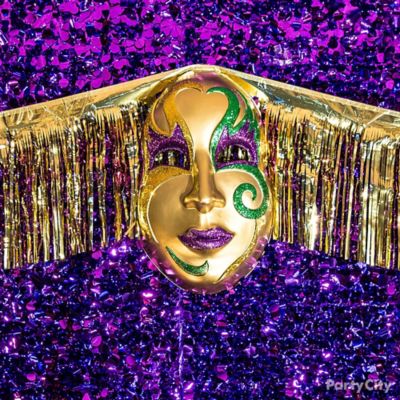 Idea 4: Floral sheeting + mask = "wow"
A big gold masquerade mask – so New Orleans – pops against a gleaming purple background for a shiny, parade float-worthy display. It's easy (the Big Easy!): simply mount floral sheeting on a wall and complete the layered look with the mask, front and center. Trés bon!
To find hanging masks, fringe garlands and more, shop all Mardi Gras hanging decor.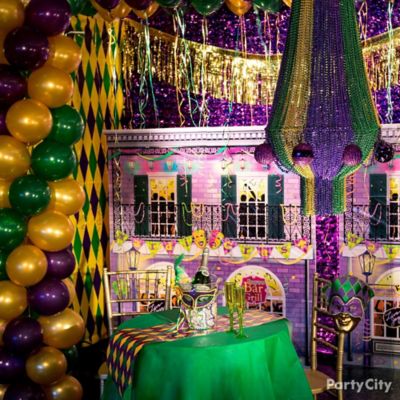 Idea 5: Create a Mardi Gras party backdrop
Make your party space feel like the French Quarter by decorating with a Mardi Gras scene setter. Simply hang one of these lightweight vinyl posters with tape or Sticky Tack on the focal wall of your party room. Your guests can also use this area as a photo booth: place a table nearby stacked high with Mardi Gras beads, hats and accessories. Tag your instas with #PartyCity so we can see your Mardi Gras decorations!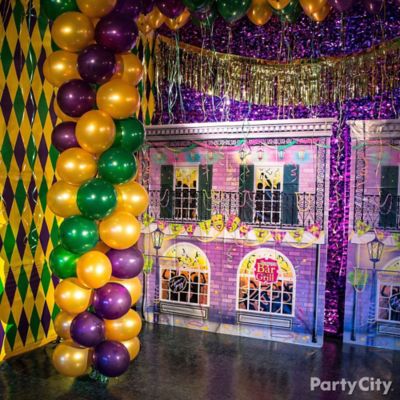 Idea 6: Jazz up the party with easy balloon columns!
A balloon tower + scene setters = French Quarter fun! With our simple Spiral Balloon Column How-To and a New Orleans crowd scene setter, you can create your very own gateway to the Mardi Gras celebration. Prefer a more traditional photo backdrop? Try a green, purple and gold harlequin scene setter – tr'es chic!
Ready to let the bright times roll? With these Mardi Gras decoration ideas, your party will embody the spirit of New Orleans. If you're looking for more Mardi Gras decorations, browse the whole collection.