Throw a cute baby shower with a llama theme. A few party supplies and our instructions for making a diaper cake below will have you celebrating in no time at all. You could absolutely change up the theme from llamas as well to any of our many baby shower themes. But first, let's make that diaper cake.
How to Make a Diaper Cake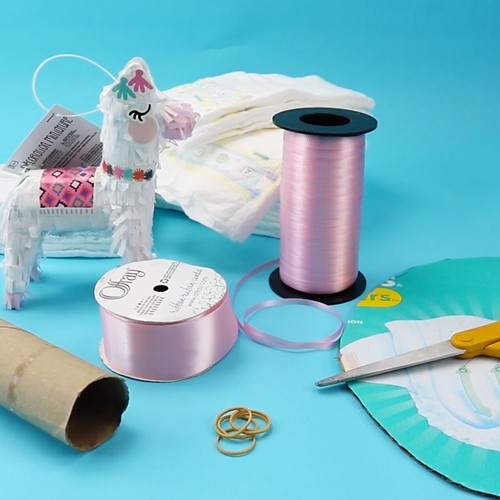 Diaper Cake Supplies:
Diapers
Rubber bands
Curling Ribbon
Wide ribbon
Pom pom trim
Hot glue and glue gun
Mini Llama Fun Pinata Decoration
Box cut into a circle
Paper towel roll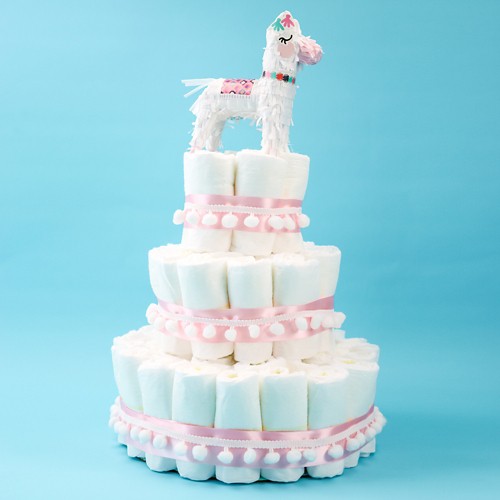 Instructions:
1. Roll up diapers and add a rubber band to the end of each to hold in place.
2. Place the paper towel roll in the middle of a cardboard circle about 11 inches in diameter. Use hot glue to secure into place.
3. Start placing diapers around the bottom of the paper towel roll. Secure each round of diapers with some curling ribbon tied into a double knot. You can then remove any rubber bands.
4. You want to have three rounds of diapers on the bottom layer, two on the middle layer, and one on the top layer.
5. Cover the curling ribbon with the wide ribbon and secure into place with hot glue. Add pom pom trim with hot glue if desired.
6. Add the mini llama pinata to the top to complete your diaper cake.
Now you can add your llama diaper cake to a llama party.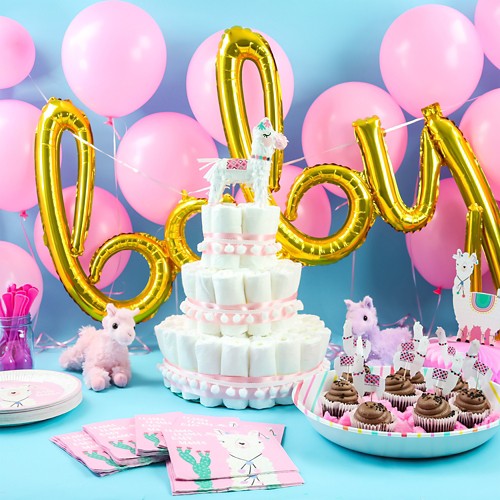 Tips for your Llama Theme Baby Shower:
Make a backdrop with various helium filled balloons layering the baby balloon over the top.
Add your other items to the table including the stuffed llamas that can double as a baby gift.
Add cotton candy to the serving dish as a bed for your cupcakes then put in the cupcake toppers.
Llama Baby Shower Party Supplies:
Pink Balloons
Baby Balloon Banner
Llama Honeycomb Centerpiece
Pink Llama Plush
Llama Baby Mama Lunch Plates
Llama Baby Mama Lunch Napkins
Just Chillin' Colorful Stripes Serving Bowl
Pink Strawberry Cotton Candy
Glitter Llama Fun Cupcake Kit