For a holiday that celebrates the hard working American, luckily this party theme doesn't require too much labor! From an easy DIY balloon garland and personalized pennant banner (ours reads: Happy End of Summer!) to chalkboard paper placemats and lanterns, you can go all out decorating with Party City's Picnic Party Red Gingham Party Supplies.
Party City has lowered prices on so many of their decorations, accessories and paper goods that we were able to deck out our dining room for a Labor Day celebration for less than $85—and many of the items we purchased for this shindig are reusable! Take the inflatable buffet, for example. Fill it up with ice and you now have a beautiful way to display drinks and chilled watermelon. Dry off and deflate after using. Both the BBQ Picnic Chalkboard Sign and Red Gingham Chalkboard Yard Stake can easily be personalized for a party and cleaned off before their next use. Not to mention the Galvanized Metal Utensil Caddy. This is now one of our patio dining staples!
If you want to take your Labor Day BBQ to the next level, why not attempt a DIY balloon garland? This was my first time taking on the task and I have to say, it was super easy, especially if you have a hand pump and Party City's Balloon Arch Decorating Strip. Don't be afraid to give it a try!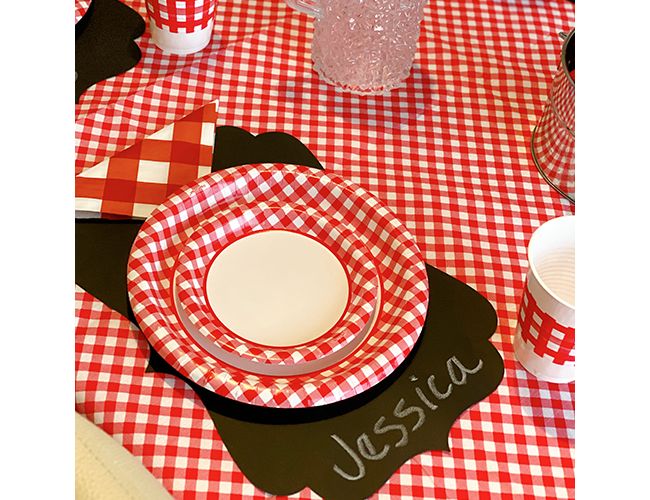 Labor Day Tableware
To set your festive Labor Day BBQ table, whether you choose to dine indoors or out, start with your base: the tablecloth! We love Party City's Picnic Red Gingham Flannel-Backed Vinyl Table Cover because it can be wiped off and stored after each use.
Set out the Chalkboard Paper Placemats and write out each guest's name in chalk, so they know where to sit. Then it's time for Party City's Red Gingham Plates, Napkins and Plastic Cups. I recommend keeping all of the Red Premium Plastic Cutlery Sets in a Galvanized Metal Utensil Caddy with extra napkins until your guests are ready to eat.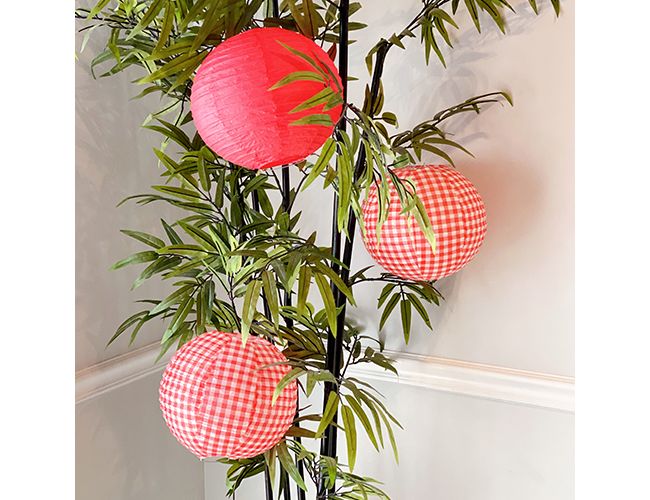 Labor Day Decor
Accent your table decor with a Red Gingham Paper Lanterns Set and Personalized Pennant Banner (plus balloons—lots of balloons) and you're all set to celebrate Labor Day and the end of summer in style!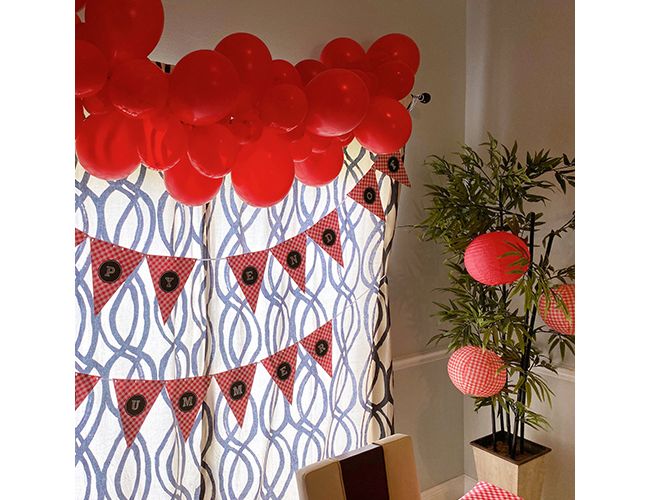 DIY Balloon Garland:
First, to make your DIY balloon garland (no helium required!), you'll need to order a Balloon Garland Kit and have scissors, tape and Command Hooks on hand. This is how simple it truly is to construct a balloon garland on your own in about 60-90 minutes:
With your hand pump, blow up each bag of balloons provided. The Balloon Garland Kit comes with all the sizes you need, which takes the guesswork out of this project.
Cut your Balloon Arch Decorating Strip about 12-18 inches longer than the total length you'd like each section of your garland to be.
Plan to create your arch in two pieces. It makes it a lot easier to hang with Command Hooks once you start decorating.
Plan a pattern for your balloons and start inserting each tie into the pre-cut holes in the Balloon Arch Decorating Strip, starting about 6-8 inches from the end. For example, my balloon pattern was: Big, small, medium, small, small (repeat until about 6-8 inches from the other end).
Place the Command Hooks on your wall or banister and position each section of your DIY balloon garland where you think it will look best among your party décor. Enjoy!