A parade of pumpkins! Create a cheerful Halloween scene with smiling pumpkins, scarecrows and ghosts! No time to carve? No problem! Transform the front yard into a magical pumpkin patch with these no-carve decorating ideas. We've got the pick of the patch with a friendly mix of jack-o'-lantern yard stakes and Halloween friends like ghosts, skeletons and witches who point the way to tricks and treats.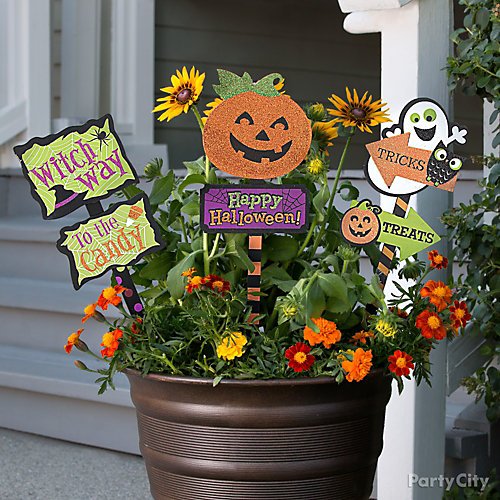 Idea 1: A pot o' pumpkins!
Even porch plants can get in on the Halloween fun! Add some pumpkin pals to a potted plant for festive cheer in every corner of the yard. These adorable signs with spookerific sayings create an inviting atmosphere while pointing the way to treats.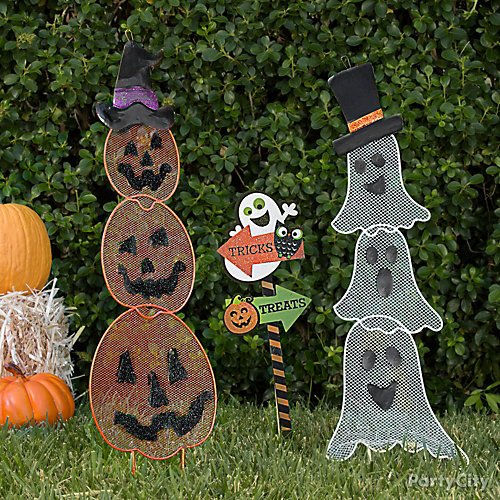 Idea 2: Witch way to the treats?
This ghost and pumpkin pal are too cute to spook! This pair of yard signs looks like a couple of boo buddies. Add a Halloween sign in between to make it look like they're directing trick-or-treaters to the candy pile.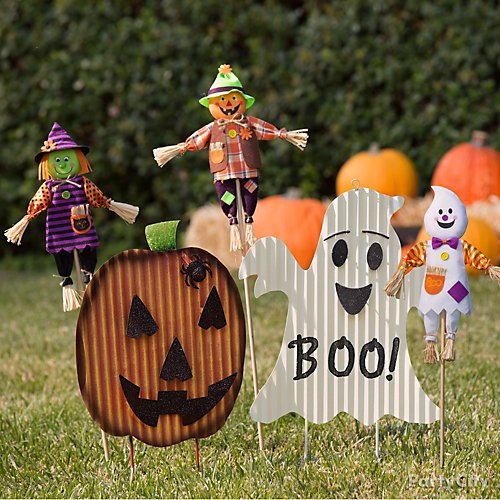 Idea 3: Add some cheerful spooks to the pumpkin patch!
Ghouls and boys will ♥ this Halloween decor! A few Halloween decorations become a silly scene when you place them together. A pumpkin patch isn't complete without ghosts, witches and scarecrows!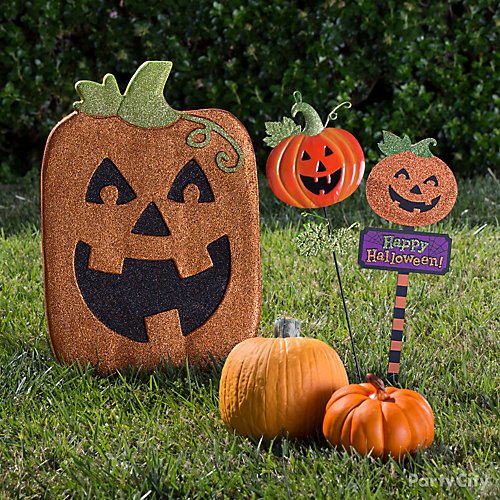 Idea 4: Delight trick-or-treaters with jolly jack-o'-lanterns!
The patch is brimming with pumpkin smiles! These playful jack-o'-lantern yard stakes prove Halloween decorations don't have to be gruesome. Arrange glittery gourds together for a cheerful addition to your parade of pumpkins.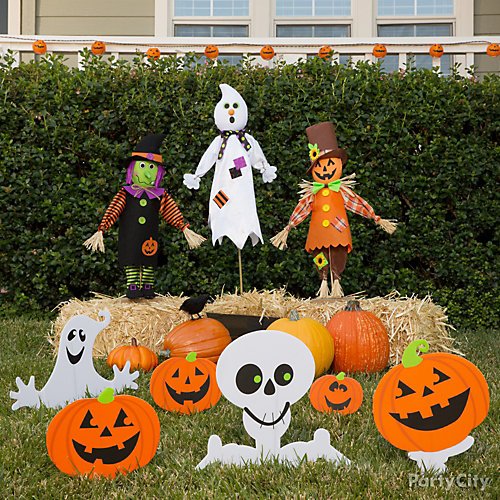 Idea 5: Decorate the yard with Halloween friends!
This crew is delightful – not frightful! A cheerful Halloween scene is as easy as 1-2-eeek with an assortment of skeleton, ghost, witch and jack-o'-lantern lawn decorations. This silly skeleton looks great balancing a couple of his pumpkin pals in each hand while his band of friendly fiends looks on from their pile of pumpkins and hay.