Ghouls and boys will love this indoor pumpkin patch! Home is where the haunt is! Set the scene for a frightfully fun Halloween get-together with a playful collection of cute characters and pretty pumpkins. Keep it cheery with adorbs ghoulies like a bubbly witch, jolly jack-o'-lanterns and smiling ghosts. Check out the rest of these ideas for more inspiration to brew up your own bewitching entryway.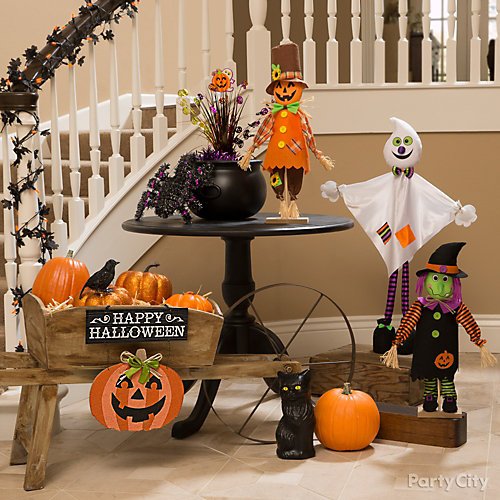 Idea 1: Treat them to a spook-tastic scene!
Gather Halloween favorites like pumpkins, witches, and ghosts to greet guests! A bushel of sparkly pumpkins, a raven and a few boo buddies are a fun and easy way to add some spirit to the entryway. Give your whimsical display just the right amount of spooky with a black cat and spider – frightful and delightful!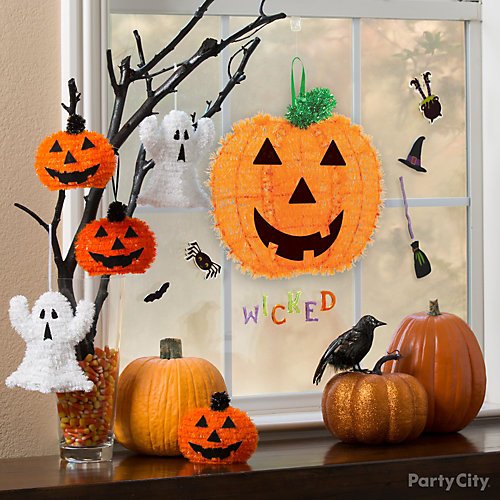 Idea 2: Trick or treat, show them something really neat!
Go out on a limb with a darling Halloween tree! Find a sturdy branch and paint it black, then place it in a glass of candy corn with a few spooky ghost and pumpkin ornaments. Add some batty clings and a hanging pumpkin to the window for the perfect way to show off Halloween spirit to everyone outside!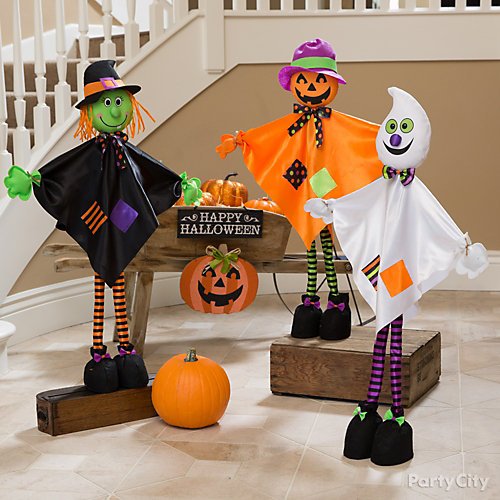 Idea 3: Monster munchkins on parade!
Make them go "eeek!" for this terribly cute trio of Halloween friends! Everyone will want to sit for a spell with these happy haunters before heading out for treats. With long legs and poseable arms, this gang of ghouls makes a big impression when they're positioned together.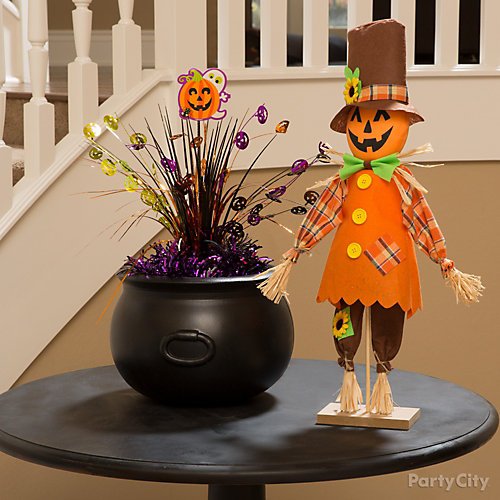 Idea 4: What mischief does this pumpkin have brewing?
Pal around with a pumpkin scarecrow and his cauldron of tricks. Create an easy and adorable table decoration with a jack-o'-lantern scarecrow and plastic cauldron. Fill the cauldron with purple shred and a Halloween spray centerpiece for an explosive-looking potion.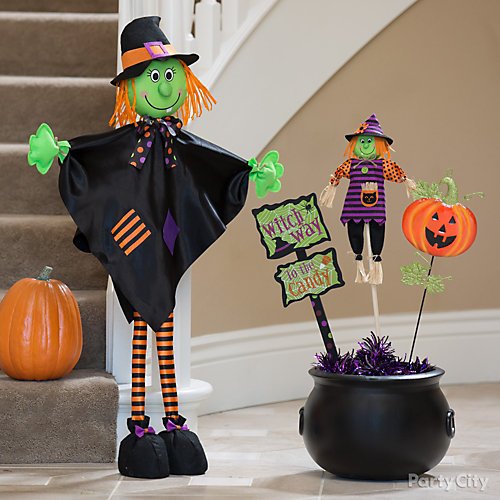 Idea 5: Welcome trick-or-treaters with a not-so-wicked witch!
Witch way? This smiling spellmaker will show you! Kids will feel at ease when they see this huggably cute witch who's as tall as they are. Place a cauldron nearby with a few cute characters and Halloween signs for a bewitching addition.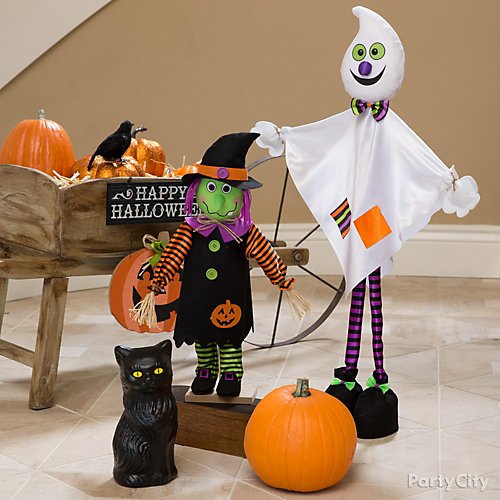 Idea 6: Whimsical witch and ghost idea
A sweet Halloween scene is wicked-easy to whip up with a witch and her ghoul-friend. Surround them with pumpkins and a couple more creatures known to go bump in the night for a monstrously cute display.