Hats off to horses and mint juleps! They're the makings of a Kentucky Derby party done right. But you don't need to go at a racetrack to celebrate the most exciting two minutes in sports. Here's how to host a Kentucky Derby party at your home—these modern takes on Derby Day are a sure bet for a winning celebration.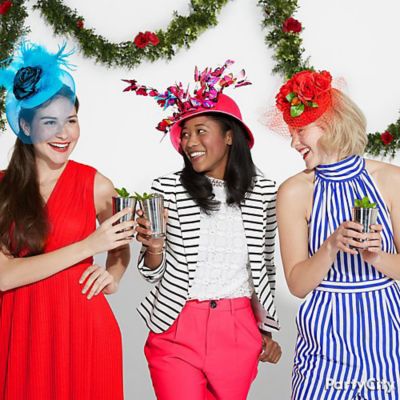 Idea 1: Hats fit for Derby Day!
Don't know anything about horseracing? It's OK—everyone knows the Kentucky Derby is all about the hats. Make sure to tell your guests that hats are required or have a few Derby-worthy hats on hand. It doesn't matter if the hats are fancy or funny—any hat will be the perfect fit for Derby Day!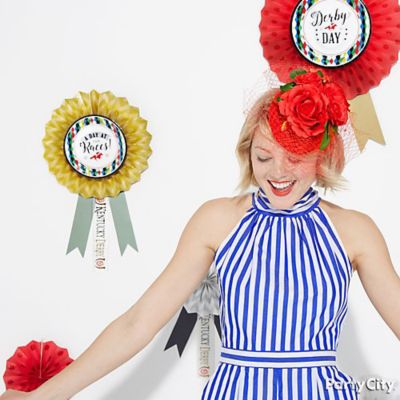 Idea 2: Snap this winning photo finish
The culmination of the greatest two minutes in sports comes down to a photo finish. You can capture the thrill of being in the winner's circle with a DIY take on award ribbons made with paper fans, plates and tails from Derby theme streamer and colored paper. It's a backdrop that makes a photo finish look #winning.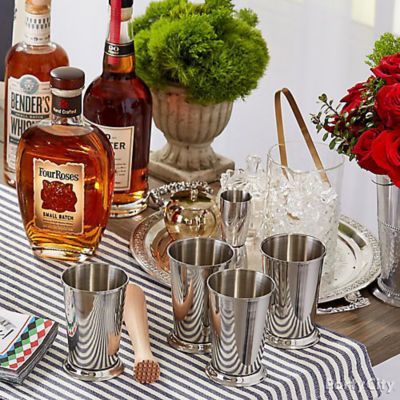 Idea 3: Refresh a mint julep bar with decorative details
If there are any musts to your Kentucky Derby party, it would be a mint julep bar. Your guests will love concocting this classic derby cocktail to their liking, so here's a refreshingly simple way to create a stylish mint julep bar setup: You'll need a muddler, silver tumblers, an ice bucket and tongs. Arrange all on a silver platter in a way that's easy for guests to grab and make. And of course, have on display the ingredients—mint leaves, sugar and bourbon. Tie it all together with decorative details: a crisp fabric runner, silver housewares and roses. Now you have a mint julep bar that's worthy of the winner's circle.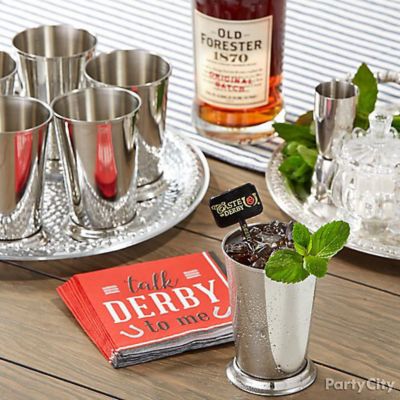 Idea 4: Serve this simply fancy mint julep
When it comes to mint juleps, their appeal is in its simplicity: muddle one-fourth cup mint leaves, a tablespoon of sugar and tablespoon of water in a tumbler; after sugar dissolves, add crushed ice and bourbon. But if you want to offer your guests a refreshing take on this classic Kentucky Derby cocktail, invite them to infuse their drinks with fruits like raspberries or oranges. Have ginger ale on hand in case your guests want to make a non-alcoholic version. Don't forget the Derby-worth touch: always serve chilled in a silver tumbler garnished with a mint sprig!
Idea 5: Derby decor done right!
A balloon centerpiece can create that air of excitement that you feel at the racetrack. Pair a balloon bouquet with a greenery centerpiece. Display it on an entryway table or by your mint julep bar. It's the simple decorating tricks that make your home dressed up for the Kentucky Derby!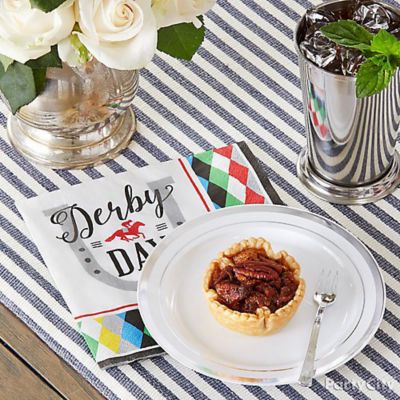 Idea 6: Give derby pie a mini makeover
Chocolate chips, pecans and pie crust? We're in. For a modern twist, give this traditional Derby dessert a mini makeover by making a mini version in a muffin tin. For your filling: mix 1 cup sugar and ½ cup flour, then add 2 eggs slightly beaten, 1 stick butter melted and a dash of vanilla. Add 1 cup chopped pecans or walnuts and 1 cup chocolate chips/ Bake until golden brown (325 degrees, 40 to 45 minutes). A Derby Day napkin adds just the kick you need for an on-point display.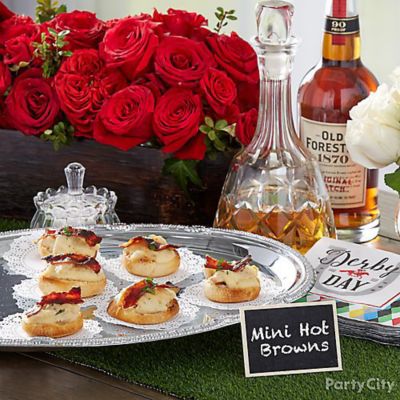 Idea 7: Here's a savory classic that's Derby Day delish!
When it comes to serving up a delectable Kentucky Derby day dish, some like it hot—as in hot brown. A Kentucky classic, a hot brown is an open-faced sandwich topped with sliced turkey, bacon and tomatoes smothered in Mornay sauce, a rich and creamy dressing made of a grated hard cheese—parmesan, Swiss, cheddar or gruyere—and a hint of nutmeg. No need for a weekend trip to Louisville to get your hands on this mouth-watering morsel. Easily create a mini version of this local dish using mini biscuits or halved English muffins. Load them up with the sliced turkey, bacon, tomatoes and made-from-scratch Mornay sauce. Pair each mini hot brown sandwich with a mini doily, and you got an appetizer that looks and tastes Derby Day delish!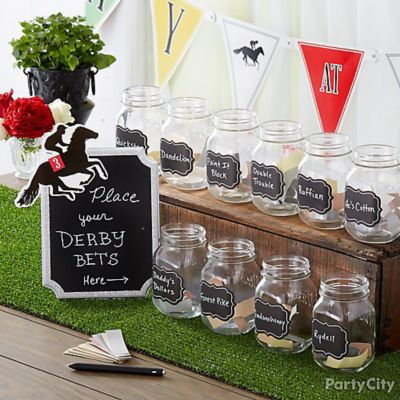 Idea 8: Bet on this Derby party idea
Here's an idea you can bet will be fun for all your guests, whether or not they know about horse racing. Create a betting station with mason jars labeled with the names of the Kentucky Derby racehorses. Bettors write their names on a piece of paper and place the paper into the mason jar of who they believe will take first place. The names in the jar of the winning horse get a prize—since it is the Run for the Roses, roses make for the perfect prizes for your Kentucky Derby bettors.