BOOM! Get ready for a barrage of ideas to take your Justice League birthday party from plan…to action! We'll help you send action-packed invites, serve super snacks and blow out the candles on a suped-up birthday cake!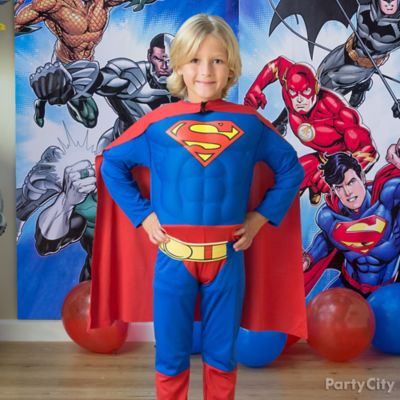 Idea 1: Help your Superman-in-training look the part!
Go all-out with a Superman costume shirt with built-in muscles! A birthday costume will make your little hero stand out on his big day.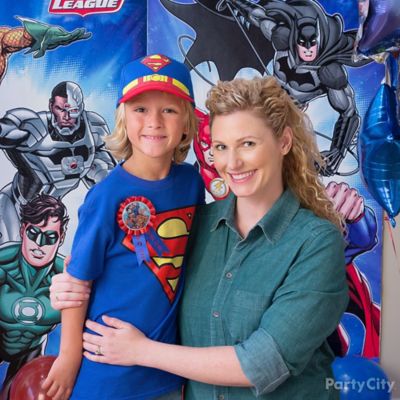 Idea 2: Add hero gear to any outfit!
If your rough and tumble hero thinks capes get in the way, help him gear up with easy accessories, like a t-shirt and baseball hat, that showcase his favorite superheroes. For special birthday gear, surprise him with an award ribbon featuring all the heroes!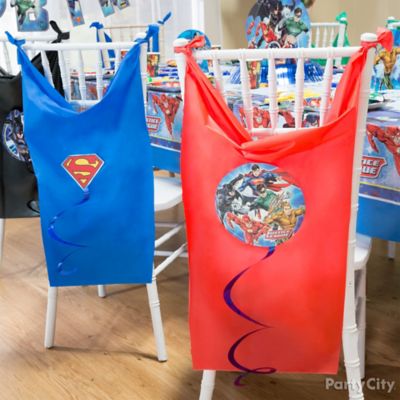 Idea 3: Costume your chairs with capes!
You don't have to be Bruce Wayne to afford this cool idea. We used plastic table covers because they're light and come in superhero colors. To create the capes, cut your table covers into rectangles a little shorter than the length of your chairs. Just tie the top corners (you can carefully stretch the edges out a bit) to the sides of your chairs, and let the middle hang down. For more fun, you can attach the logos of the corresponding character from a pack of swirl decorations.
Idea 4: Holy cupcakes, Batman!
With a Batman cupcake stand, you can build a cupcake skyscraper straight out of Gotham City. Frost in colors inspired by the Justice League characters and top with Batman picks and icing bat signals for easy decorating.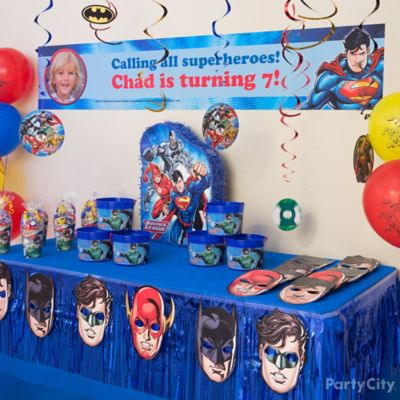 Idea 5: Hang a banner with the Boy of Steel's picture!
For a dashing kids' birthday decoration, create a custom banner that showcases the birthday boy's smiling face right next to his favorite hero.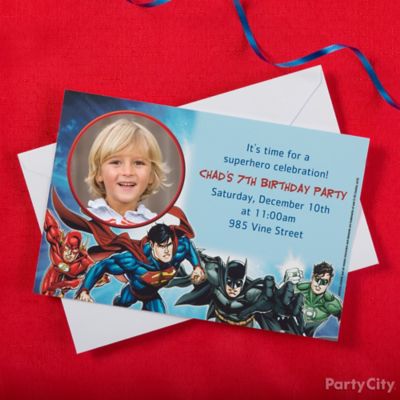 Idea 6: Send up the bat signal with custom invites!
Create epic invitations featuring the birthday hero's picture and whatever text you'd like. The neighborhood heroes will be fired up to see it!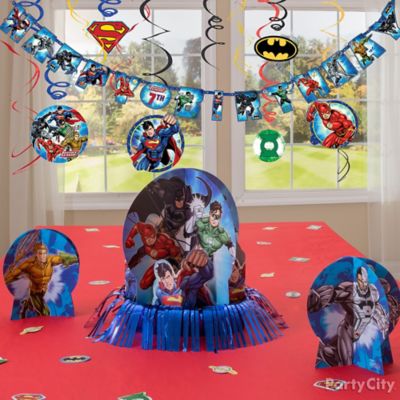 Idea 7: Not a super-decorator? Have no fear!
Deck out your party table with Batman, Superman, The Green Lantern and The Flash! Action-pack your space with Justice League centerpieces, table scatter and swirl decorations.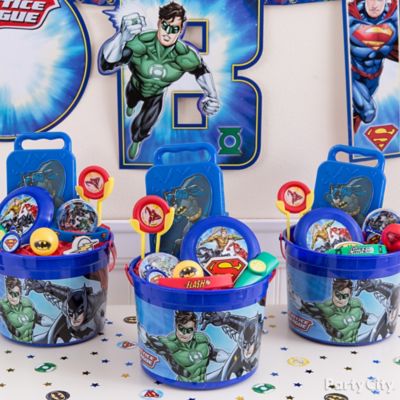 Idea 8: Make mighty favors with reusable buckets!
Fill Justice League buckets with tissue paper and top with cool, interactive favors to keep the super-kids playing! Surprise them with toys like mazes, activity kits, kazoos and more!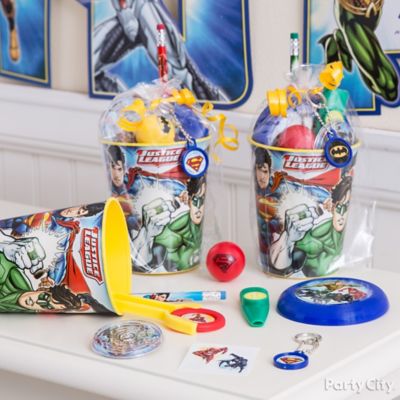 Idea 9: Fill favor cups with superhuman speed!
Rather than using one-use goodie bags, pile up your favors in a cup the super-kids can use again and again! Take it one step further by wrapping up your favors in a clear bag and tying it with yellow curling ribbon to make your favors super appealing.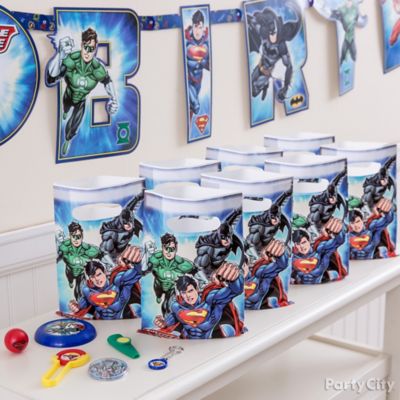 Idea 10: Pack up favors faster than a speeding bullet!
If you're in a hurry, pick up a favor pack! It comes with Justice League favor bags plus fun favors to put inside, all themed to fit your Justice League birthday party.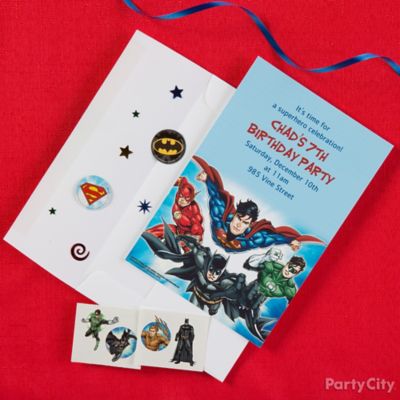 Idea 11: These invites will light their eyes up like power rings!
When his super friends open up these invites, they'll be so surprised by colorful Justice League confetti and a tattoo they can wear to the party. They'll start dreaming of superhero adventures until the big day!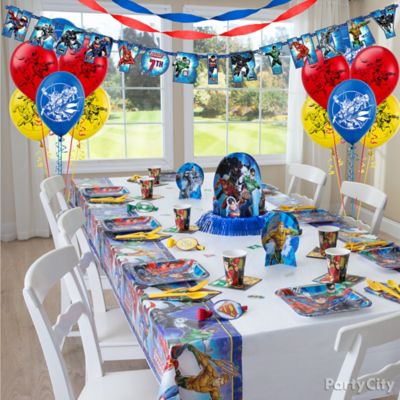 Idea 12: Turn your party room into the Justice League headquarters!
Disguise your table's secret identity with a Justice League table cover, themed plates, blowouts and balloons! Your little heroes may think they've just taken a seat in the Justice League headquarters.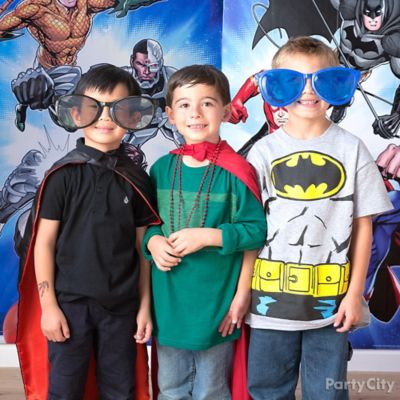 Idea 13: Capture their action shots with an epic photo booth
A Justice League scene setter makes the perfect backdrop for a cool photo booth! The kids will rush to get their picture taken next to their favorite heroes, and you can add silly props and costume pieces to power up the silliness!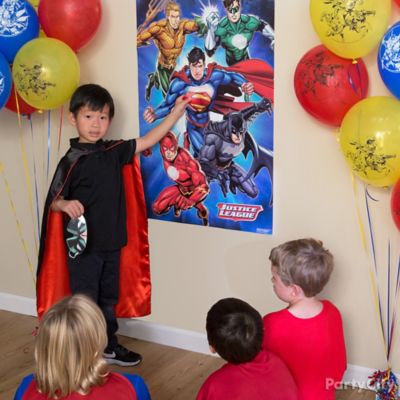 Idea 14: Fly on over to play this pin it game!
Play a classic pin it game featuring all of your favorite superheroes! The kids can put on Green Lantern's mask and try to pin the correct symbol to each hero's costume. Remember to have a prize ready for the caped crusader who comes closest, like a birthday award ribbon!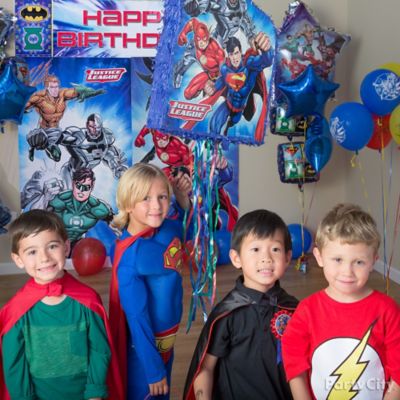 Idea 15: It's a bird, it's a plane, it's a pinata!
The super-kids are sure to smile when they see this pinata soaring above the party! It features Batman, Aquaman, and The Green Lantern on one side, plus Superman, Cyborg, and The Flash on the other! Even little heroes can play using their super strength on the pull strings.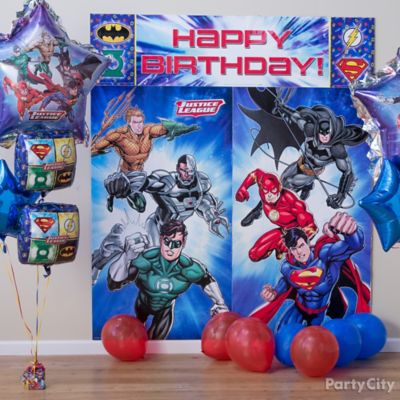 Idea 16: Set the scene for action-packed escapades!
Turn your living room into a page from a comic book! Hang a scene setter so the little heroes can jump right into the action and pose for photos! Arrange a cool balloon bouquet using shiny foil Justice League balloons in fun shapes, and remember a themed balloon weight to keep them from going up, up, and away!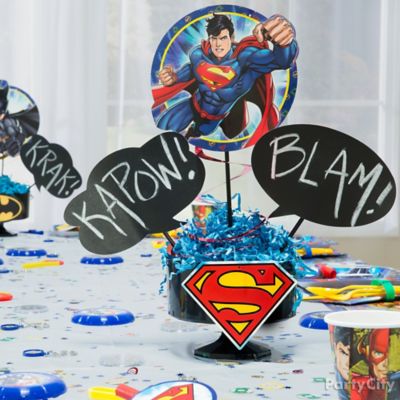 Idea 17: Assemble a heroic centerpiece
Use your favorite Superhero sayings to create this fun comic book-inspired centerpiece! Fill a black trifle container with Superman-blue paper shred. Write your favorite phrase on a chalkboard photo prop and slide into the paper. Tape the characters from a pack of swirl decorations to extra photo booth signs, and tape a logo to the centerpiece base. KAPOW!
Idea 18: Inspire adventure with superhero masks!
Everyone in the league will appreciate paper masks of their favorite heroes! These make for fun pictures and inspire imaginative play. Once they gear up, they'll be ready to handle any cosmic foe!
Idea 19: Power up with colorful super foods!
These fruit and veggie color are so bright and fun to eat! Each color combo represents one of their favorite heroes, and are best served in portable Justice League treat cups! For Superman, pair mini tomatoes and cheese cubes. For the Flash, cut up strawberries or pineapple. Batman calls for blackberries or red grapes, and for the Green Lantern, serve green grapes or honeydew melon.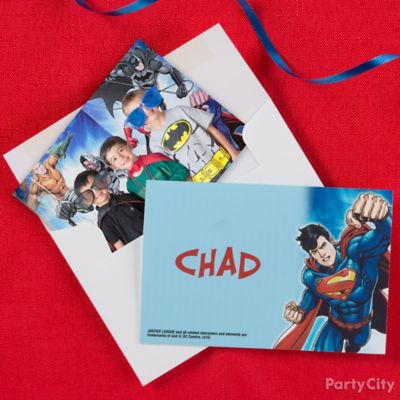 Idea 20: Thank them for making the party super!
The neighborhood super-parents will love a photo slipped in with their child's thank you card. Their little hero can save the photo and remember your party with a smile!