Fierce and fun ideas for baby shower decorations, favors, treats and more! Oh, baby! It's time to plan a baby shower. This adorable junior jungle theme goes beyond traditional pink or blue — and works for either a boy or a girl shower. Get inspired by our baby shower ideas for super-cute decorations, treats, favors and more. Everyone will go wild for this adorable look!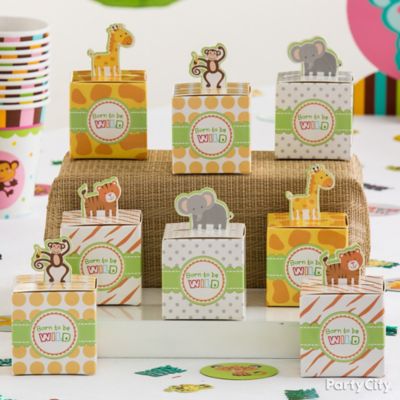 Idea 1: Animal candles can be both accents and favors
Use baby animal favors, like these small candle favors, as purr-fect decorative elements on your buffet table or at place-settings. At the end of the party pop them in small gift bags so guests can take them home as a thank-you favor.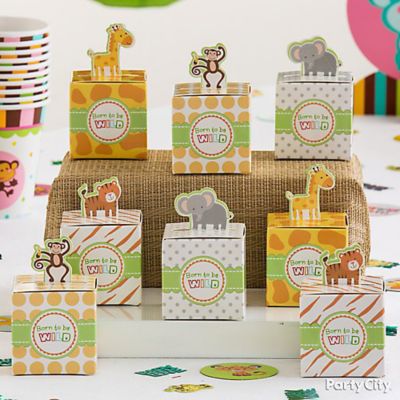 Idea 2: Roaaarrr! Jungle baby shower favor ideas
They came to celebrate the little cub, so send them home with an equally sweet favor. Fill these baby jungle animal favor boxes with candy, and then set them out as decorations until it's time for guests to prowl on home. They can pick their favorite little animal to fit their purr-sonality!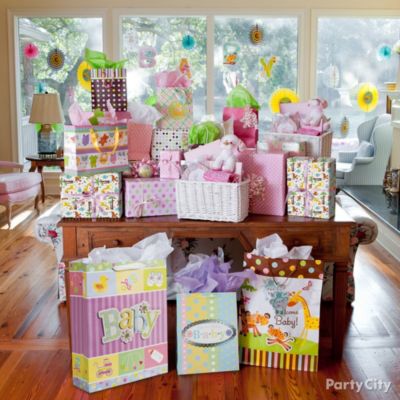 Idea 3: Make the gift table a focal point
Baby shower gifts can be as pretty as the shower decorations, so why not show them off? As guests arrive with their gifts, set them on a central table so everyone can admire the pretty gift wrapping. Be sure to take a photo of them all together as a nice keepsake for the new mom. For the best selection of gift wrap and bags, visit your nearest Party City store.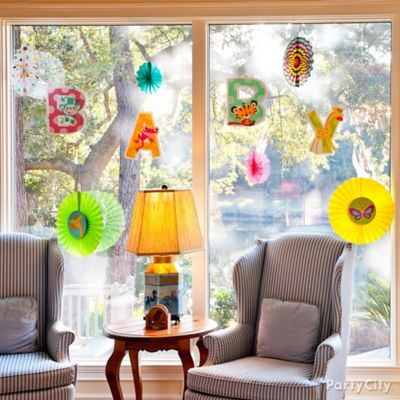 Idea 4: Hang decorations on windows too!
Windows offer another place to showcase creative decorations. Dress up large picture windows with a variety of hanging decorations like Fisher Price fans and cutout decorations for an eye-catching effect both inside and outdoors. It's easy to create a fabulous look fast with coordinating Fisher Price baby shower decorations.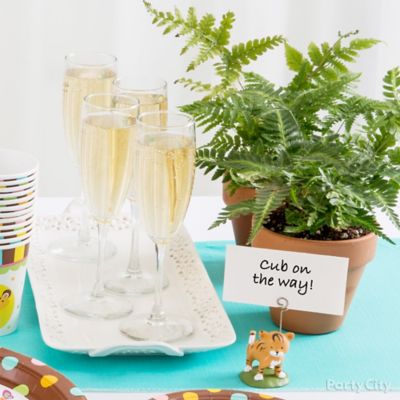 Idea 5: Tropical-ize the drink station with ferns!
Decorate the drink station with potted ferns and cute signs made with placecard holders. For drinks, serve champagne flutes and apple cider in cute jungle baby shower cups. Cheers!
Idea 6: Go wild with cupcake colors
You don't need fancy icing to make amazing cupcakes. Use your fave baking cups and gumballs to create a wildly colorful cupcake stand. Display on white cake stands (add height with an overturned bowl or any small white container). Now you're queen of the jungle!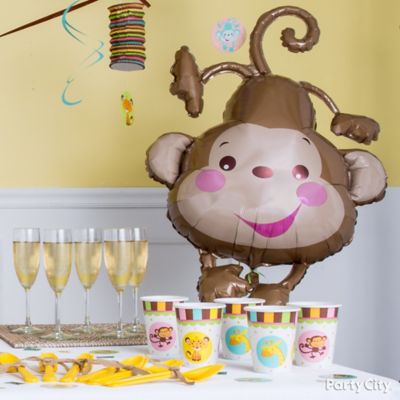 Idea 7: A monkey balloon will spread smiles!
Choose adorable balloons in creative shapes that match your party's motifs, like these cute monkeys. You can also add solid color latex balloon bouquets to fill out a corner of a room, accent a table and welcome guests at the front door. Be sure to use curling ribbon and balloon weights so you can position your balloon decorations anywhere.
Idea 8: Create a favor bag display
Display favor bags on a side table or hutch. Choose small handle bags to match your theme and color scheme. Fill them up with favors and candy so guests can easily take one as a thank-you gift as they leave the party!
Idea 9: Every baby shower needs games!
Games are a must! Choose a jungle-themed game card set with a baby animal name game, word scramble, gift bingo game and word search. Have some extra-special gift bags put together for the winners.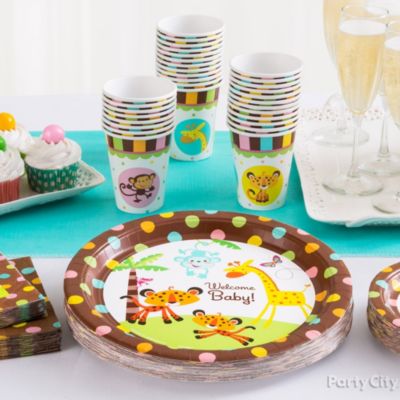 Idea 10: They'll go wild when they see their spot at the table!
Oh baby! Set the table for a pretty-in-pastel lunch buffet. Play off the polka dot theme with matching napkins and cups. You can also mix in your favorite solids and polka dot patterned plates and napkins in the party colors. Have fun with it!