Our families love The Incredibles and have been waiting YEARS for the latest film—featuring the relatable Parr family. So, you can imagine that the release of Disney•Pixar's Incredibles 2 is a major cause for celebration! We're gathering our family to host a fun-filled Incredibles 2 party filled with all of our favorite Supers.
From festive treats to easy-to-make DIYs, we have everything you and your guests need for a fun-filled affair.
Party Decor
First things first—to create an epic party worthy of all your kiddo's guests, head to a party store for decor in the film's classic colors. Think: red, yellow, orange, and black. This will be a great way to set the scene for your celebration! Stop by your local Party City for this cute Incredibles 2 decor.
Next, sprinkle in some neutral pieces from your home or do some thrifting for Mid-Century Modern styles—similar to the ones seen in the Parr family's home.
Then, start on some incredible crafts and recipes.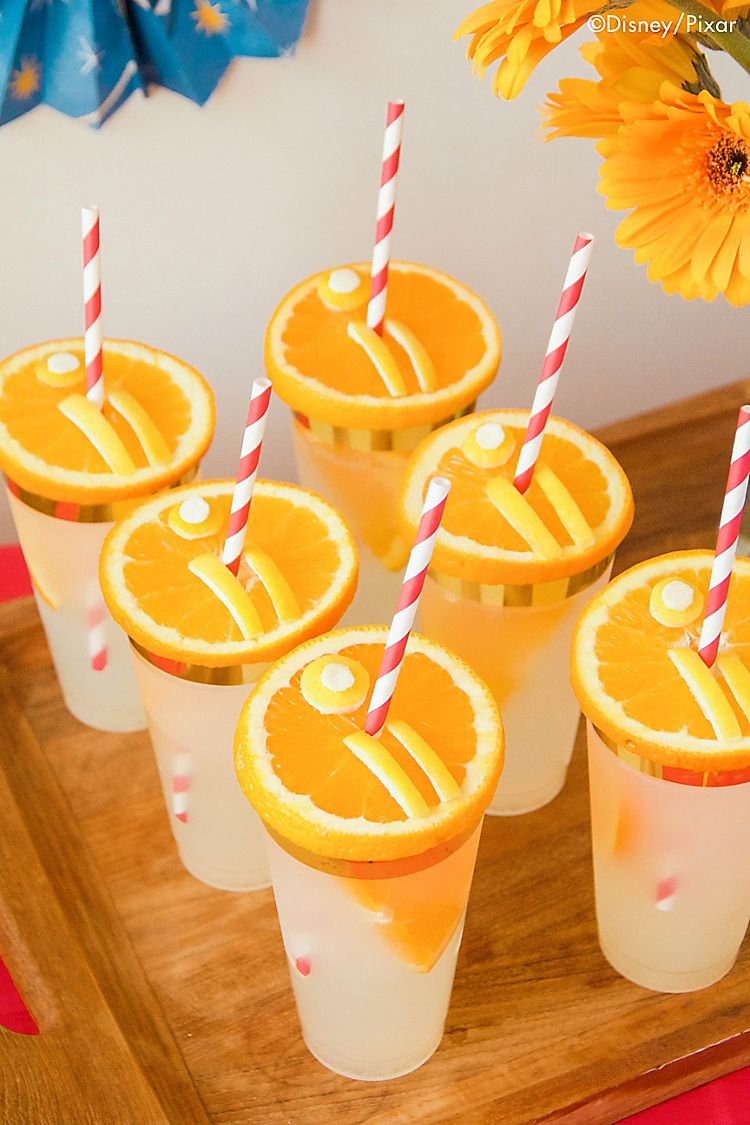 Incredibles 2 Lemonade
Your family and friends will love sipping on these Incredible-themed drinks! Not only are these frosty lemonades refreshing on a warm day, but they also feature the new film's logo. How fun!
Serves: 6
Ingredients:
Store-bought frozen lemonade
Water
Large oranges
Lemons
Kitchen scissors
Ice
Cups or glasses (like these)
Straws (like these)
ROYAL ICING:
1 egg white
1 1/2-2 Cups powdered sugar
Directions:
1. Follow the instructions on the frozen lemonade container to make the lemonade. Store in a large pitcher in the refrigerator.
2. Cut oranges into circular slices.
3. Cut a few in half to make quarter slices.
4. Peel the rinds off a few of the lemons.
5. Use scissors to cut the Incredibles 2 logo shapes. Turn the rinds over to make the white dot in the double "i."
6. Place 1/4 slice of orange into each glass or cup, fill with ice, then pour in the lemonade.
7. Make your royal icing. In a medium bowl, add the egg white. Then, add in the powdered sugar, 1/2 cup at a time, until the consistency is nice and stiff.
8. Place a straw through the middle of each orange slice.
9. Then, attach the pieces of the logo onto the orange slices with the icing.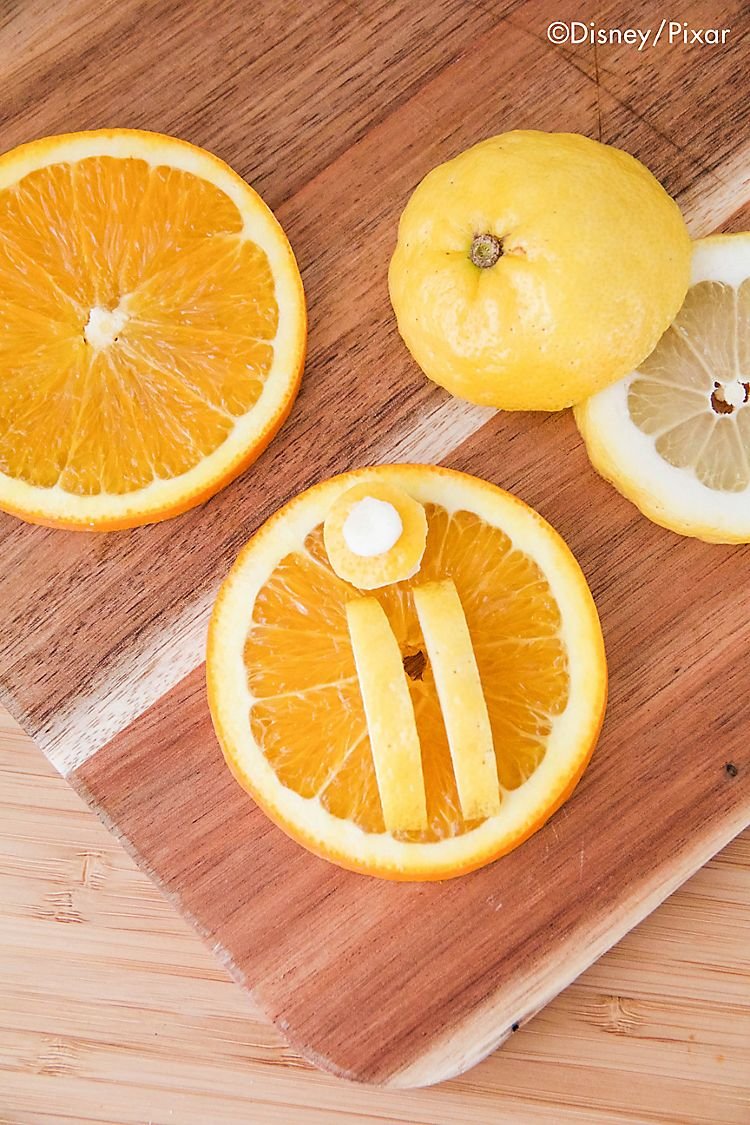 10. Add to each cup, and top with a straw.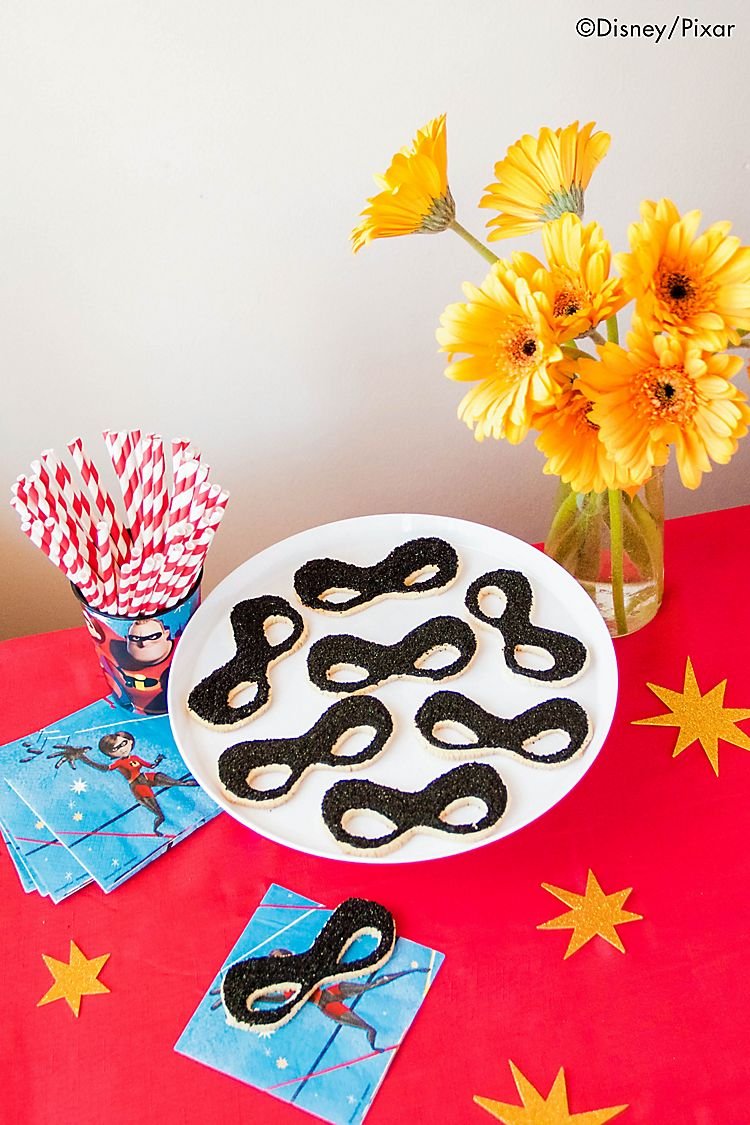 Mask Cookies
What's a party without a themed snack? With their sparkling black sprinkles, these Mask Cookies have the perfect combination of pizzazz and taste!
Serves: 24
Ingredients:
1 sheet construction paper
Pencil
Scissors
1 Cup softened butter
1 Cup white sugar
1 egg
1 Tsp vanilla extract
3 1/2 Cups all-purpose flour
2 Tsps baking powder
Dash of salt
Paring knife
1/3 Cup unsweetened cocoa powder
Black icing (like this)
Black sugar sprinkles
Directions:
1. Preheat oven to 350° F.
2. Take the construction paper and sketch out your mask shape. Cut it out. This will be your template for cutting out the cookies.
3. Combine the softened butter, sugar, egg, and vanilla in a large bowl. Whisk until the mixture is smooth.
4. Combine flour, baking powder, and salt in another bowl. Mix, then slowly add the dry mix into the wet, stirring as you pour. If you need to, use your hands to finish mixing the dough together.
5. Roll out the dough to 1/4" thick, onto a well-floured surface.
6. Use the template to cut out each mask cookie.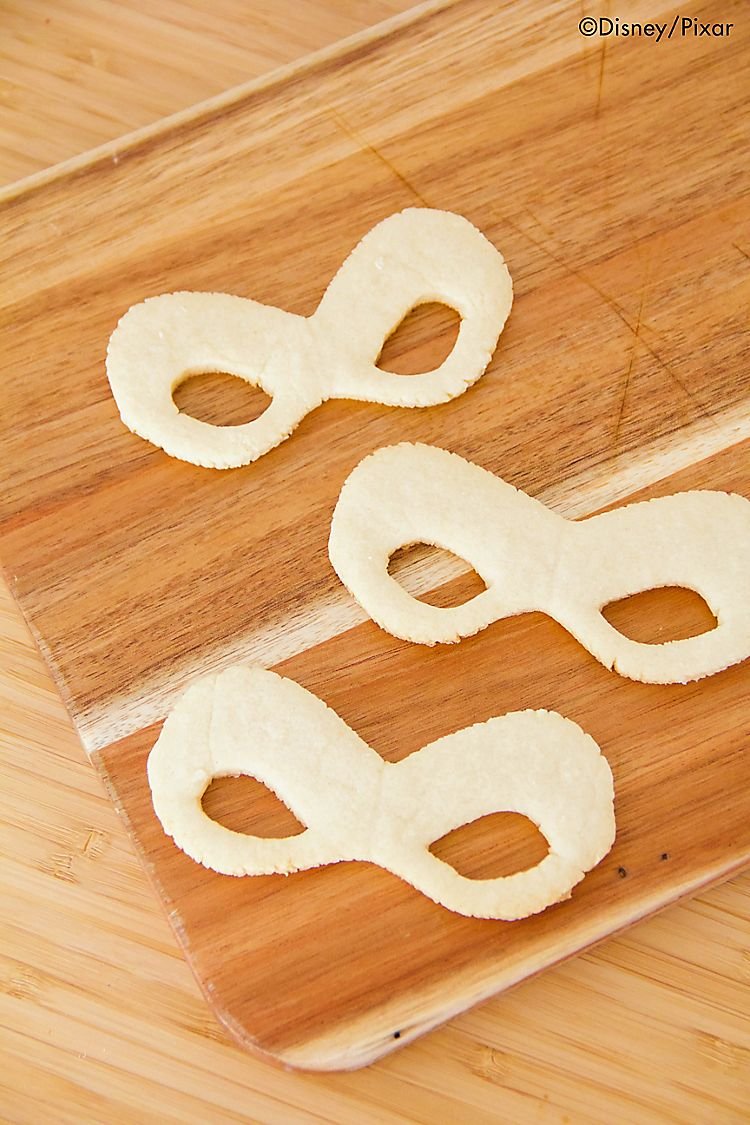 7. Place on greased baking sheet and bake for about 9 minutes.
8. Take them out, place them on a flat surface, and let them cool completely.
9. Ice the cookies using the black icing. Outline the eye holes and border of the cookie, then slowly begin filling in from there. Then, add the black sugar sprinkles.
Edna Mode Mask
We can't think of a better accessory for an Incredibles 2 party than one inspired by Edna Mode! We would never encourage anyone to wear a cape but this easy-to-make Edna mask will make for the perfect photo opp!
What You'll Need
Paper plates (like these)
Pencil
Scissors
Paintbrush
Black paint
Lollipop sticks (like these)
Hot glue
How to Make It
1. Cut out the middle of the plate.
2. Sketch on your Edna design and cut it out.
3. Use this first one as your template to trace out the rest.
4. Cut out the rest of the masks.
5. Use black paint to color in her glasses and hair, leaving the top middle white—for the shine of her hair.
6. Glue a lollipop stick to the back of each and let them dry completely.
Incredibles Snack Holders
Turn a snack into something super with the help of this DIY. All you need is a simple Incredibles 2 logo printable and cute container to create this fun addition for your party.
What You'll Need
How to Make It
1. Download and print the logos.
2. Cut your desired size from the printable.
3. Glue onto the front of the containers. Then, add your snack of choice—like delicious fries.
Note: All cutting, gluing, and oven use should be done by an adult.
Head to Party City for all of these super cute Incredibles 2 party supplies, and be sure to check out Incredibles 2 on Digital and 4K Ultra HD on October 23. For more party inspiration, visit Disney Family.