Have you ever noticed a Halloween basket on your neighbor's porch? Or have you seen a sign hanging from their front door saying, "We've been Booed!"? If you have seen either of these, then you've seen a Halloween Boo Basket. This is one of our new favorite Halloween traditions!
What is a Halloween Boo Basket?
If this is your first time hearing of a "Halloween Boo Basket," let me fill you in. It's a super fun tradition where you secretly leave a basket of Halloween goodies on the front porch of a neighbor or friend. Once they have been "Booed," they hang a sign on their front door so other neighbors know they have already received a Boo Basket. Then, they pass on the fun by creating a Halloween Boo Basket and secretly gift it to another neighbor.
Is there anything more fun than hearing a knock at your door and finding a gift basket of Halloween fun on your porch? To top it off, you get to doorbell ditch someone else in return with more Halloween fun. Hello excitement!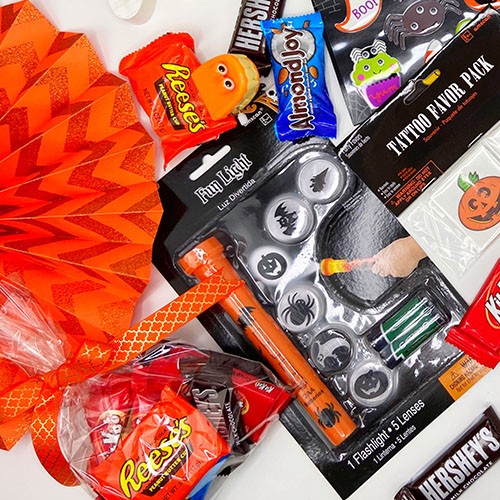 Neighbors with Children
Our neighbors have children. So, I like to take things up a level. I got all my supplies to make a play-based learning Halloween Boo Basket. That's right! I specifically chose each of the goodies listed below to double as fun and festive sensory bin activities. Even the paper shreds double as sensory filler, so every item in this Halloween Boo Basket is utilized. Of course I included tasty treats because what is Halloween without candy?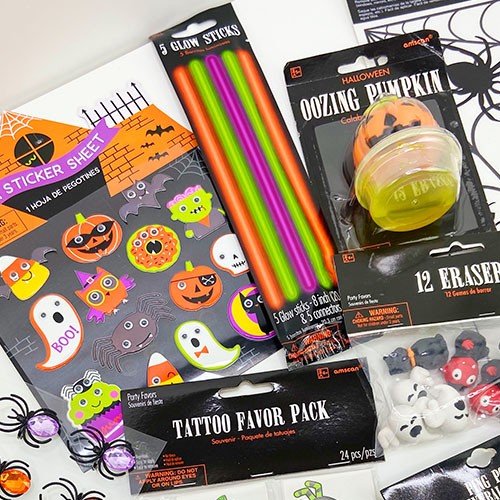 Play-Based Learning Halloween Boo Basket:
October is around the corner, and Party City is my one-stop shop for all things Halloween! Seeing as how I am social distancing, I ordered these items online with free shipping. I was pleasantly surprised when my order arrived the NEXT day! And would you believe, I got all of this for less than $41!
Orange Jack-o'-Lantern Treat Bucket
Black Crinkle Paper Shreds (2)
Hershey's Chocolate All Time Greats Mix 30ct
Gem Spider Rings 15ct
Spider Webs Cling Decals 14ct
Scene Projection Halloween Flashlight
Jack-o'-Lantern Ooze Toy
Halloween Puffy Stickers 1 Sheet
Halloween Glow Bracelets 5ct
Eye Ball Ping Pong Balls 10ct
Halloween Wind-Up Teeth
Friendly Frights Kids Tattoos 24ct
3D Halloween Erasers 12ct
Boo Ghost Balloon, 17in (Optional)
4 Orange Balloon, 12in (Optional)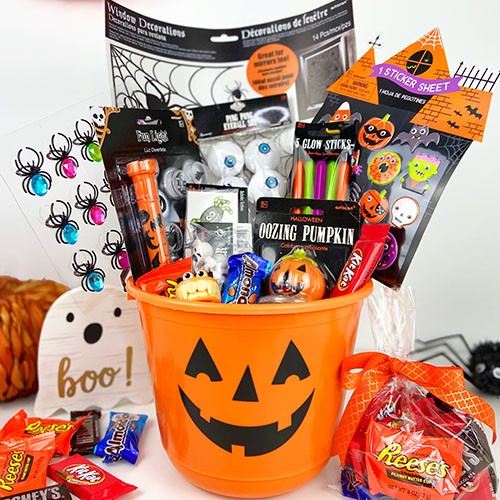 How to Make a Boo Basket:
First, print or create a sign that says "You've Been Booed".
Then fill the bucket with two bags of paper shreds and add candy.
Place the cling decals in the back of the treat bucket and add the "You've Been Booed" tags with instructions. This way your neighbor will know what to do after they have been "Booed".
Next, add the rest of the Halloween goodies (glow sticks, eyeballs, spider rings, puffy stickers and more).
Finally, for the super fun part, secretly leave the Halloween Boo Basket on your neighbor's front porch!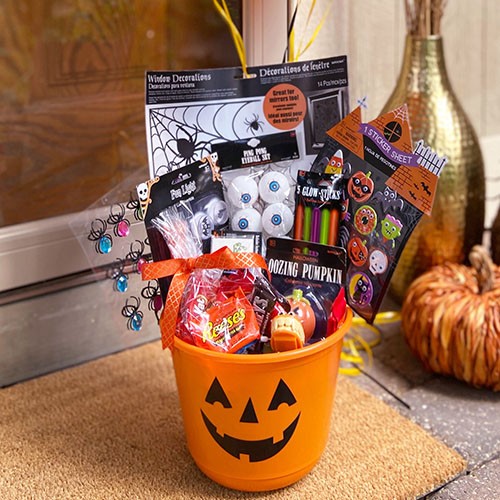 Party City makes it easy to create joy and unforgettable Halloween experiences for our family. For the helium-filled balloons, I was able to order online with curbside pick-up at my local store. They also offer easy In-Store Pick up, or Free Delivery options as well.
So now all you need to do, is decide who you're going to boo this Halloween!