Star-studded drink ideas for your awards party or movie night. Serve up some style with movie-themed cocktails! Intoxicate guests with award-worthy cocktails that are sure to make you a star! Classic films play muse to eye-catching drinks such as the glowing Avatar cocktail or the misty Harry Potter potion. Just follow these recipes — they're guaranteed to win Best Drink!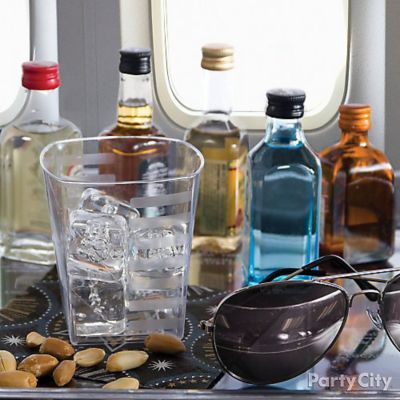 Idea 1: Airplane!
Your Hollywood party guests won't dare call you Shirley when you set up an Airplane!-inspired in-flight beverage drink bar! To construct your high-flying mini bar, load up a clear plastic tray with travel-size bottles of your favorite spirits and mixers, and enough square tumblers with ice for your crew to pour their own highballs.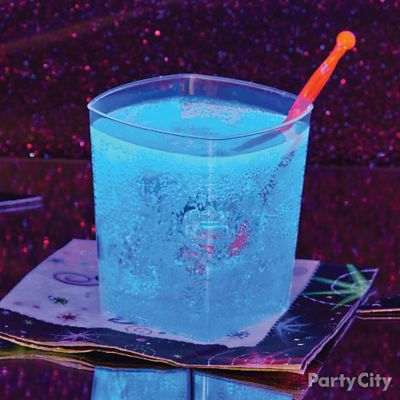 Idea 2: Avatar
When you're planning an evening to celebrate the finest films, you need a party cocktail that's just as epic! When exposed to a black light, this Avatar-inspired cocktail mimics the beautiful bioluminescent glow of Pandora. The secret ingredient to this glow-in-the-dark drink is tonic water, which naturally glows blue when exposed to ultraviolet light. Mix tonic water with gin, vodka or white rum and get the party glowing!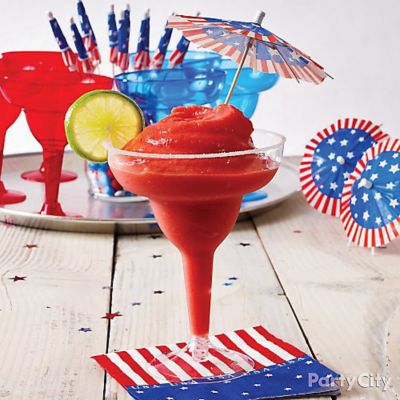 Idea 3: Captain America
Call in Captain America and shoo out the Winter (Soldier) with these patriotic Strawberry Daiquiris! For each drink, blend 5 frozen strawberries, 1-1/2 oz lime juice, 1-1/2 oz rum, 1 tsp sugar and 1 cup ice. Don't forget the fruit garnish, drink umbrella and sugar rim, and make sure HYDRA doesn't get their hands on these!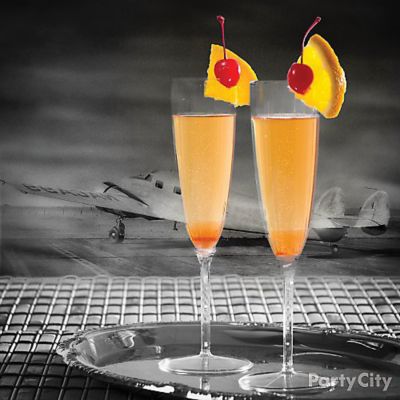 Idea 4: Casablanca
Your guests will feel like 1940's Tinseltown starlets as they sip their sparkling cocktails. For our Casablanca-era champagne cocktails, we placed a sugar cube soaked in bitters at the bottom of a champagne flute, filled it two thirds of the way with brandy and topped it off with champagne. A fruit garnish adds tropical Moroccan flair.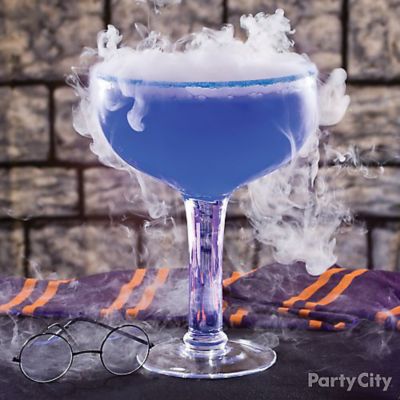 Idea 5: Harry Potter
You won't need wizardry to conjure up this delicious potion. Rim a glass with blue sugar sprinkles then combine vodka, lemonade, and blue curacao. Use tongs to add food-grade dry ice chips and you're done! Note: this thrilling drink requires caution! Remind guests not to touch or consume any undissolved dry ice.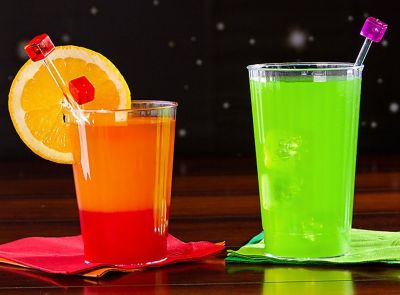 Idea 6: Iron Man & The Incredible Hulk
Assemble the Avengers (cocktails!) at your next superhero movie night! To create the Iron Man cocktail we used 1 part grenadine, 1 part cranberry juice, 2 parts orange juice and 2 parts scotch, added to the drink in gradiated layers without mixing. The Incredible Hulk cocktail is a mixture of 1 part Midori, 1 part vodka and 3 parts Mountain Dew. Play up their bright colors with equally bright drink picks and cocktail napkins.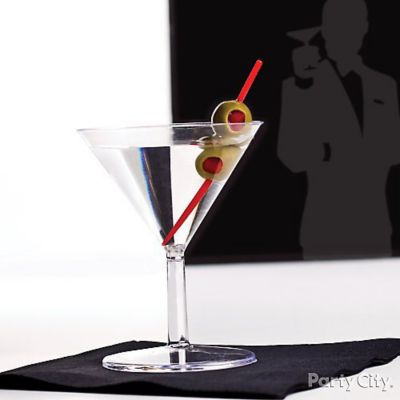 Idea 7: Bond, James Bond
Whether you're hosting a movie night, throwing an awards night bash or want to add star power to your cocktail party, Hollywood-themed mixed drinks like 007's signature "Vodka martini, shaken, not stirred" are sure to delight your fellow cinephiles! The classic Bond martini is made with vodka and dry vermouth, and garnished with olives or a lemon peel. Add gin to create The Vesper, ordered by 007 in Casino Royale.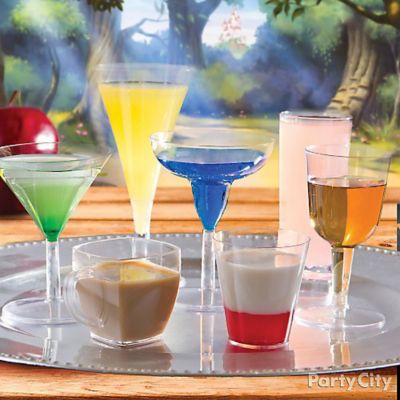 Idea 8: Snow White & the Seven Dwarfs
Classic Disney Masterpieces can be fun for adults too; especially when you invite friends over for an evening of Snow White and the seven shots! Use a variety of mini stemware and cups; colorful drink ingredients like blue curacao, grenadine, sour apple schnapps and orange juice; and a little imagination to come up with cocktail shots to match each of the seven dwarfs' personalities.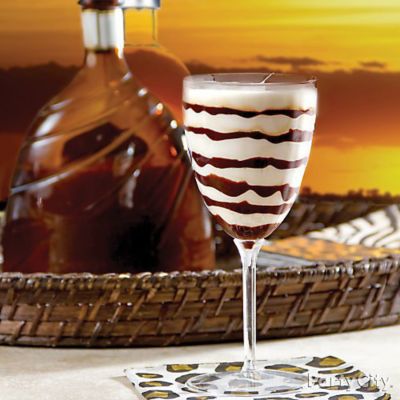 Idea 9: The Lion King
Celebrate the "circle of life" with a zebra-inspired, chocolatey cocktail! Sing along to your favorite Disney musicals while making this easy drink. Paint chocolate syrup stripes onto the inside of a wine glass then add your favorite mudslide recipe. Serve on top of playful animal-print cocktail napkins and toast "hakuna matata!"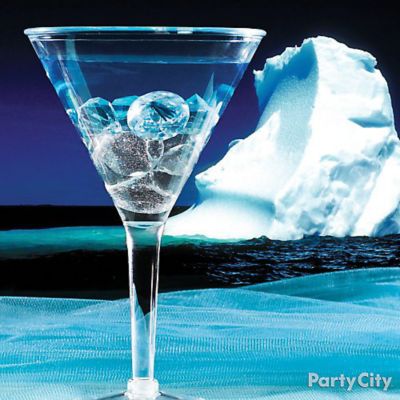 Idea 10: Titanic
You'll feel like you're "the king of the world" when you serve guests this iceberg-blue martini. To create this elegant concoction, add 3 oz gin, 1/2 oz dry vermouth, 1 tsp blue curacao, 1 tsp lemon juice and ice to a cocktail shaker and shake vigorously. Serve as shown in a Titanic-sized martini glass or make a tray of lifeboat-sized mini shooters. This party will be unsinkable!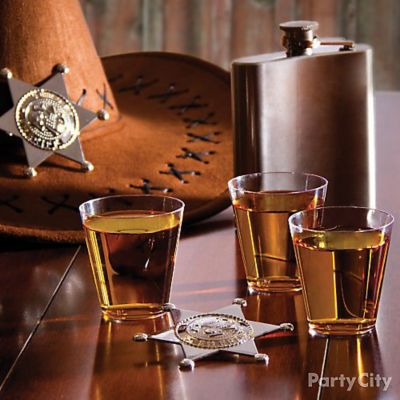 Idea 11: True Grit
Throw a boot-kickin' Hollywood-themed hootenanny for Western film aficionados! Decorate with cowboy-themed extras like 10-gallon hats and silver sheriff's badges, and serve liquor out of an old-fashioned silver flask. These cowpoke-pleasing Snake Bites (whiskey with a splash of lime juice) were inspired by classic Westerns like True Grit, High Noon and Unforgiven.